Thanks, everyone! Unfortunately, today was a bit of a boring one for food - fast food on the way to the golf course, and then a work dinner tonight. Tomorrow will bring much less lameness, I promise!
]BURN THE HERETIC!

Just kidding dude. Fantastic-looking brisket. Did you use a rub/mop?
I laughed aloud at this, Dakki. I'm pretty sure there are a lot of people in this state who would have said that in earnest!
I did use a brown sugar/salt/garlic powder/other stuff rub, but no mop. In fact, I've never used a mop - no real reason why, other than I've never really felt the desire. How does a mop affect it?
And I would like to illustrate how timeless barbecue debates get started:
Chileheadmike - That's a great idea. Fortunately I still have the point in the freezer, awaiting its day in the smoker.
Zeemanb - And that's a good point; part of the reason I have never tried it is that it just didn't
feel
authentic, you know? It's like the garlicky toasted rye chips in Gardetto's - they sell bags of just the chips now, but they just don't taste as good as the ones that you have to go through the other stuff for. And yes, I just used Gardetto's to illustrate a point on eGullet. For that I am sorry.
On to lunch - it was on the road, and it was Burger Street. It's a fast-food chain here in Dallas, and yes, it's fast food, but it's a good fast-food burger. I got this with a cherry limeade. Taken on the hood of my vehicle.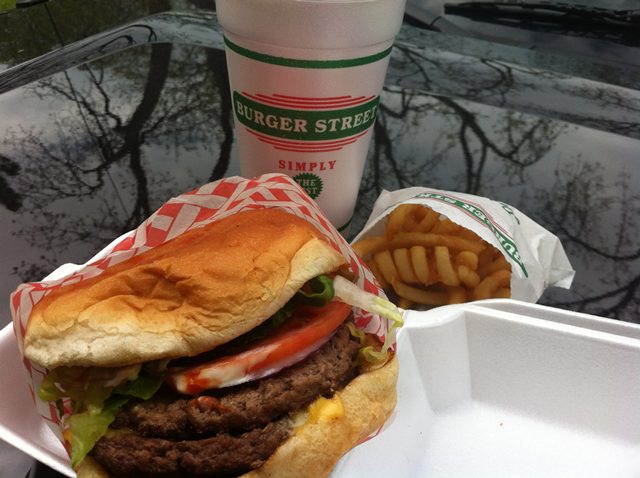 Edited by Rico, 22 March 2012 - 03:22 PM.