Hi everyone!
Or, to play into an often frustrating - but almost always endearing - stereotype:
Howdy, y'all!*
My name is Rich, aka Rico, and I'll be taking you through a bit of my culinary life in Dallas this week. Incidentally, my eGullet handle refers to the name by which I went in my high school Spanish classes many years ago - and I'm still awful at Spanish.
Anyway, on to the teaser photos: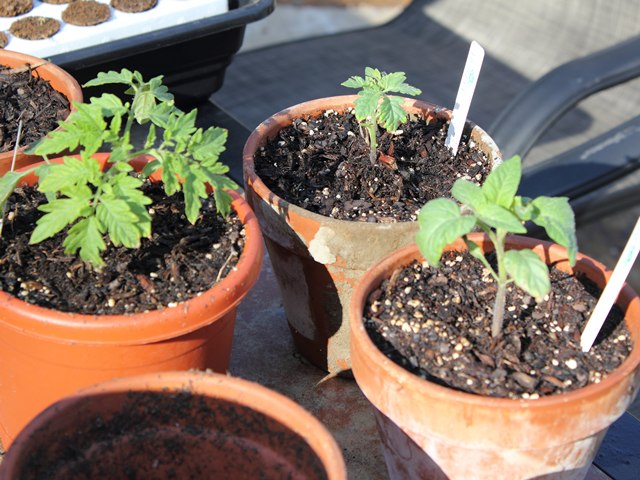 Only two things that money can't buy, and that's true love and homegrown tomatoes (hat tip to Lyle Lovett). We didn't really have much of a winter this year, so I was brave and planted my tomato seeds at the beginning of February. So far, I've had some pretty good luck. Trying out five different varieties this year; we'll see how that goes. I've also got a few different kinds of cucumbers, beans, peppers and herbs going. Unfortunately, this blog will likely be finished before any of them come to fruition - or should I say vegetableition?
And
Zeemanb
, I noted your comment about being six weeks ahead in being able to get a garden going, and I'll just say this - come mid July, when you're harvesting buckets of tomatoes off of your plants, I'm going to be spending my days doing rain dances just so my plants will stay alive in the 110-degree Dallas heat. Take solace in that, at least!
My box smoker (wet smoker).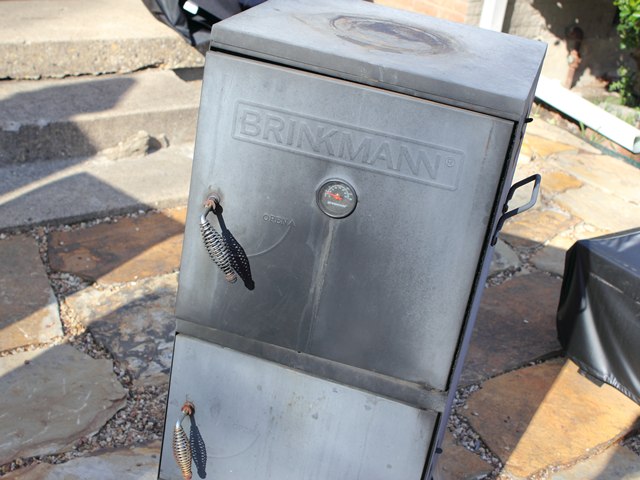 This is not the typical sort of smoker I am accustomed to seeing down here. Most of my friends and people I know tend to use the oil drum-style smoker with a side box for the fuel. I do not begrudge that style in the least, but have gotten to know the operation of this smoker so well that I'm not going to change anytime soon. But we will most certainly get into that later this week.
A few cookbooks and such.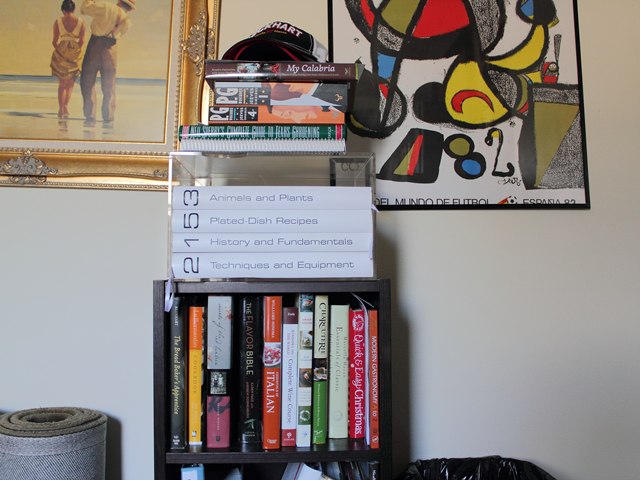 The Neil Sperry Texas Gardening book – the green binding – is ubiquitous in this state but I'm not sure it came through very well. Anyway, those are some of my books. The Wodehouse collections were not left in there intentionally; however, my affinity for the Jeeves and Wooster stories is undeniable.
To address the MC volumes briefly – unlike one of the more recent food bloggers, Chris Hennes, my knowledge of Modernist Cuisine is laughably limited. That doesn't prevent me from trying all sorts of things from it, but I'm probably not going to do anything from it this week; to try my inexperienced hand at it in a public forum might be a major step back in the development of the movement as a whole (kidding (kind of)).
All right, then. A few other tidbits, I suppose:
Having been born and raised here, I call myself a Dallasite, but for the past three years I have lived in the suburb of Richardson, about 200 yards from the Dallas line. I am fortunate to be in a fine location for a lover of things culinary, as I find myself within a few miles of a Central Market, Whole Foods, Saigon Market, Hong Kong Market, Fiesta, and few standard grocery stores. We can get into what all those are as the time comes, though I would suppose that a most are pretty self-explanatory.
My wife will tell you that my approach to food is like a six-year-old with ADD who just had too many Coco Puffs**. I prefer to call it inspiration-driven. Meaning, I'll tell her that I'm making dinner, and then I'll happen to see a technique I want to try, spend a while at it, and then she'll ask me what's for dinner.
"Ummm. Well, in about four hours, we'll have some really nice dehydrated lime curd! That's a good dinner, right?" (Note: dehydrated lime curd is never a good dinner). She is of infinite patience.
As it is, I've got a several places that I can't wait to show you, and a pretty good outline of what I've got lined up for the week . I'm looking forward to it all (and to getting to know some of you better) and hope you all enjoy reading it half as much as I am sure I will enjoy documenting it!
*
I feel I should explain my understanding of y'all. In Texas, we use it only in the plural sense – as a conjunction of you all – so that in its written form, we substitute the apostrophe for the o and the u in you. It is clear and its use saves a valuable syllable.

However, in some southern states I have heard that its homonym can be used to refer to a singular person. It is my understanding that in this sense, it would be spelled ya'll. I do not understand the reasoning behind this punctuation, and frankly, I do not understand the reason for the word's use in the singular. All that to say, in this week's blog you will likely see y'all spelled and used only in the plural sense, if indeed you see it at all.
**
This also applies to my writing style. My lack of focus and/or patience means I cannot proofread my own writing. I just can't do it; my eyes glaze over and ... well, all I can ask is that you bear with any typos, run-ons, tense disagreements and things of that nature.
Edited by Rico, 17 March 2012 - 03:11 PM.