Hi, keefkun, ça va?
Or, for the more hip: Bonjour habibi, how's it going?
Yes, with such phrasing, it can only be Lebanon!
First off, let me give you some background to the trip and myself.
I go by Chris and Hassaan - whence Hassouni, the Arabic diminutive of Hassaan (note, not Hasan/Hassan, this is a different name. For those that can read Arabic, it's: حسّان). Arabs/Persians/Turks generally call me Hassaan, others generally call me Chris. Hassouni is fine by me too :)
I am, despite the bilingual name, NOT Lebanese. My father is American of mostly German extraction, and my mother is 100% Iraqi. Her family is Iraqi through and though (except for her one Turkish great-grandmother, as well as other genetic traces of the myriad peoples who have crossed Iraq since history began 5000 years ago there). They had done quite well under the Mandate period and later the Monarchy, but as soon as the republican revolutions happened (and there were several in the late 50s and 60s), my mom and her immediate family fled to Beirut, which was THE cosmopolitan city of the region in those years. They stayed there until 1975 when the civil war broke out, and really Beirut is and was much more of a home, to my mother and her brothers at least, than Baghdad was. To this day, she can switch between Iraqi and Lebanese Arabic mid sentence, which I always find hilarious (they're about as different in vocabulary and accent as, say, Cajun English and Australian English)
In the mid 1990s, after the war, her parents, living in the DC area and London, moved back to Beirut, and since then it's become their permanent home, with my mother spending more and more time there as well. This is my 9th trip there, and the 6th since Summer 2009, so Beirut is quickly tying London as my own second home. In any case, I love it to bits, despite all the aggravation of being there (like the most horrific traffic and insane drivers anywhere), and my own skills in the Lebanese dialect are growing. I guess they're getting pretty good, as a few of my Lebanese friends have dubbed me "honorary Lebanese." I arrived here yesterday and will return to DC March 7.
Secondly, let me explain the teaser pics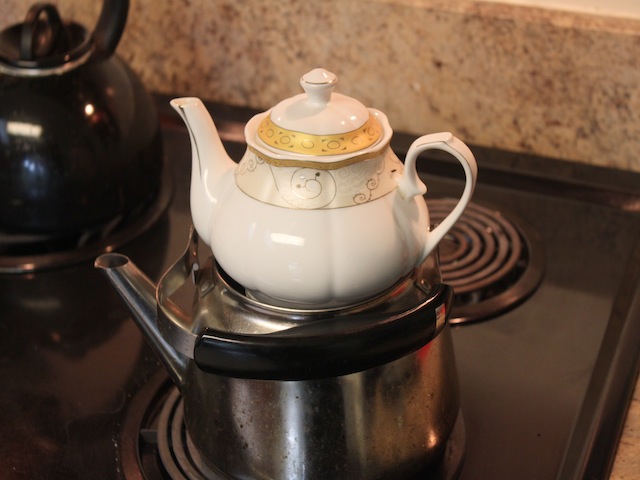 The first, of course, is an Iraqi/Turkish style tea setup, as I mentioned on my very first post here. Mimicking the the effects of a samovar without the expense. My favorite style of tea, though somewhat of a hassle to prepare. This was basically just to identify me, and sadly there probably won't be much of that, as Beirut is not a good city for tea drinkers :(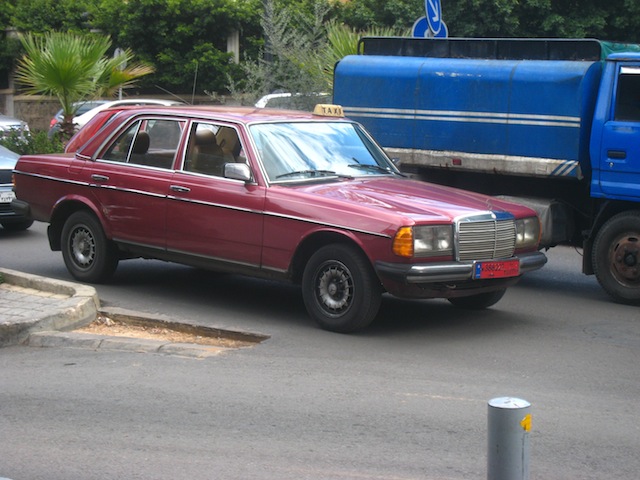 A Beirut taxi and a symbol of the city as much as Black Cabs are of London. 10 years or so ago they were all ancient Mercedes that had survived the 15-year civil war. Now there are a lot of other cars, some new Mercedes, most small, crummy, micro-compacts, which makes very little sense for a taxi. The old, stick shift, diesel powered Mercs are where it's at for me, and I'll wait longer to snag one.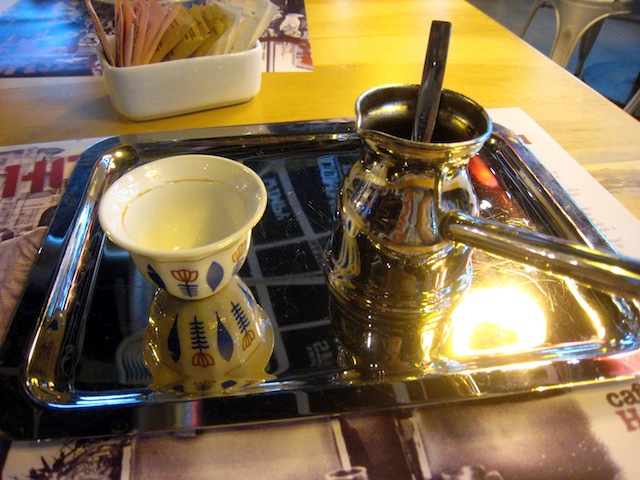 Next is the beautiful Turkish coffee presentation at Café Hamra, in the Hamra neighborhood of Beirut. I think Nikkib made a passing reference to it once - I really like the place. Decent if not fantastic food, really good deserts, great coffee, and good argile (hookah/shisha). Hopefully will spend some time there this trip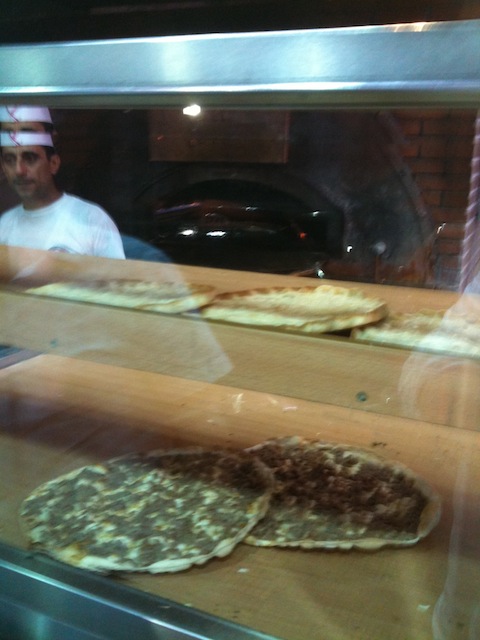 When Kerry Beal said lahmacun, she was basically right. This is the Arabic version, lahme b'ajin, from which the name lahmacun derives. This is a late night shot from the legendary Barbar in Hamra, a 24/7 bastion of Lebanese street food that spans a whole block - shawarma, kababs, falafel, mana'ish, lahme b'ajin, fresh juices plus western snack bar type food, and pretty good gelato. After a night out in Beirut, this is unequivocally the place to go.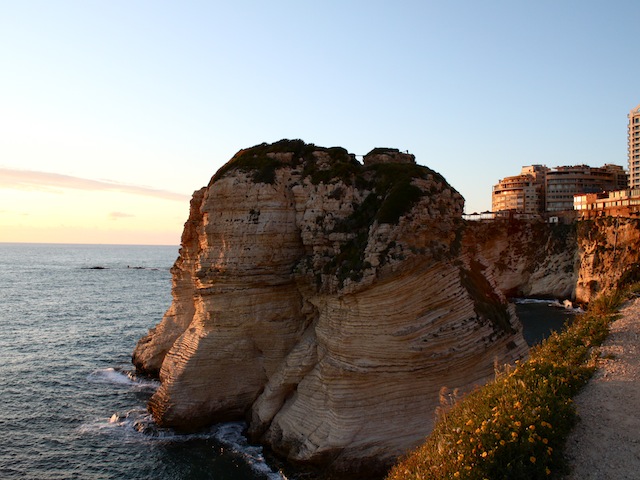 Finally, Raouché, the Pigeon Rocks, or as my Mom swears they were called in the "Lebanese Good Old Days," Suicide Rocks. One of two sea stacks just off the cliffs along the Beirut Corniche. If there is one symbol of Beirut, this is it.
As for this blog, I have no agenda. Although I'll be spending plenty of time there, I'm not staying in my family's place, because its jam-packed with people, so I'll be sleeping in a hotel nearby. This means I won't be cooking anything, but even if I was staying at home that would be the case, what with my aunt and the housekeeper running the kitchen on lockdown. However, I will definitely be showing plenty of home-cooked Lebano-Iraqi dishes. Furthermore, Beirut is Cafe City and one of the best places to eat out, so expect plenty of delicious coffees, teas, and meals out, as well as shots of street food like Barbar and my favorite, manaa'ish 'al saaj.
I have a hunch that I'll be going north up the coast as well as into the mountains at some point, so I'll be sure to document any tasty treats from there.
If you have any requests, I'll do my best to fulfill them!
Edited by Hassouni, 27 February 2012 - 03:42 AM.