Yesterday, as I was trawling one of the local pan-Asian shops for black vinegar, I noticed these bright purple and green things, sitting on one of the shelves, next to the sushi mats and MSG. They were simply wrapped in cling film, and their colours really stood out. I gently prodded one: gelatinous; warm. I finally asked one of the women in the shop what they were (they had no labels), and I was told that they were made with what sounded like 'blé' (awfully close to the Danish word for 'nappy', but I assumed she meant the French for 'wheat', unless there is some Asian-language word that sounds like this..?), and flavoured with 'blomst', (flower).
I'll take a chance on sweets where I would be reluctant to tackle something savoury, and anything gelatinous speaks to me. So, I got a purple one.
Behold (poorly focused mobile phone picture, unfortunately):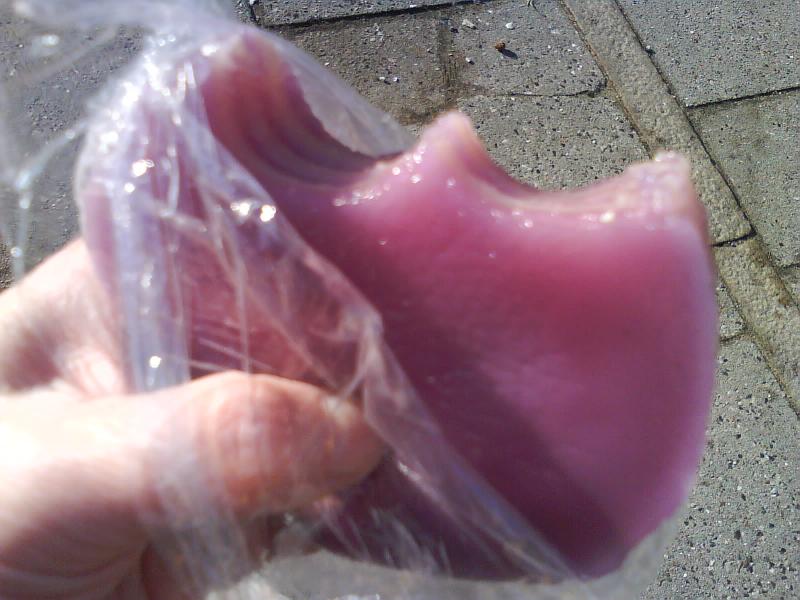 The purple portions were gelatinous, and the white layers were starchy. It didn't taste of anything particular, but it wasn't a horrible experience by any means, and I'd love to have a version that involved actual flavour.
Since they were warm, I'm guessing they were made by the shop owner, which suggests they are part of her culinary heritage. In-depth investigation of this was precluded by the fact that neither of us spoke very extensive Danish (and we had no common language). The shop is called Minh Áhn, which I believe is Vietnamese, but I'm far from certain.
Anyone have an idea of what it is, where it comes from, and how it is made?