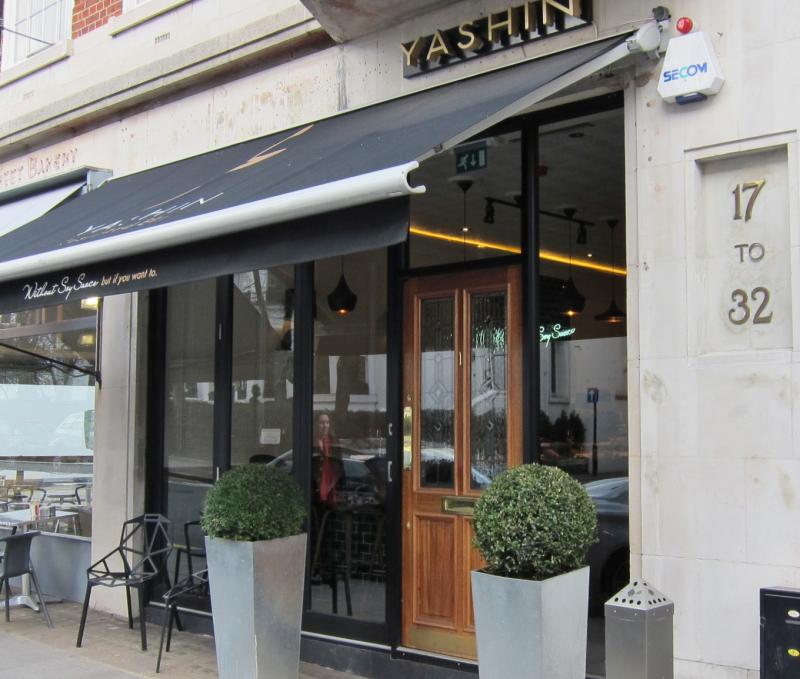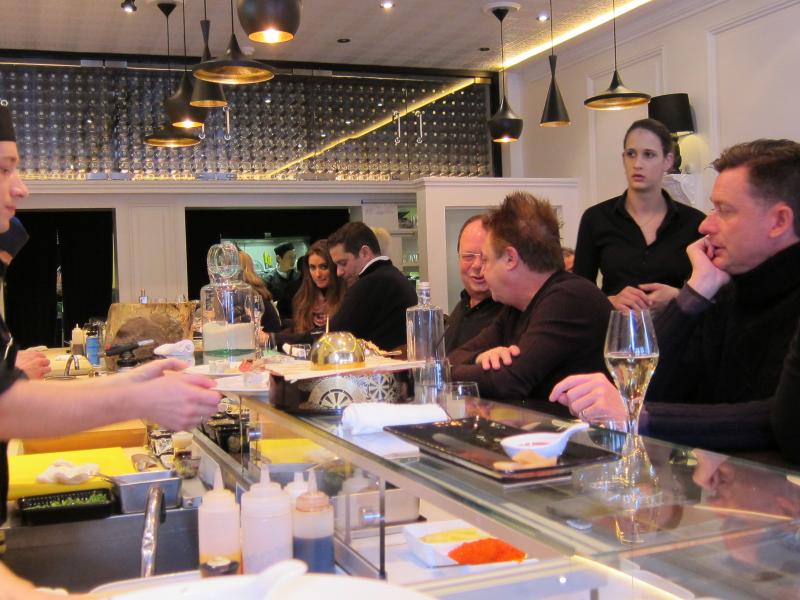 My tastebuds do not really do subtle, especially after a beer, sometimes they need a kick in the balls to make them pay attention. Perhaps that is why Japanese cuisine has not featured at all in our restaurant outings. My wife kept it secret that she likes sushi so after eating some from good old M&S we thought to try the real thing, so to speak.
After some good suggestions on here, I was tipped off about Yashin which won Timeout's Best sushi bar 2011 so off we traipsed to W8.
Now the last time we were in this postcode was to eat at Michelin starred Kitchen W8, and very nice it was indeed. I realised this first proper excursion into sushi would be expensive given the location to Holland Park's multi million pound mansions.
I had to placate my wife yet again as I secretly booked a couple of stools at the bar to watch the chefs work. For me this is the best seat in the house. There is a downstairs dining area which is dark and largely unappealing.
As a newby I thought it best to trust the chef and go for the Omakase or roughly translated as "up to you" meaning that the chef chooses what to serve, in other words a tasting menu.
I foolishly thought each piece of sushi would be prepared and presented one after the other. How wrong I was, it was all served on the same plate.
The Yashin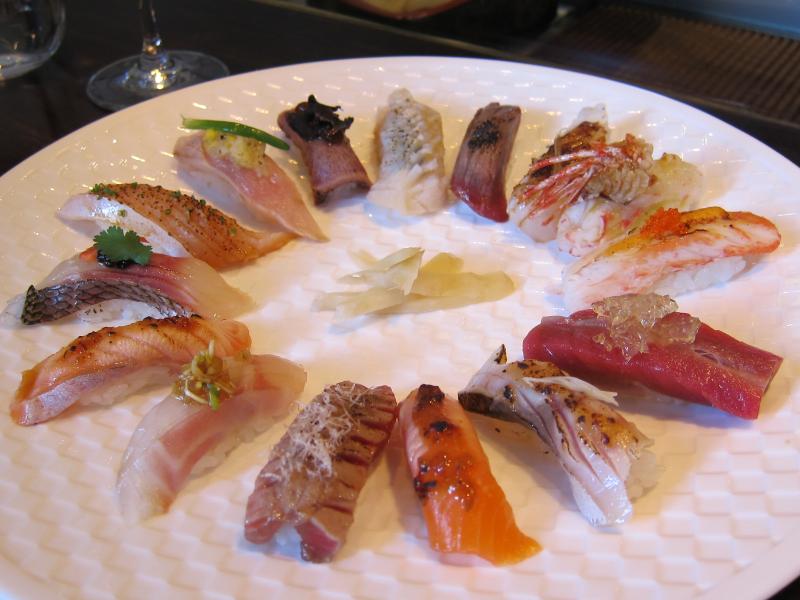 What your looking at folks is fifteen pieces of sushi for sixty english pounds plus service charge. Just over £4 a bite.
Was it worth it?
What you see is too much to describe, I would be here all day, but includes the following.
Sea Bass with soy sauce and marinated onion,
Salmon with BBQ sauce,
Sea Bream with seaweed paste and strawberry,
Yellowtail with sweet soy sauce and parmesan cheese,
Parrot fish with salted finger.
Iberian Pork with tomato and truffle and ponzu jelly.
Razorclam with sweet soy sauce.
Wagyu beef, truffle oil and black pepper.
Dover sole, black bean sauce.
Shrimp with foei gras
Spicey crab with marinade with tobico
Tuna with tomato berries
Mackerel with ginger miso.
I,m glad we only had this one omakase plate as we could witness more interestingly plated food coming from the kitchen.
The omakase comes with miso, and a salad with onion dressing, which were pleasant enough if unremarkable.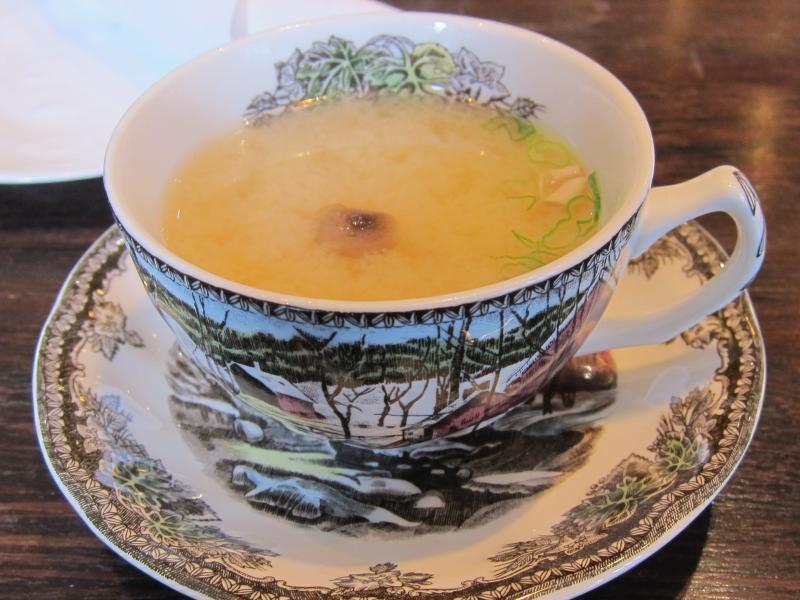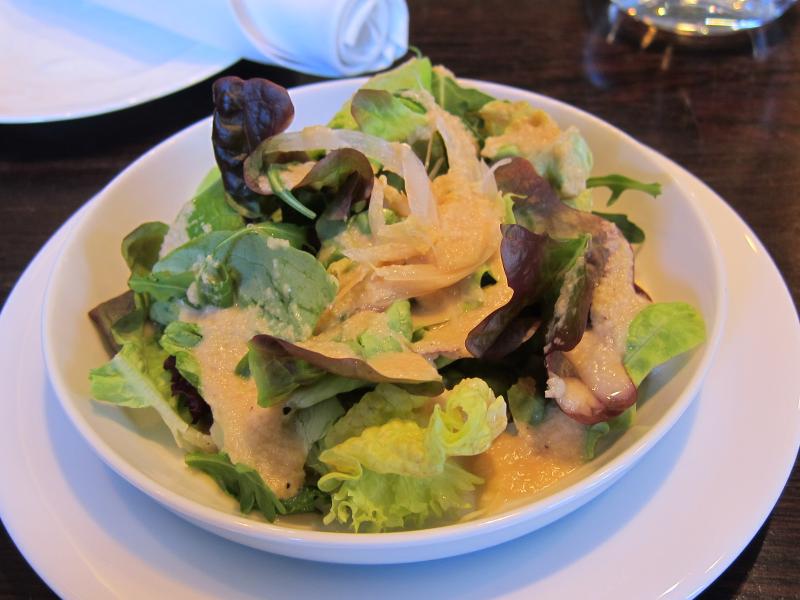 We wanted to try the attractively presented Sashimi set (£25) as we witnessed the chefs building the dish right in front of our eyes.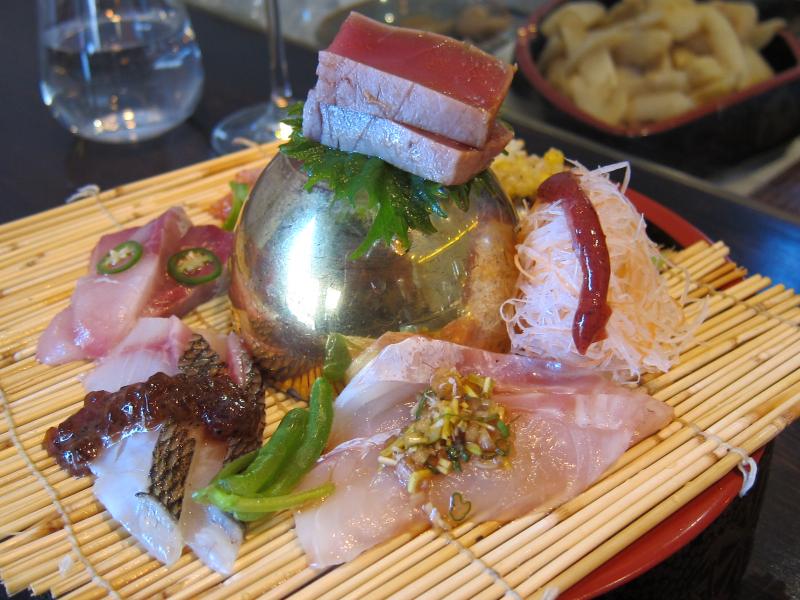 Two more dishes to try and we were finished.
Watarigani (£9.80)
Was on the Yashin roll menu, and was an irresistible deep fried soft shell crab with sweet soy sauce.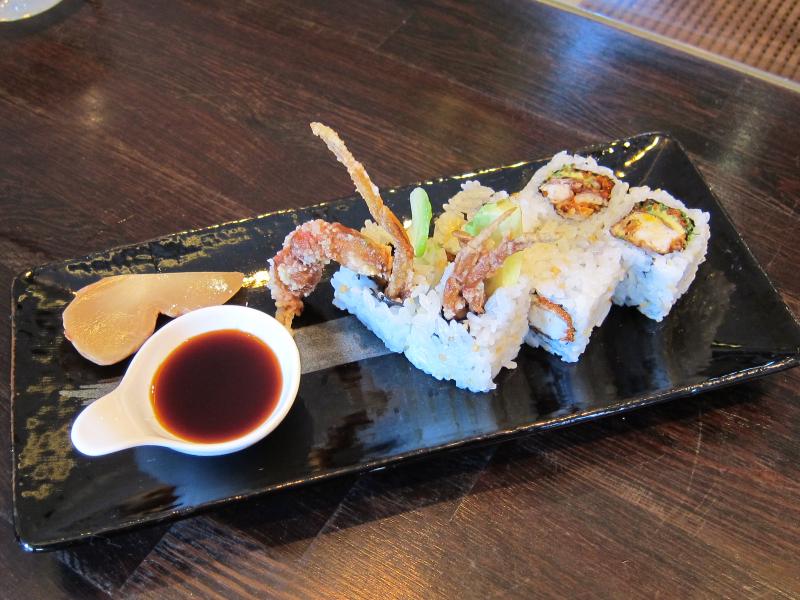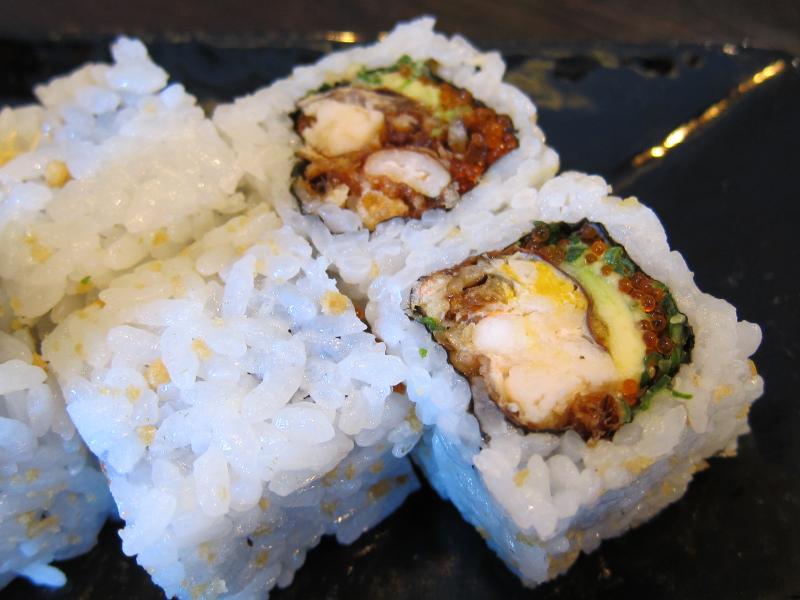 Last but not least was the dish that we first saw on the counter as we entered the restaurant. On the menu as
Una pine (£9.30)
BBQ fresh water eel , marinated pineapple, mango sauce.
Second time in as many days to eat eel and good this also was.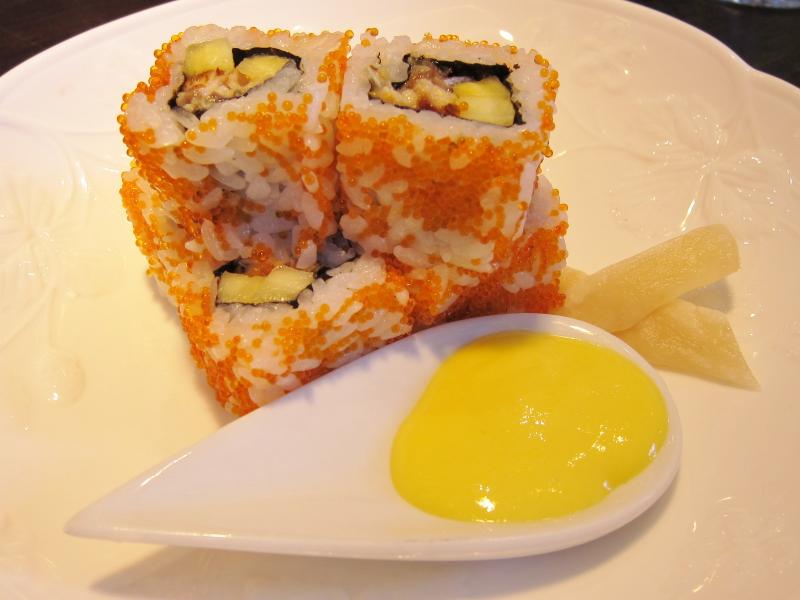 Well this turned into a bit of a marathon. Lots of different variations on a theme, but sadly nothing really jumped out. The most disappointing morsel was the wagyu, it did nothing for me. I dare say if I was massaged daily by the woman of my choice for months, and fed copious amounts of beer or sake daily, my extremities would taste a lot better than this.
Interestingly the best dishes for me were the last two. the soft shell crab was great Also the comforting fatty eel and the sweet, slightly tart pineapple worked well and these were the only dishes that we judiciously added our own soy sauce.
I need to explain. If you look at the second photo the neon sign states boldly " Without soy sauce " meaning that the chef considers his food sufficiently seasoned without the need to add further soy at the table. To a point I agree, but strangely enough the last dishes we ate, we added soy sauce.
I rest my case.
You know by now we are not too interested in wine or sake come to that. From memory only two bottles are below £30 on the list, its onwards and quickly upwards from there. We chose a New Zealand white which seemed quite ok.
Put it this way it did not jarr
It is a bit of a bling place with a smattering of diamond encrusted rolex's, louis vuitton, and various other fashion statements on display. We enjoyed it up to a point. Very much of a muchness for me, a lot of fun visually though. My wife enjoyed it more. It was different taste wise from what we are used too. We could not eat sushi on a daily basis, for us its a once in a while excursion, perhaps a couple of times a year. Having said that I would love to try one of the cheap places as a comparison.
Our bill topped £150, a lot for what we got, although I did not resent paying it, that is until I got the bill.
Thats when I noticed a £1.50 charge for extra ginger?
I queried the charge and insisted it was removed.
It was, but not without me having to explain, but it left a nasty taste in the mouth.
Yes I asked one of the chefs for some sliced pickled ginger and offered the unsliced piece off one of our dishes (see the crab dish) for him to slice, he declined, and sliced three strips no bigger than a ladies pinkie from his side of the counter.
WTF is that charge about, get real, meanness of that order will cost you customers

So what do we think of Timeout's Best London sushi bar 2011?
Well we need to eat some more sushi first to compare, however,
If this is the best in London. I'm stuck as to what to say.
(for once)