While there are other ways of covering dishes in the microwave or baking dishes in the oven - plastic wrap for the former and aluminum foil for the latter, there are times when speed is of the essence and if one is doing repetitive heating, placing and removing plastic wrap can be a chore.
So I use silicone lids. I have different types, some can be used in a regular oven (below recommended temps) as well as the microwave and some do well in the fridge as well, as long as you don't need a super-tight seal.
This is a photo of the basic types I use. I have a few more of the opaque Leque or MIU lids but this shows a selection of sizes and shapes.
The rectangular one covers a 9 x 13 baking dish, made by Lekue, I have used it in the oven to cover 2 or 3 loaf pans when baking meat loaf.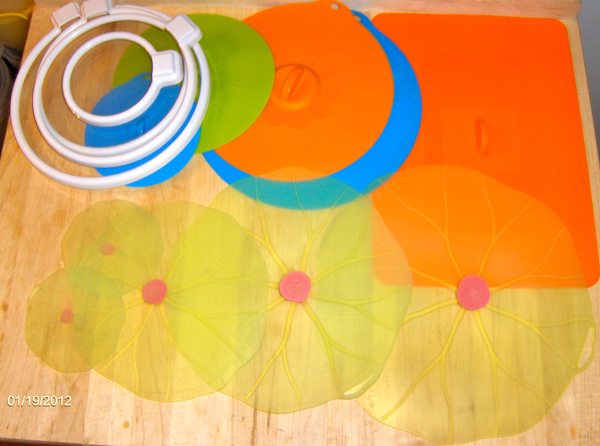 While I purchased most of mine from other vendors, Amazon now has them but some are sold by vendors.
My favorites are the "LilyPad" lids because they have a "knob" that is easier to hold and they are also more "clingy" than the others. I can lift a heavy Pyrex baking dish by the knob.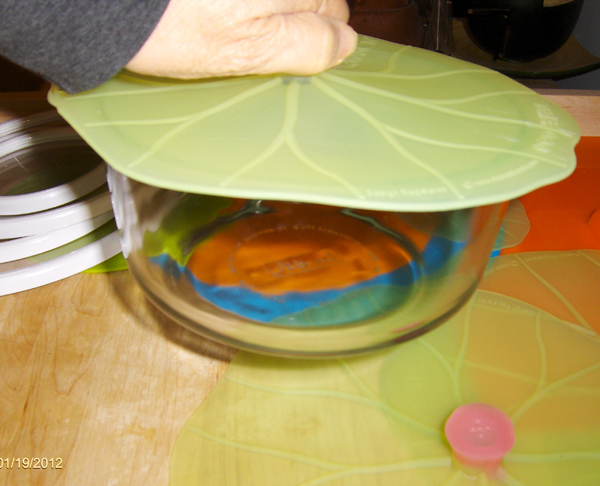 This does not work with the other types.
They are also translucent, which makes it easier to see what is happening if microwaving something in an opaque container.
They can be used in the oven and will cling to stainless steel and for storage in the fridge, will also cling to plastic and melamine - something plastic wrap will not do.
They clean up perfectly in the dishwasher.
If anyone knows of another type that might work as well or better, I would be interested.
I also have a bunch of the "Coverflex" in several sizes but for me they are awkward to use, especially when trying to replace them on a hot dish.
Edited by andiesenji, 20 January 2012 - 02:45 PM.