In Australia of late, the 'Amazonian fruit' achacha has been getting a bit of publicity. In foodie and health nut circles, at least. Reason being that people have started growing it here and it's just now appearing in the two leading supermarket chains (and, presumably, fruit and vegetable outlets). I happened to be reading about the fruit last night and went to the supermarket today in search of something else when, hey, there it was, sitting in between the birds eye chillies and bunches of basil.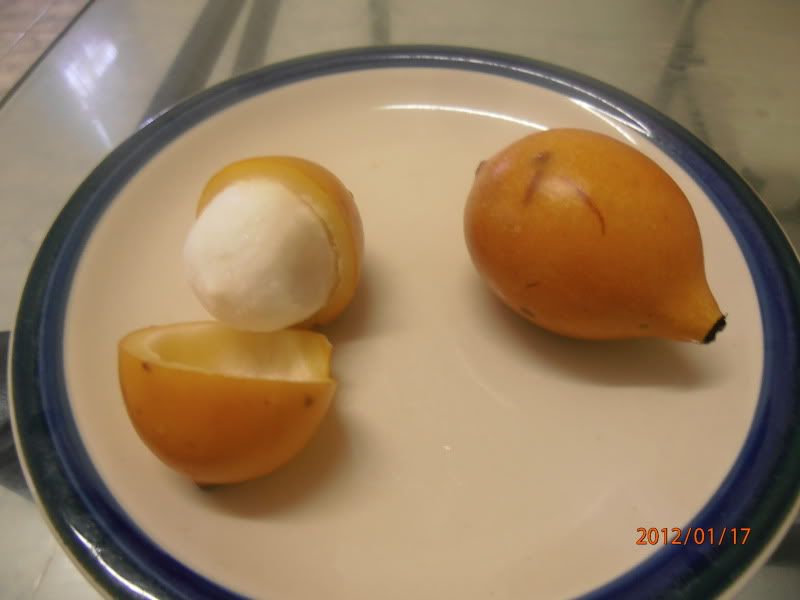 Some Googling tells me:
cousin of the mangosteen
lots of Vit C and some other healthy shit
from the Amazon
doesn't ripen in storage--picked when ripe
supposedly has a decent shelf life
It's small--about the size of a lime. The skin is thick and not eaten directly (altho' I've seen a recipe that uses it in a drink, blending it with water, honey and, if desired, rum). There isn't much flesh, as there's a large seed in the centre. Although the flesh looks a lot like banana, the texture is crisp--perhaps not as crisp as apple or pear, but it's by no means a slimy, soft fruit. The flavour is fairly mild--there's a fair amount of acid, so I can understand the comparisons to passionfruit I've read, but to my mind it was less like fresh fruit and more like passionfruit or even lemon in the form of a commercially-prepared sorbet. It's not that sweet, but it's sweet enough so as to not seem overly tart. In fact, the balance of sweetness and tartness is bang on. It's not bad. Expensive--$10 per kilo, with $1 buying you pretty much 2 individual achachas--but I could see it having potential in sorbets, tarts, cocktails or, yes, even as something you'd eat in its fresh, unadulterated form.
Anyone else seen it around, tasted it or found some use for it other than simply peeling it and eating it?