What happens when a restaurant opens in New York City, and it's informed by a cuisine with which you might know nothing about? In this case, go.
Acme, or Acme Bar and Grill, on Great Jones Street, was for many years a club slash bar that served up some "Southern food" as well as some mighty fine rock and roll shows down in the basement. The r & r was the extent of my familiarity with the joint, since I'd never eaten there, but shows by the likes of Alex Chilton and Roy Loney are probably why my hearing is not as good as it used to be.
Back to the new Acme. The executive chef is Mads Refslund, a Dane who was one of the founding partner/chefs (along with René Redzepi) of what many consider to be one of the world's top restaurants: Noma, located in Copenhagen. Be that as it may, now he's ours, at least for the time being. And that, from my experience so far, is a good thing.
Two meals over a couple of days allowed me to try a nice portion of the menu (as well as a few of the cocktails), which is divided, as so many menus are these days, into a number of categories: Raw; Cooked; Soil; Sides; Sea/Land; Desserts.
Mads, from
everything I've read
, is a promoter of the
New Nordic Cuisine
, and if I told you I was unfamiliar with that, it's because I've yet to travel to the places where
New Nordic Cuisine
is being cooked and served. And, according to Mads, he's not really cooking New Nordic Cuisine at Acme; what he's cooking is in the style of and based on the philosophy of New Nordic Cuisine, which in this case means using as many local and seasonal ingredients as is possible, without mucking them up too much.
So for instance, a starter of "sweet shrimp and bison" might not have been foraged in Central Park, but the interplay of sweet/bitter and soft/crunchy just knocked us out. It looked good too…
"House-cured salmon" was another winner from the "Raw" section of the menu, and three of us fought over the last bites, even going so far as to mop up, with some excellent Sullivan Street Bakery bread, the last trace of buttermilk horseradish dressing. "Duck in a jar" was not quite confit and not quite rillettes. What it was was hunks of very tender duck tucked under a pile of pickled vegetables, the duck tender enough to be practically spread on the accompanying toast…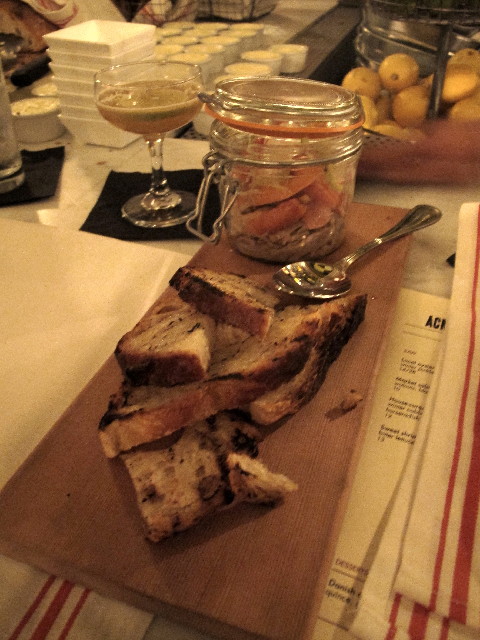 While the "Country toast" was merely good, "Pearl barley and clams" was a hit. Maybe my favorite dish of everything I've tried so far, the earthy barley and briny clams were drenched in a roasted sunflower broth with hunks of artichoke heart and baby scallops along for the ride. The worst part – I had to share. Barley – who'd have thunk it, though it did kind of sneakily remind me of a Sardinian specialty, fregola with clams.
I didn't, though, have to share my "Pork chop," cooked just enough for my liking (though if you don't like pork rare, ask for it medium or more). Pork chops are on every menu in town, but most of them aren't as good as this, accompanied as it was by parsnips, pears, cranberries and, I think, a pomegranate aril or two…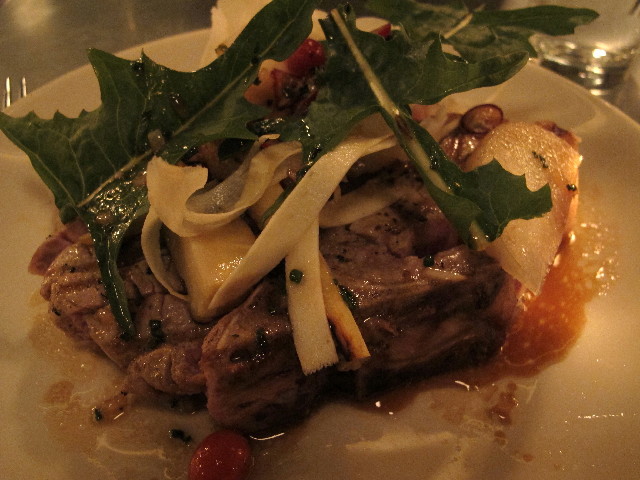 My buddy's "Arctic char" was another simple dish – just cooked and seasoned perfectly, all crisp skin and rare flesh punched up with capers and sherry vinegar, two of my favorite puckery things…
I can't not mention the "Hay roasted sunchokes," earthy from both gruyere and black winter truffles, and the "Black cod," a fish I happen to love because in another guise, it's called smoked sable, and is one of my favorite things to put on a bagel. Here once again, the fish was perfectly cooked, just past the point of rare, which with a fish like cod makes all the difference in the world. Not cooked enough – it sucks. Cooked too much – it sucks.
The only dessert we tried was a knockout. Called simply "Chocolate crisps," brittle tuile-like bitter chocolate is served on a bed of intense ganache alongside coffee ice cream. This touched all my buttons, because I love chocolate and I love coffee. It was great.
You know, dining out can sometimes be a learning experience, and two meals at Acme have taught me quite a bit. Certainly a bit about the philosophy of the
New Nordic Cuisine
, and how the use of bitter and sour components is as important as the use of sweet and salty. They open the palate. Raw, crunchy things on a plate are good and can serve to heighten the flavor and texture of the other components. Excellent ingredients are important, but hey, that's a given…respecting them and treating them properly should be a given too, but often that's not the case; here at Acme, it mostly is.
The latest news from the Acme front is that downstairs, that great old room that saw a lot of loud music, will be a club with a DJ, open unti 4 AM. What that means for the upstairs, for a restaurant that a mere one week into its existence is turning out some fine food, is altogether another. Go soon – who knows how long Mads will be at the stove.