PIZZA!!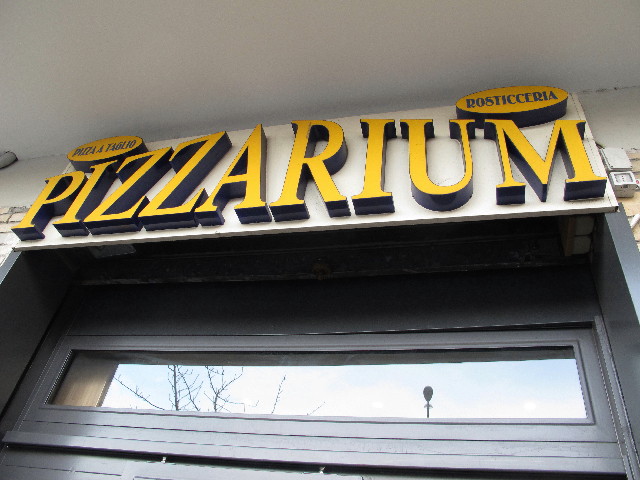 There - do I have your attention? Pizza always gets everyone's attention. I mean, New Yorkers will argue over who has the best pizza as if it had some sort of greater meaning in the universe, as if it was as important as something along the lines of who was the greatest Knick of all time. Seriously.
I wonder if Romans do the same thing…argue about pizza, that is. Because on our recent trip to Rome, we got to try some of the highly-touted pizza being served up by one Gabriele Bonci, as well as the pizza at a place we first tried maybe more than a dozen years ago – and which I've been recommending ever since. In between, there was a sandwich or two at Roscioli, another old fave dishing up classic Roman pizza bianca by the meter, sometimes sliced in half and stuffed with delicious mortadella, as a matter of fact…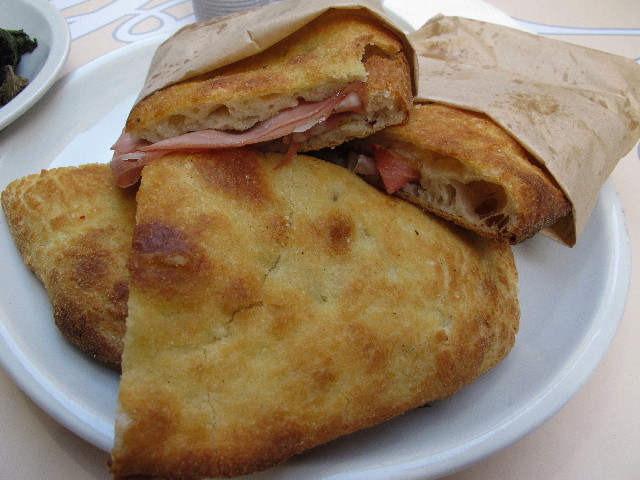 Bonci, if you haven't heard, might be Rome's answer to Dom DeMarco, and at his emporium Pizzarium, you may wait close to an hour to sample the wares, just like you do at Di Fara's. Only in this case, the wait is worth it, because at Pizzarium, once you're lucky enough to get up to the counter, you'll want to taste everything. Look at how beautiful it all looks…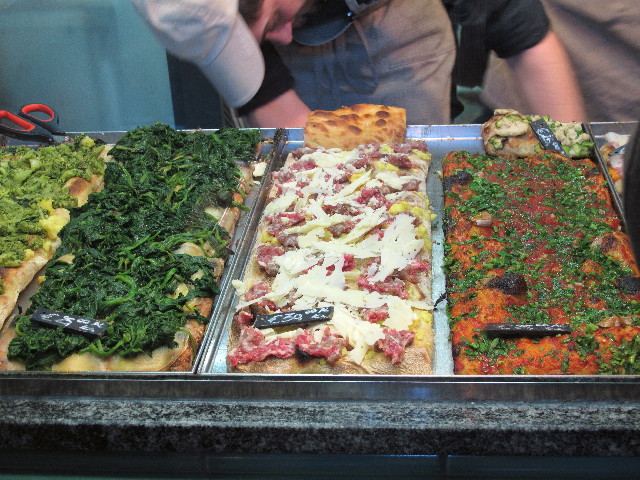 Significant Eater and I were trying to be reasonable (and leave ourselves room for a big dinner), so we only tried 3 of the perhaps dozen or more varieties of pizza al taglio offered on this particular day. It's fun, because you tell 'em (or point to) how big of of a slice you want, and it's priced by weight. We spent around €20, could've eaten more, but walked away feeling good.
Just like at home, I prefer my pizza with less on top; that way I get a better idea about the crust, which is basically my favorite part. Here's the assortment we inhaled…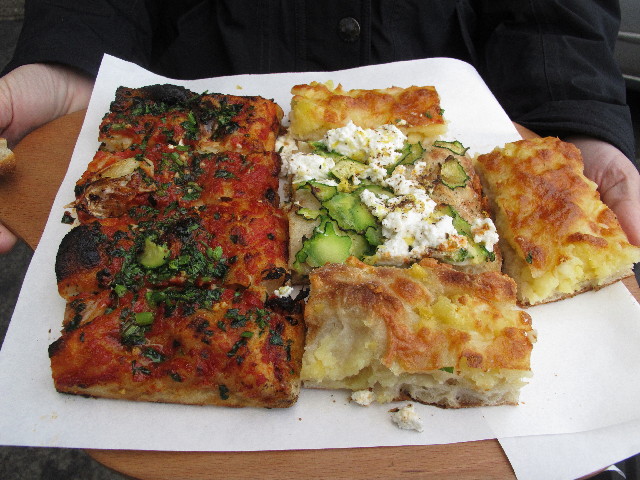 And we both decided that this slice of zucchini, fresh ricotta and orange zest was our favorite…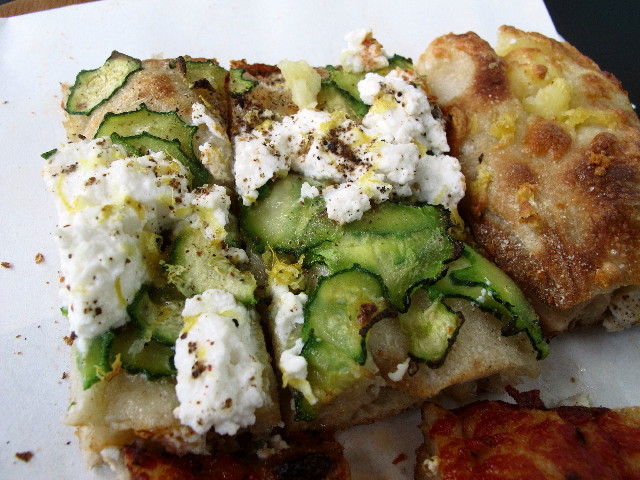 Signore Bonci is a star. I mean, once Bourdain has been to your joint, you've been anointed, haven't you? Well, maybe, but more important to me are the opinions of
Katie Parla
,
Gina Tringali
and
Elizabeth Minchilli,
all of whom have written extensively about the man. And they say go, so do I and so do they...
Our final night in Rome was melancholy, as it often is when a vacation ends. We took a long walk, past the Pantheon…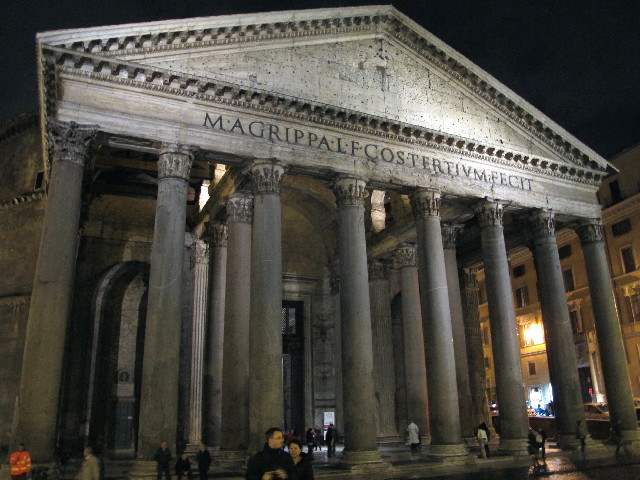 Through Piazza Navona…
And past Chiesa di Santa Maria Della Pace…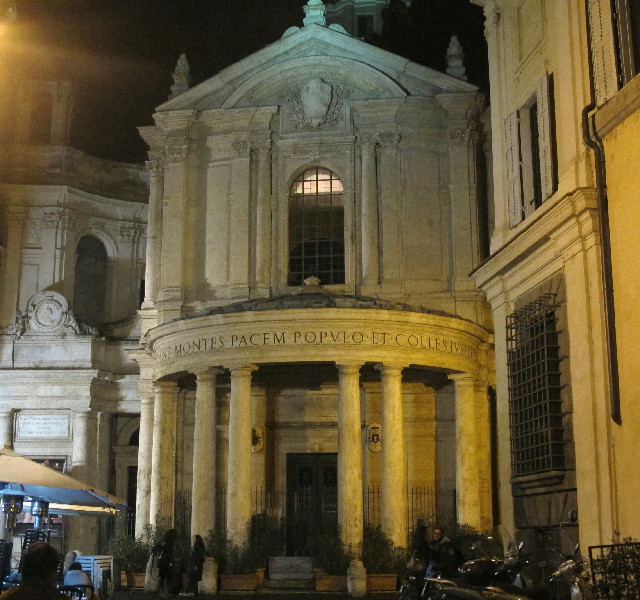 To our final destination…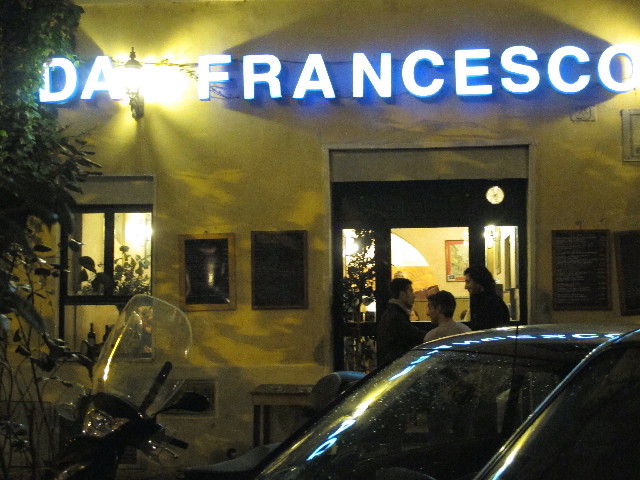 Da Francesco is a ristorante/pizzeria that Significant Eater and I "discovered" on our first trip to Rome a dozen years ago. Back then, for around $10, you could load up your plate with a selection of antipasti from a serve yourself antipasto bar. We often laughed watching guys the size of American football players go back to their tables with plates piled high with so much food that it was a wonder it didn't spill all over the floor. That's no longer an option, as they were probably losing money on every plate, but the pizza, as it was back then, is still very good. I went with the porcini mushroom pie…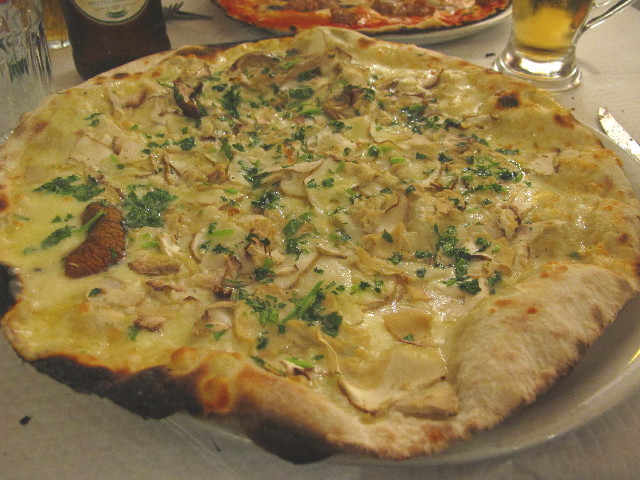 This is real Roman pizza, thin-crusted and crisp, and you can nearly see through it...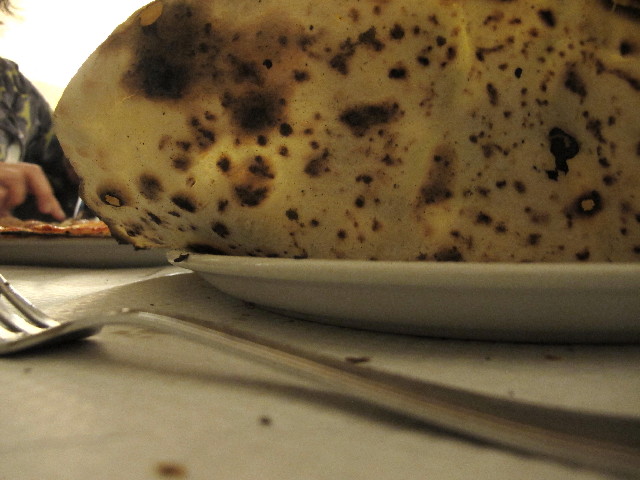 Sig Eater had sausage on her pizza…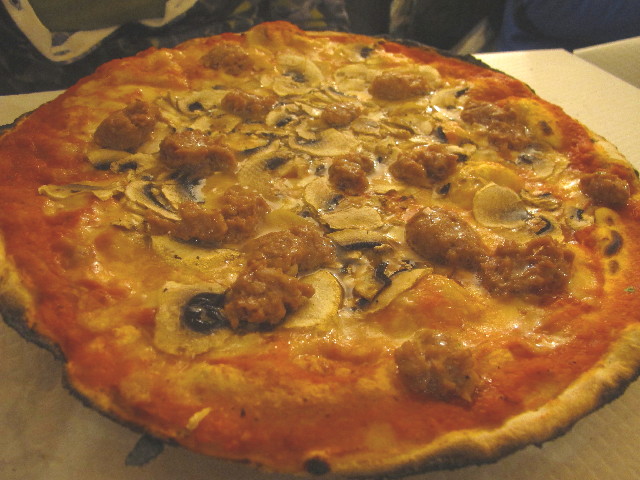 And after a nice, satisfying meal, we wandered on back to our apartment, passing this poor bastard along the way…
As well as the French Embassy, better known as Palazzo Farnese…
Rome's pizza offerings are certainly more extensive now than they were back during our first visit. So I suppose, just like here in NYC, there will be arguments all around as to whose pizza is the best. While I don't think you can go wrong at either of these two places, please leave me out of the discussion as to who was the greatest Roman soccer star - I've got no idea.