I'm not very good with list's of any description. Certainly best restaurant lists bemuse me. Top this, top that, who actually votes on these things? Do they pluck a place out of thin air based on a single celebratory meal a year ago, or are they regular weekly diners that are able to make a valid comparison. In any event I always see places in food lists that have no right whatsoever to be there.
As I understand it the Times 100 best restaurants is compiled in conjunction with Hardens restaurant guide. A guide incidentaly that I contributed to last (and this) year, but am still waiting for my complimentary copy of.

Currently holding sixth spot in the Times list is One-O-One, up a very respectable three places from last years ninth.
How so? When there are a raft of highly creditable places behind it.
I wanted to try it out.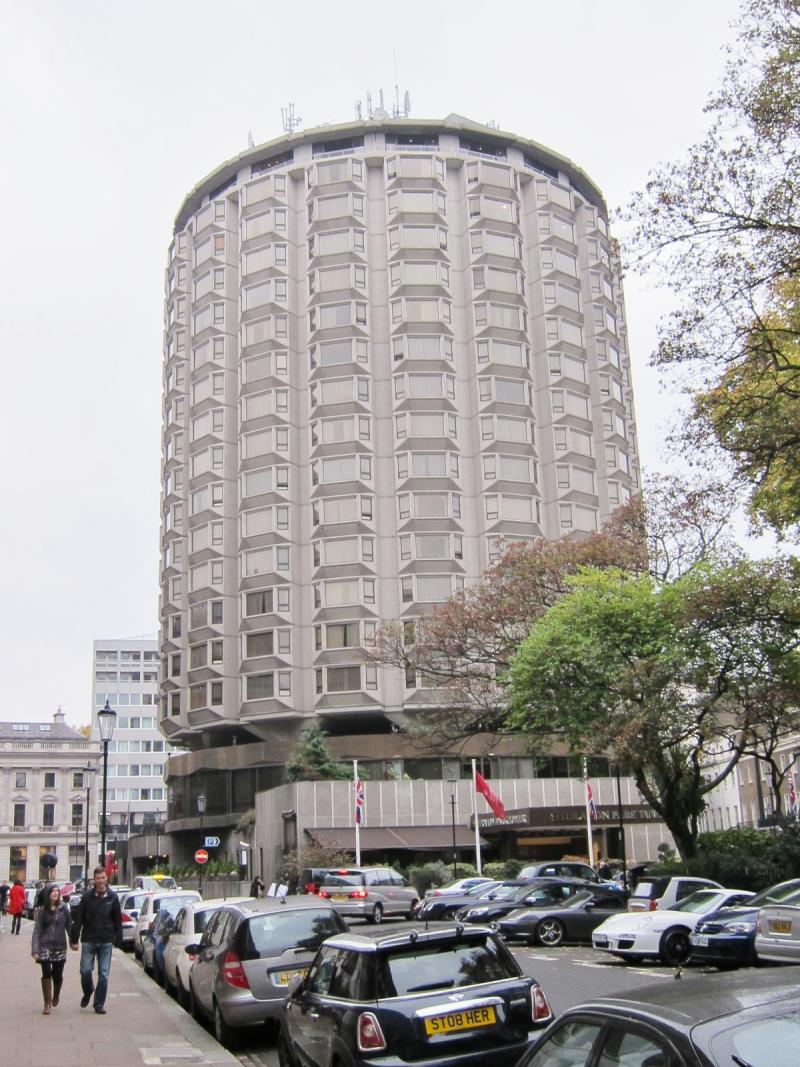 Now then, this place is not new to me. I have been looking at it for years now. The reason simply because every now and again one or another high profile Michelin starred chef would publicly praise the work of resident Breton chef
Pascal Proyart
Strangely another reason that it has always been in the back of my mind is its constant inclusion in
Toptable
. There has always been some kind of special offer or two to tempt the punters through the door.
The only reason that we have not been before now is because it is a speciality fish restaurant, whereas we mostly prefer meat and game. Although having said that, over the past year or so we are far more receptive to eating more and more fish.
Deep in the heart of Knightsbridge with a horde of competition literally metres away, this can be a tough place to trade. Virtually next door is Koffmanns, and Marcus Wareing. Literally across the road is Heston's Dinner and Bar Boulud. Around the corner is Ramseys Petrus, etc, etc, etc.
Housed in the ever so slightly, and ugly, gerkinesque Sheraton Park Tower Hotel, the resaurant is not helped but hindered by its easily walked past nonedescript frontage.
We visited on a Saturday lunch, to while away the afternoon. Especially appealing on a lunch visit is the "Petits Plats" menu of up to six plates for an amazingly good value £37. This is in fact perhaps, as good a tasting menu that you will encounter for the money.
Bread was decent with a choice of three. Especially pleasant was the tangy saline seaweed butter.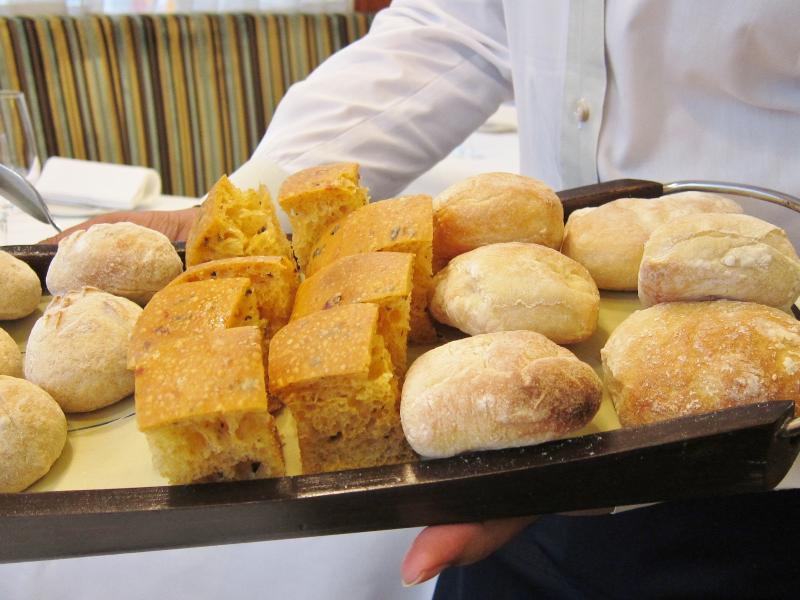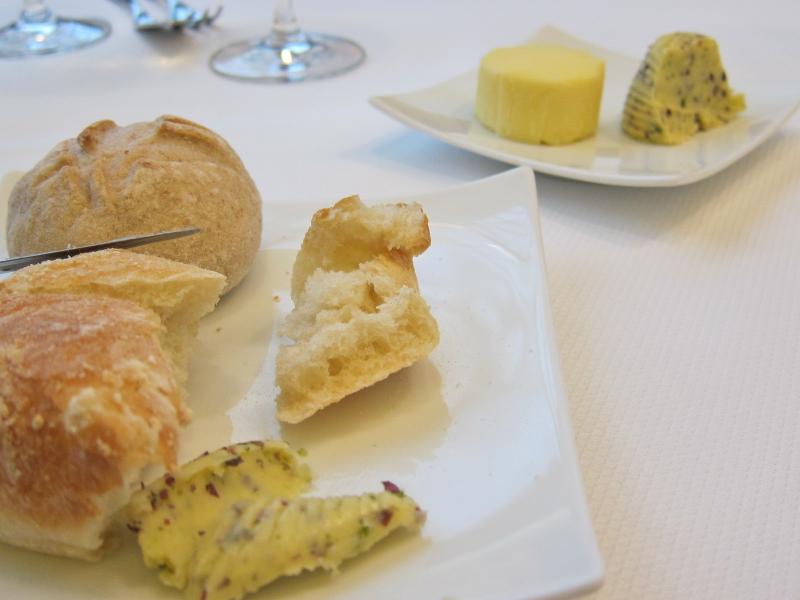 As this was not a tasting menu as such, no amuse was offered. So we were straight in with
Norwegian Red King Crab.
Witness celeriac remoulade, a tower of crab, Granny smith apple jelly and sorbet, walnuts, and a featherly light samosa filled with? Can't remember.
Good start.
Pan fried Foie Gras
next, perched securely on an island of baby spinach and salsify, this, lolling about in a chestnut cappuccino soup along with a flotilla of toasted croutons.
As you may expect a very nice eat indeed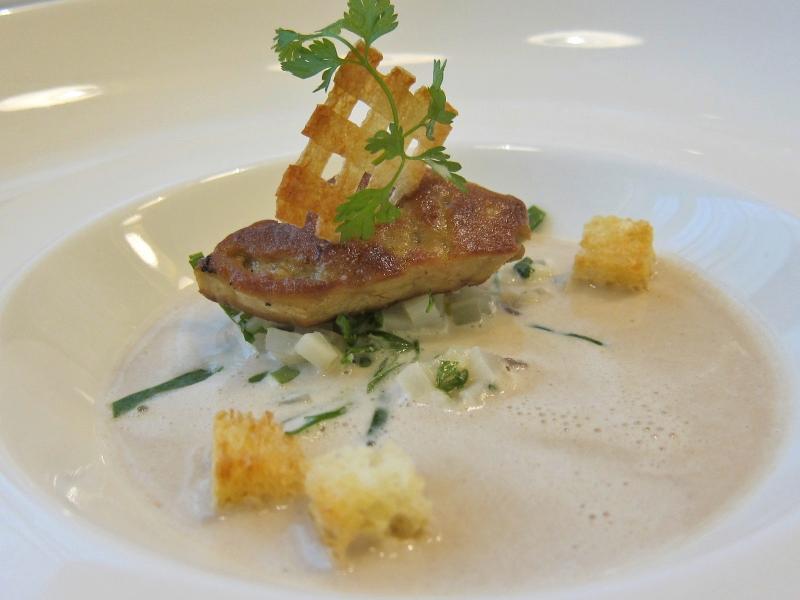 Seafood saffron paella with
Tiger Prawns
was accompanied with chorizo sausage and a rosemary skewered chicken brochette. Said rosemary somewhat overpowered the chicken, others may not perhaps think so. Again though an extremely enjoyable eat.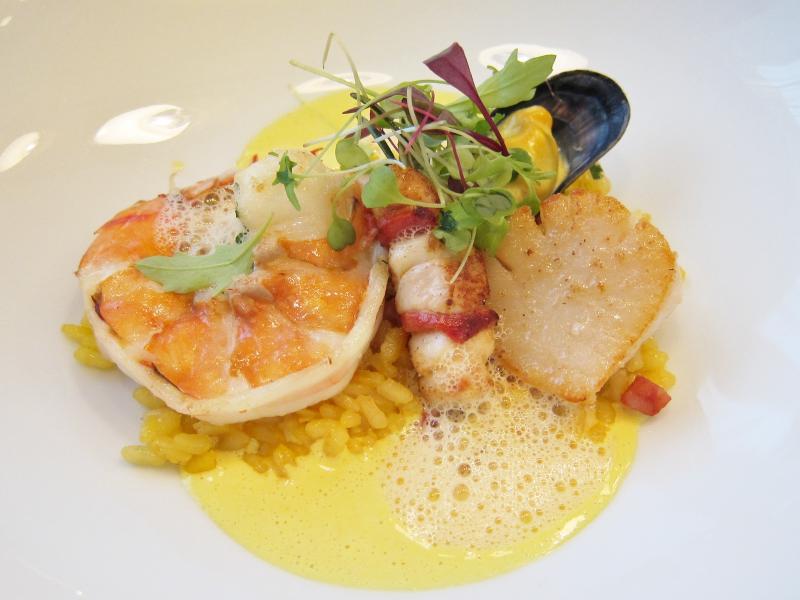 Gathering pace now
Royal Sea Bream fillet
, served with olive tapenade, crushed butter beans, poivirade artichokes, samphire and cockles barigoule sauce. Yea baby.
I can't remember the last time that we ate bream, possibly in the South of France, where it is known as Dourade. So I did not know what to expect. First mouthful was mackerel? I swear if I blind tasted this fish, thats what I would guess. Next bite the mackerel had almost disappeared. Were my taste buds playing tricks?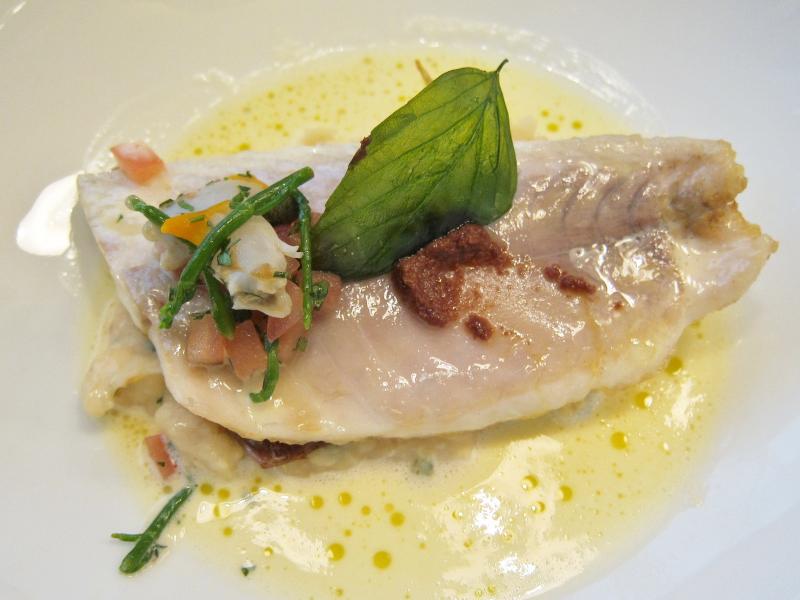 In a way we were glad to see a bit of game on the menu and the slow roasted
Oxfordshire wood pigeon
with panchetta and thyme truffle potato mousse was much looked forward too.
Perfectly cooked pigeon, a feast for the eyes, but I'm afraid the truffle was too delicate a flavour for me. Not only here. This is the third truffle addition to a dish that has not made very much impression.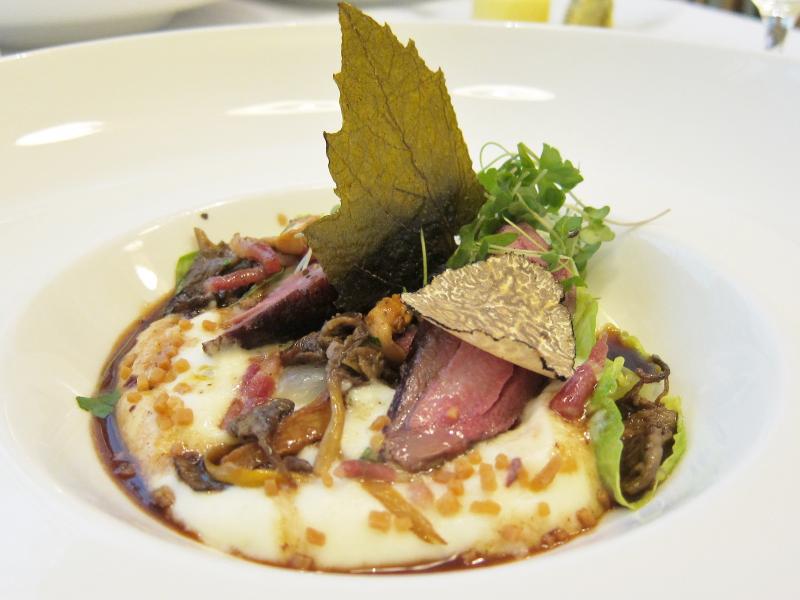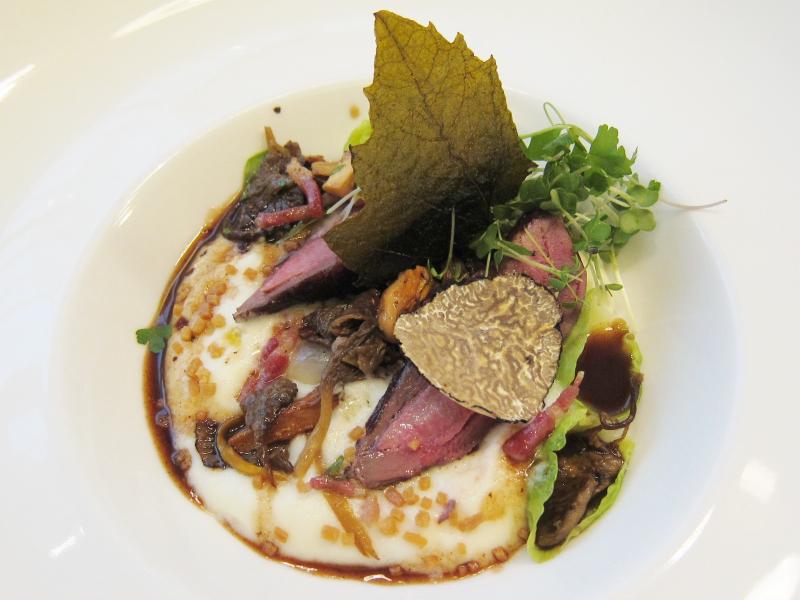 I took the cheese as one of the courses and we shared the dessert which was on the menu.
The waiter at the next table offered the customer a choice of cheeses and he chose a blue and ? I suppose its cheeky to listen in but the table was quite close by.
Blue appealed to me.
I was given no choice, the plate arrived tableside with comte and camembert on board.
I could have made a fuss I suppose, although it could have been that they were eating from a different menu, but I really don't think so, but can not be one hundred percent sure. In any event the cheese was ok.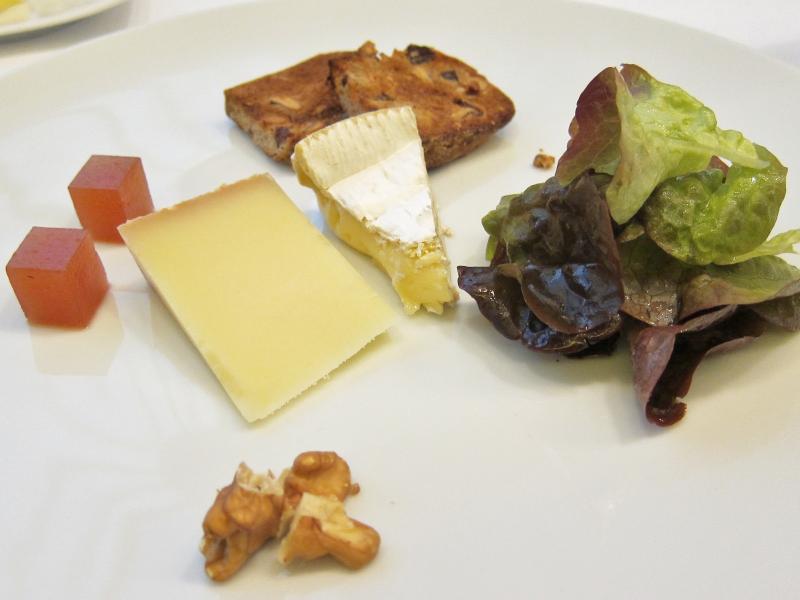 Only one dessert on the petits plats menu, which we were not really fussed at.
Manjari chocolate and passion fruit.
The souffle was a disappointment. It needed a viagra boost. Erect it was not.
Flaccid indeed.
The passion fruit element was good. Although overall the dish was poorly executed.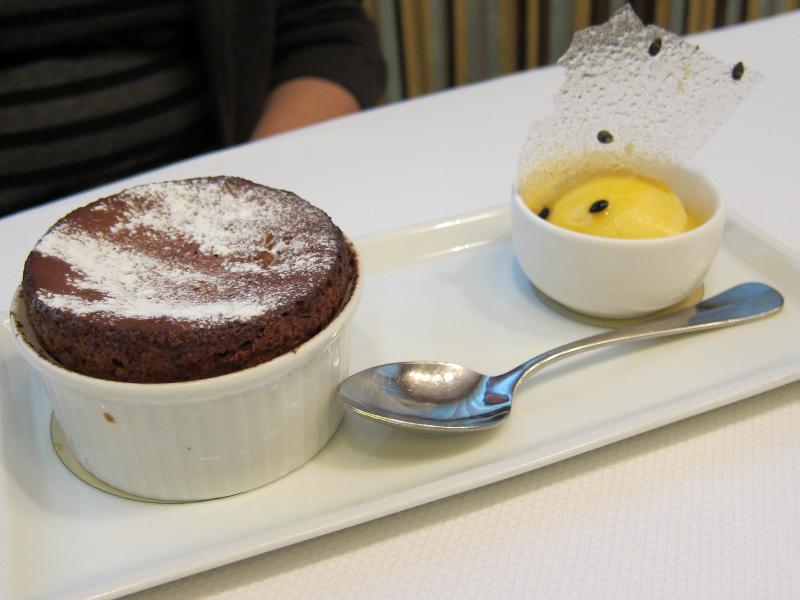 Well, what did we think?
Overall a very good meal with more far more highs than lows, and on reflection we should have listened to the Michelin chefs as touched on above, and made a sooner visit.
I'm afraid I did not get the day boat, to pan, to table, zingyness that I had hoped for with the Bream dish. That is not of course to suggest anything less than pristine produce, it could even be that my expectation level was too high in any event.
Is it worthy of sixth place in the Times 100?
Have to reserve judgment on that one I'm afraid for now, but then again food is highly personal is it not.
However we have no doubts about the overall experience and would most certainly recommend a visit, and we will most certainly give it a return visit ourselves. Which should sum up what our feelings are for the place.
The carte can on first impression look expensive, however the Toptable offers are very tempting at less 30% or even more.
You can eat as little as two courses here for £17 at lunch, but you would not get as much enjoyment as trying a few more courses of what chef has to offer.
Give it a try, you know your worth it.