Market time! I had a quick breakfast of a Guagua de Pan (bread baby), which I made from dough ends off of yesterday's seven grain bread. It's filled with a mixture of semisweet couberture chocolate (cacao Arriba de aroma, which is one of the finest nibs grown in the Amazon), freshly milled Ishpingo-bark Cinnamon (more on this in a bit), walnuts, and panela. I'll explain more about Guaguas and the why of them tomorrow - they're part of the Day of the Dead celebration.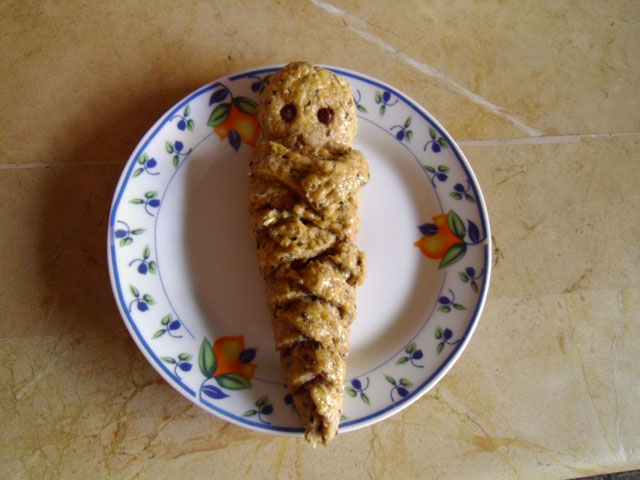 Then it was off to the Mercado Mayorista (literal translation: Bulk Market) for Gran Feria. Normally the Mayorista sells only by caselots or quintal (100 lb) sacks, but on Mondays it's open to whatever small quantity seller wishes to occupy space. This means that it's possible to buy directly from the farmers, all grouped into a convenient area. The Gran Feria occupies about 1/4 of the entire Mayorista, which is in and of itself the size of about 3 football fields. It's so big that it's visible from space.
The List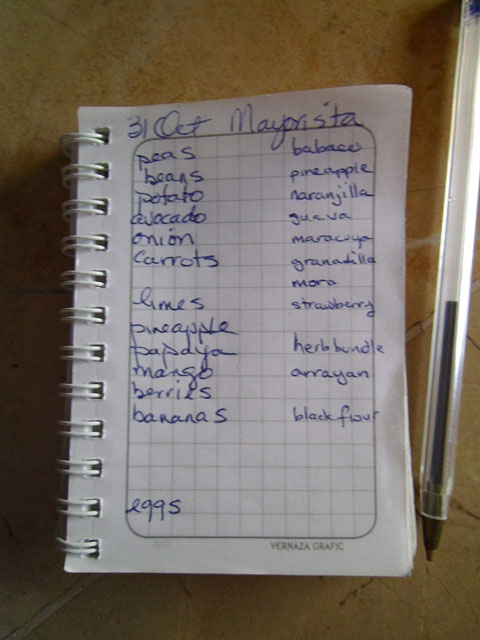 Coming into the market. The area is divided by Naves, large rooves that cover either open-air spaces or enclosed stores. They're lettered for ease of reference, and each Nave houses a specific food group. The one in this picture is Nave E, which is domestic onions, garlic, and shallots in 50 to 100 lb sacks.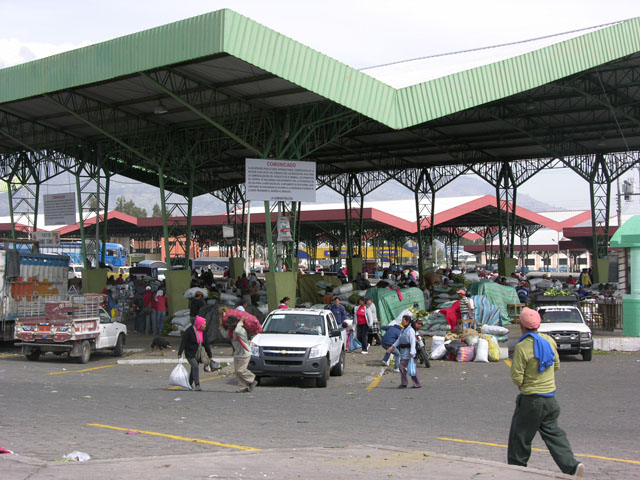 As you walk downhill, you'll encounter the Carnicerias, or meat-sellers. I do not buy meat here, for reasons that should be fairly obvious - I find chickens that hang in the sunshine and meat in the open air to be a bit iffy. If that makes me a snob, then so be it. I can live with that.
The first of the areas where I do my shopping is Nave J, the dry-goods, grains, and spice sellers.
This is Especerias Doña Clarita, run by my friend Kleber, a master miller and Food Engineer. This is where I buy yeast, all of my specialty flours, and many of the nuts, dried fruits, and spices that I use. That's Kleber on the left.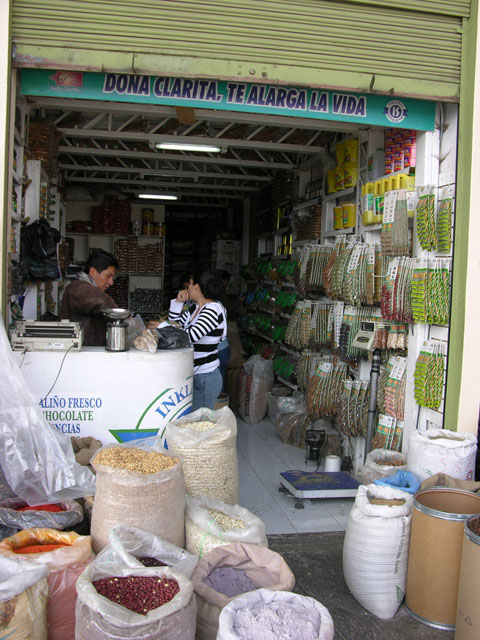 He also sells three grades of Panela in blocks, and a number of fairly exotic spices.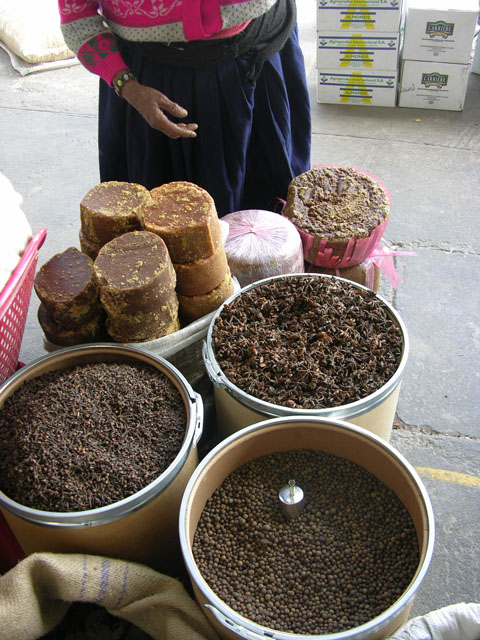 Moving downhill again is Nave M, Domestic fruits and vegetables.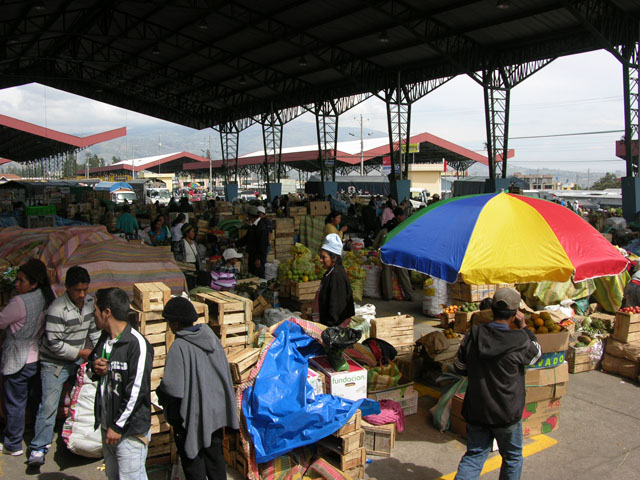 I priced the Pitahaya (Dragonfruit) here, but they were too expensive this week for me to buy them. In two or three weeks more, they'll be three for a dollar instead of $3 a pound. Oh well...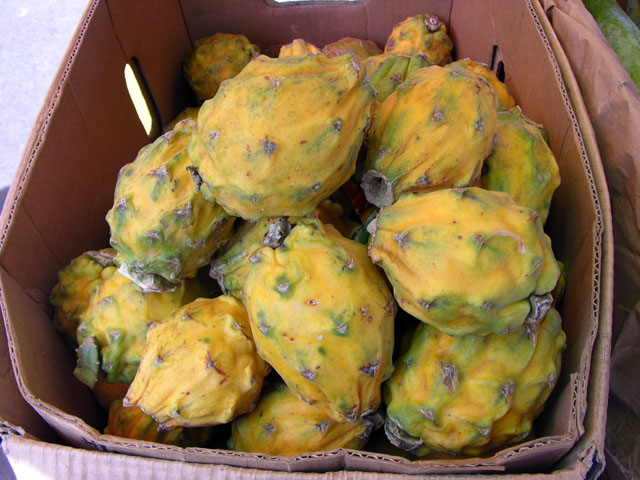 Moving down again is Nave Q, Leafy Greens and Herbs.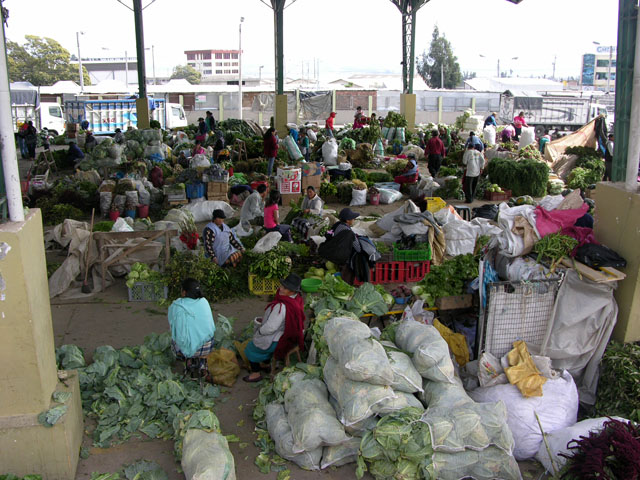 This nave is the beginning of the Feria Grande. The sisters in this photo are from Pelileo, about 20 minutes downhill, and they're selling their family's accumulated week's harvest. We bought carrots from them.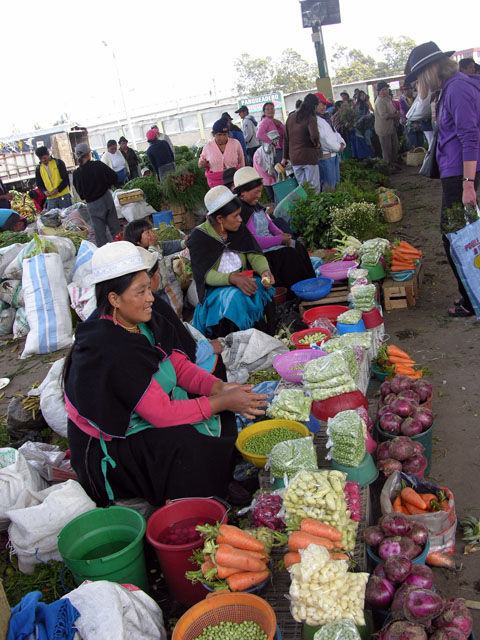 Another installment after dinner!