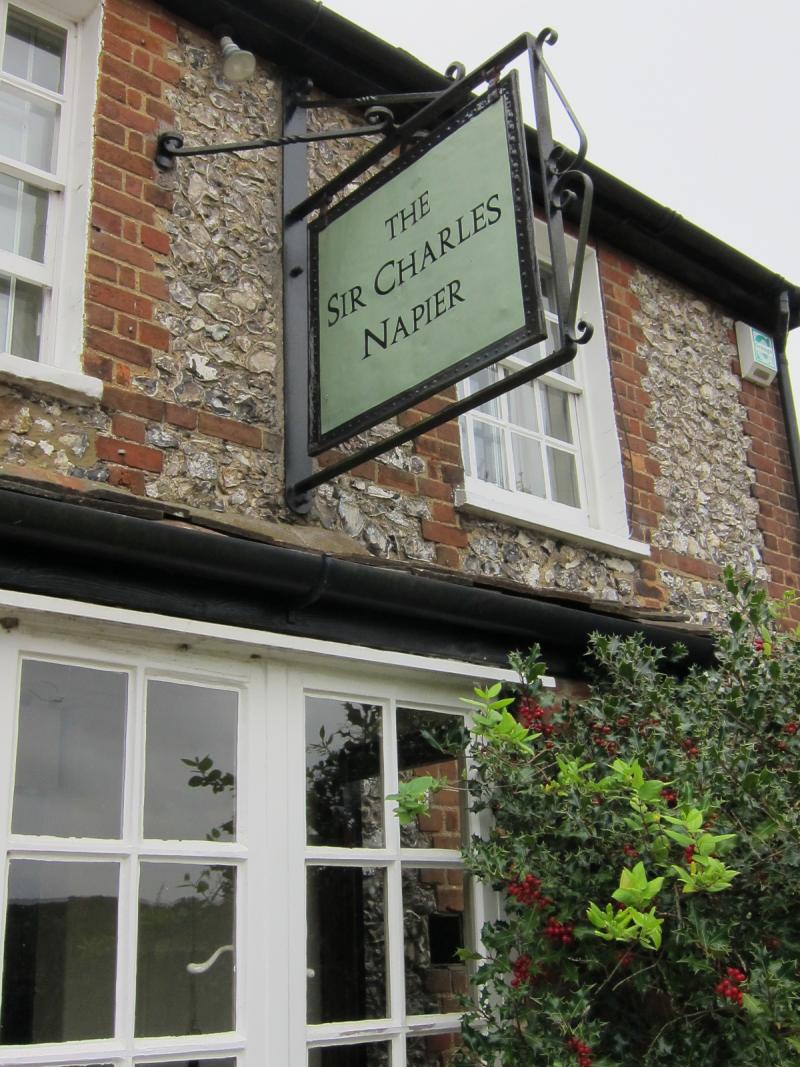 This place came to my attention about three years ago, just before I started a thread on here about the Hand and Flowers £10 set lunch. It had a glowing review by Matthew Norman praising its £14.50 set lunch, so I listed it as a must try. Someday.
As it won its first Michelin star last week I thought it best to get there before the crowds flocked in.
It really is in a picture post card setting, deep in the heart of the Oxfordshire countryside, yet only about thirty miles from London. It is surrounded by beautiful well tended gardens with some interesting sculptures dotted about the place, both inside and out.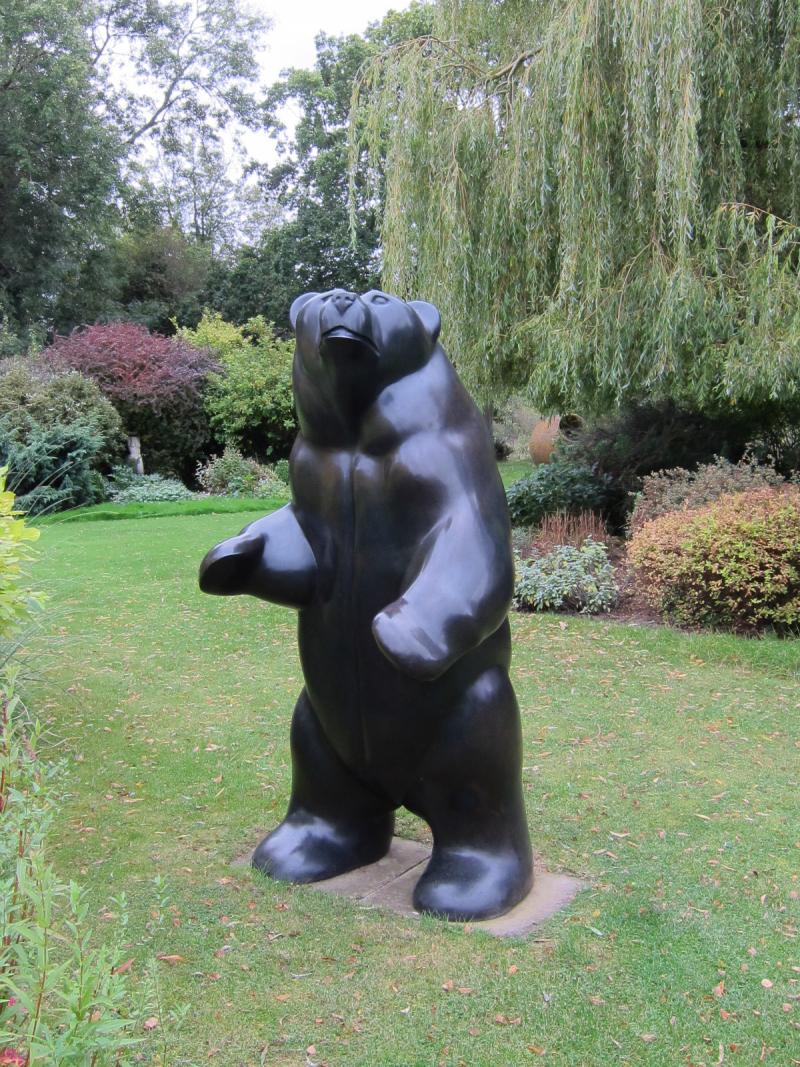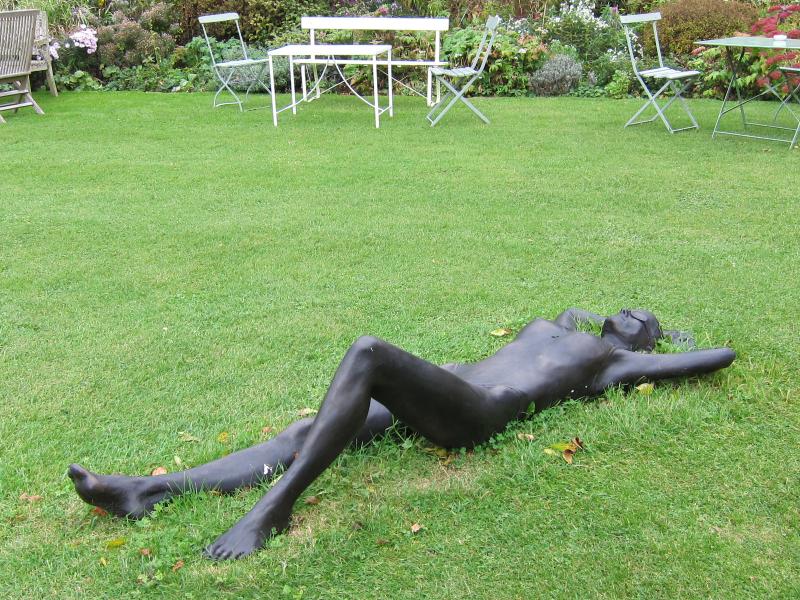 The interior to the front is pure pub, but this is not really pub territory, its serious restaurant stuff with pricing to match. They impose a "suggested" 12.5% service charge, which is not in keeping with the distinct lack of same. There is a growing tendency for some gastro-y type pubs to add this abomination, when its clear their staff are just not up to the job. I particularly don't like being served by some distant youth who is dreaming of whats in his girlfriends pants, instead of paying attention to what is
not
in my wine glass. The gulf between one star Michelin restaurants and some one star Michelin "pubs" is glaring, mostly they are not at all close in the service stakes.
If I'm being charged for service, I want service, not to have a jug of water plonked on the table for me to have to bloody well pour myself. Again I like meals explained, not plonked down with barely a smile, and a quick dart back to the kitchen. Get more staff, who can spend a bit more time with the customer, by doing so, you can offer better service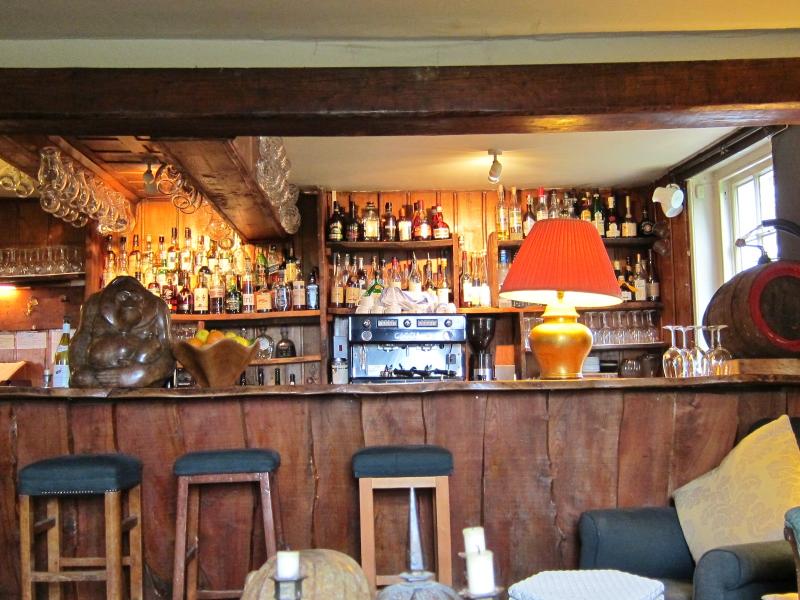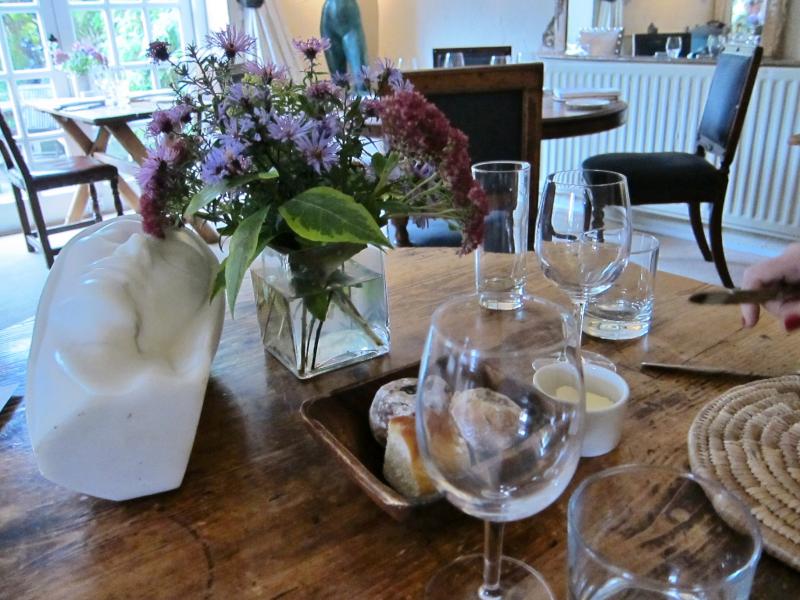 We had two halves of Wadsworth 6x (£4) at the bar, and were charged 50p service charge on top, for them being handed to me a full eighteen inches away.
Thankfully the a la carte menu, (the only one available on Saturday) was not so heavily laden with Knightsbridgey prices, as the one on the website was. Although having said that there was still three starters at £14.50 ( £16.31 inc service) and two mains at £28.50( £32.06). The menu read quite well with a choice of eight on starter and main.
The heavily artexed lemon yellow dining room is pleasant indeed. With its quality mismatched tables and chairs. Some more sculptures adorn the tables as well as the room itself.
Bread was, I assumed, made on the premises. I should have asked really. A choice of foccacia and sultana and walnut. It was decent, especially liberally coated with the butter, which I found to be very pleasant.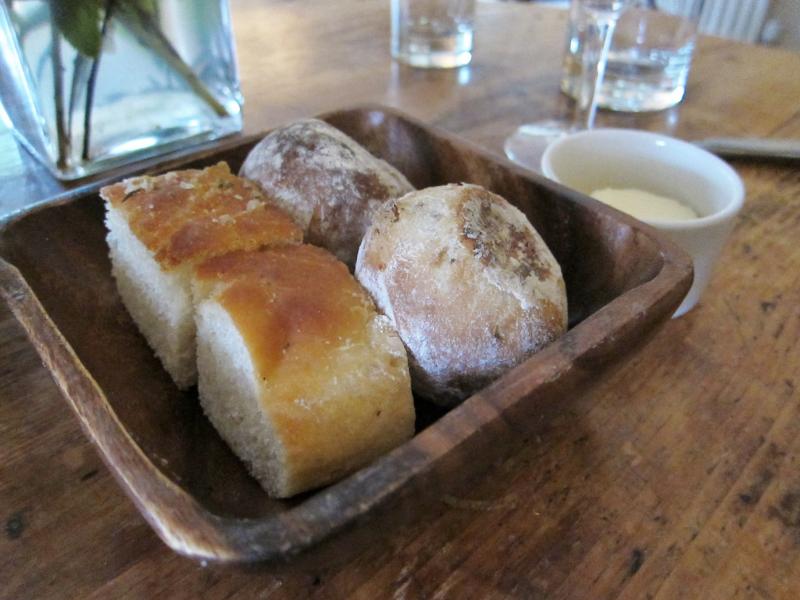 Herself started with
Seared foie gras, calvados poached apples, cassis and brioche.
(£16.51 inc service)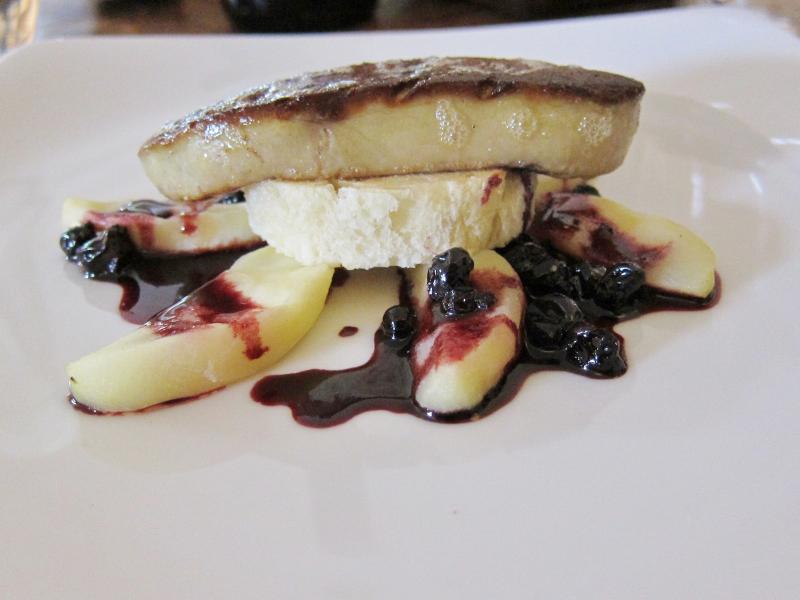 We did not detect any distinctive calvados flavour. The foie gras was as you would expect. The brioche I suppose was to there to break up the richness. We both thought the apples to be too tart.
Her second choice starter would have been
Confit tamworth pork shoulder with black pudding and apple puree.
(£10.69)and as we both fancied grouse for main, (but I wanted to try different things) I thought it only fair to have this dish myself so that she could try a taste for herself.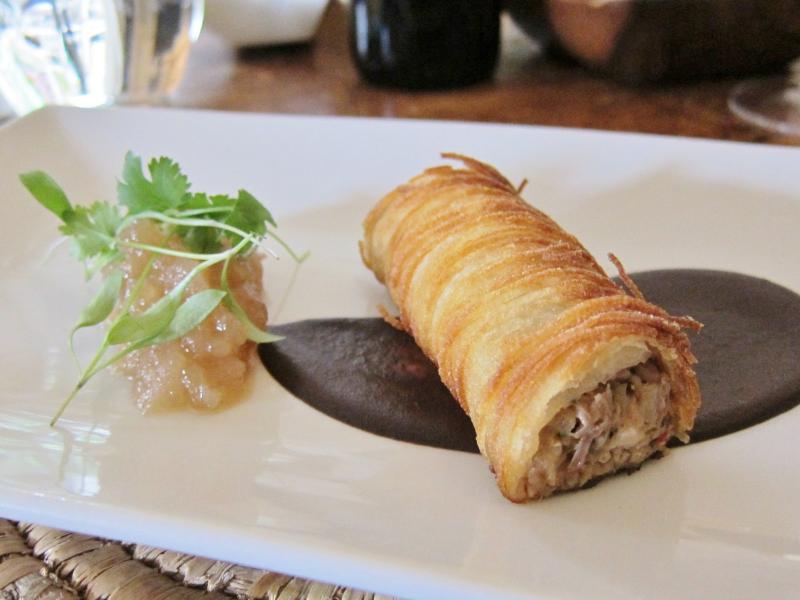 As far as I'm concerned, as tasty as it was, this is pub grub. It may be poshed up a bit with the slick of black pudding puree but it is basic fare.
I wanted the grouse, as it was to be my first this season. However if my wife had of made a fuss I would have chosen something else. I see little point in going to a restaurant with the purpose to review it and choose the same dishes.
Traditional roast grouse with bread sauce and game chips.
(£32.06)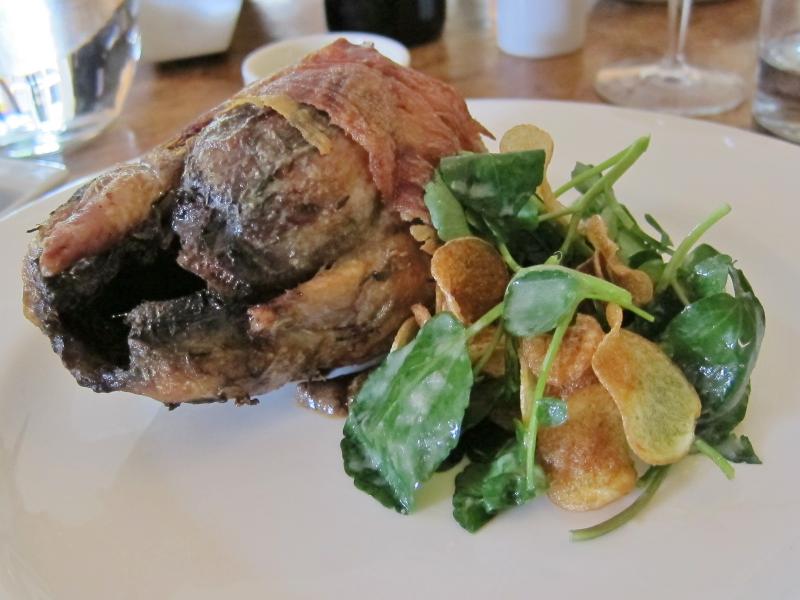 The grouse announced its arrival a couple of metres away from us. That distinctive pongy, gamey aroma wafted across the table, dominating all before it.
It was not the prettiest looking plate of food, although having said that I suppose its extremely hard to prettify. The watercress perhaps would have been more suited stuffed up its rectum.
I was more than happy eating this bird. Once I had broken through the somewhat tough seared shell, it was perfectly cooked inside. Intensely full on gamey flavour, and most certainly a mans dish, although my wife enjoyed a taste. Watercress is a classic accompaniment, this was suitably dressed. The dressing had however leached into most of the game chips (crisps) rendering them soggy and unpleasant. The bread sauce served on the side was too thin and lacklustre.
Turn your eyes away if your squeamish the remains look like something from an abattior.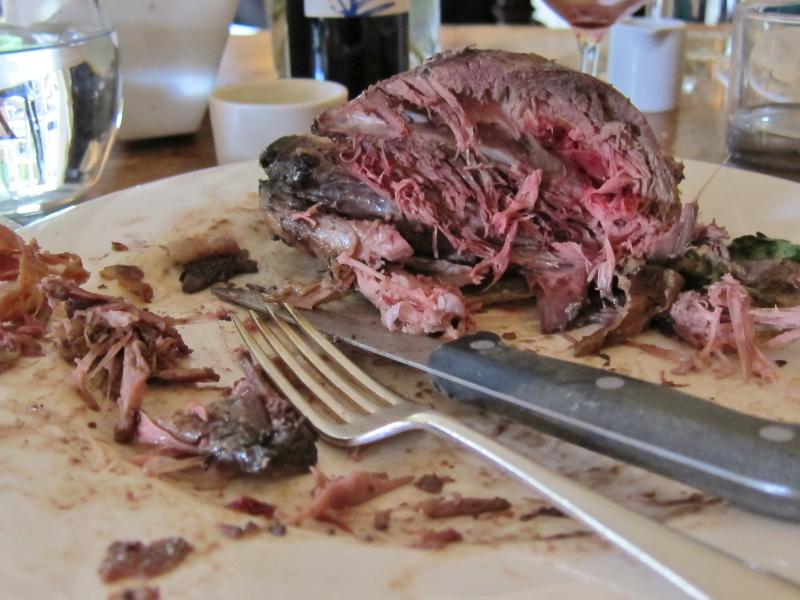 Our other main course was a reasonably priced
Partridge with choucroute, salardaise potato and perry jus.
(£21.94).
Again, most certainly not the prettiest plate of food, in fact it looked a mess. Thank goodness it ate ok. Thumbs up from the wife. She loved it. " Far nicer than that main course at " Dinner ". Hmmm.
The dessert menu consists of seven choices (£9.56). British and French cheese,(£11.81) Coffee (£3.32) Petit four (£5.06) Various Ice creams, and Sorbets.
I may have been tempted to try a couple of desserts but at nearly £10 each there was no way. We opted to share one between us and asked our waitress which one she thought was the best choice on the list. My wife is always fearfull when I resort to this tactic, as she has strong likes and dislikes.
"Salted caramel and chocolate mousse with malted ice cream"
was the quick reply.
"Ok, we will go with that".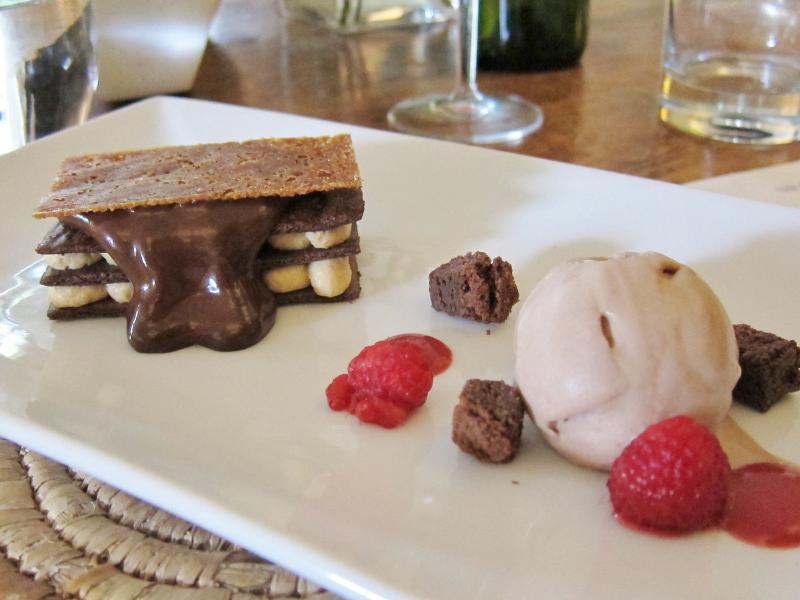 Not bad I have to say. All the better as it was not sickly sweet, but not worth a tenner nevertheless.
As you may gather my wife enjoyed the experience a bit more than me. I was a little underwhelmed. Perhaps my expectation level was raised with the Michelin award.
We are somewhat spoit by being able, and having dined at all levels from pubs, neighborhood restaurants, one, two, and right up to Michelin three star places, so comparisons are inevitable.
Essentially most pubs enjoy no massive start up costs. There fabric remains the same over many decades. Staff and other overheads are considerably lower than big city establishments who really have to charge more to recoup some of their outlay never mind cover overheads, or god forbid make a profit. Yet some pubs feel they can charge London prices in rural locations. My main gripe is that service charge of course. If you make the charge, make sure people are taken care of. Don't leave them up a corner to fend for themselves.
Saturday lunch for two people, two and a half courses each. One decent bottle of fruity chilean house wine (£19.69) two halves, jug of finest Oxfordshire tap water, no coffees £114.75 including
service