I've read most of the SV material available. Even Kyhmos' post references Balwins pics, and they are two years old. Not much in the way of recent info [that I have found] for the perfect SV egg.
I wasn't against the 62.2 egg from Balwin, and I'd like to use those in my restaurant, but the runny white is kinda a putoff - and yes, I've seen the 4 stages of protein temps.
Since I'm cooking a bunch of other stuff at 60C, I thought I'd try to SV eggs at that "standard" temp in my shop, and then boil them to see if I could get some outside heat into them to help set the white.
Here's my results with 5 eggs each boiled at 100C for a period of time after the 90 minute 60C water bath.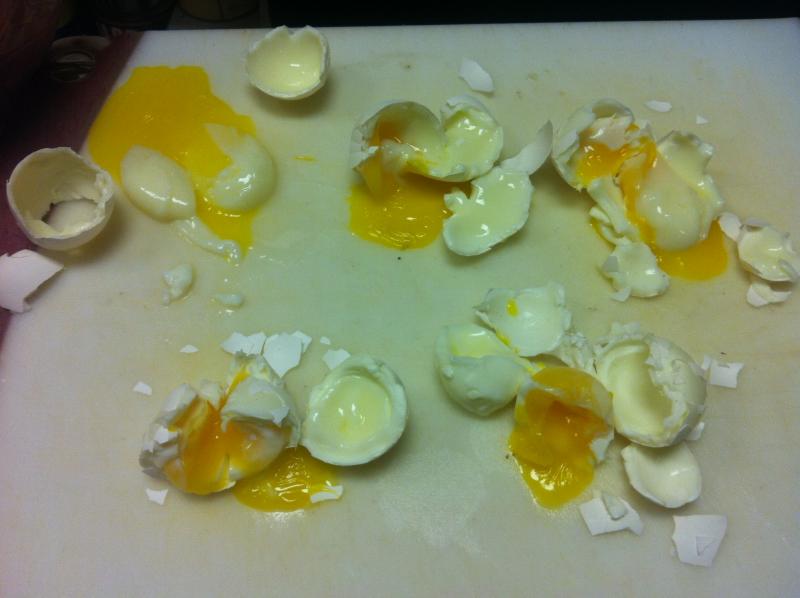 There was about 45 seconds after removal from the bath until the eggs went into the 100C water. Each egg was about 30 sec intervals.
1st pic (upper left) is the closest to just doing a 62.2 egg to begin with. The main thing I noticed was when opened, there was a thin layer of egg white still stuck inside the shell. It all came off uniformly, so its hard to notice - you can actually see a shiny surface inside the shell, which is the white glistening.
I was happy with the first egg and looking forward to the next ones, until the egg shell started sticking - something I had NEVER experienced doing 62.6 eggs. After the 3rd egg and seeing a set yellow, I was bummed and you can see the 4th and 5th eggs couldn't even have the shells removed properly to be anywhere close to presentable.
In summary, I added my tests to see if a better egg could be made to solve the runny white issue, but to no avail. For now, I'll have to continue to crack open on a side plate and then move to the final presentation to get that yucky ovomucoid off the plate.