James Knappett was going to be cooking my dinner at the Berkeley , Marcus Wareing was elsewhere so James was leading the kitchen brigade as the head chef.James has an amazing pedigree and when i read the impressive list of restaurants that he`s worked in i was really excited at the thought of what he would be cooking for us.Thomas Kellers "Per Se" in New york , Gordon Ramsay , Rick Stein and 2 years in the kitchens of the `worlds Number one` restaurant - Noma in Copenhagen...WOW , i was wondering what James was capable of whilst in charge of the Berkeleys kitchen team. I had already been studying the Menus for a couple of weeks prior to my dinner there. I could see influences of Noma straight away on the various menus that Marcus and James had created together.Marcus specialising very much in classic cuisine ( ex Gordon Ramsay ) married up with James`s wild and modern twist of flowers ,hedgrow , seashore , wild and foraged produce.Part and parcel of chefs daily chores whilst working at Noma was their daily forage in the countryside and then creating a menu around what was available that day .So what an amazing combination , both of classic mixed with modern, exactly what i love so much in cuisine.When i dine out , i want to be eating Lobster , foie gras , truffles , reduced sauces etc etc .Im very much old school in my tastebuds but i also get off on the modern twists of food "from nature to plate" , Simon Rogan and Lenclume for instance.So my meal with James would be very much of a cross between the two....or so i hoped.
We arrived at the Berkeley hotel in Knightsbridge at 7.30 , perfect timing for fantastic cocktails in the hotels "Blue bar" , a well known celebrity destination hang out.It was to be a long night of eating , 5 hours to be precise so time to relax , enjoy the friendly faces and prepare for the feast that lay ahead. Shortly after we were greeted and ushered through to the Restaurant , it was stunning , all with a Burgundy / Aubergine theme....and very.....very dark.Ohhh dear , my immediate thought straight
away was " My photos ".The restaurant really was so badly lit that i doubted that even my trusty little well researched Panasonic Lumix LX5 wouldnt be able to save the day. I had flashbacks to my night taking photos in `The Witchery` in Edinburgh , the fantastic Gothic restaurant lit only by candlelight...which was so dark i had to read the menu with my phone light. I had horrific thoughts , the Berkeley restaurant lighting wasn`t quite as bad but it was still going to be a nightmare to use a camera - with no flash. I asked one of the staff if they could turn up the lighting over my table but i was politely informed that it wasn`t possible as all the restaurant lighting would increase...Ahh well , onwards and upwards and ill try and make the very best of a bad job and let photoshop save the day on my computer....as it did with the Witchery photos.
And so the food started to arrive , and as you can see from the photos below , photoshop actually worked its magic and managed to turn dark and grainy photos into something `just` acceptable.Next time i go to the Berkeley then ill do Lunch , sit beside a window and get some decent light on the plates.
Little appetiser treats from the chef arrived one by one - Aubergine tart, / Grilled Quails hearts , / Pickled egg , caviar and Pigs skin , /Pineapple weed , Scottish Scallop in pickled Cucumber , grape , Lime mayonnaise. / Dorset Crab , Avocado puree , tomato , pickled vegetables ,
pickled Chilli , coriander
Aubergine tart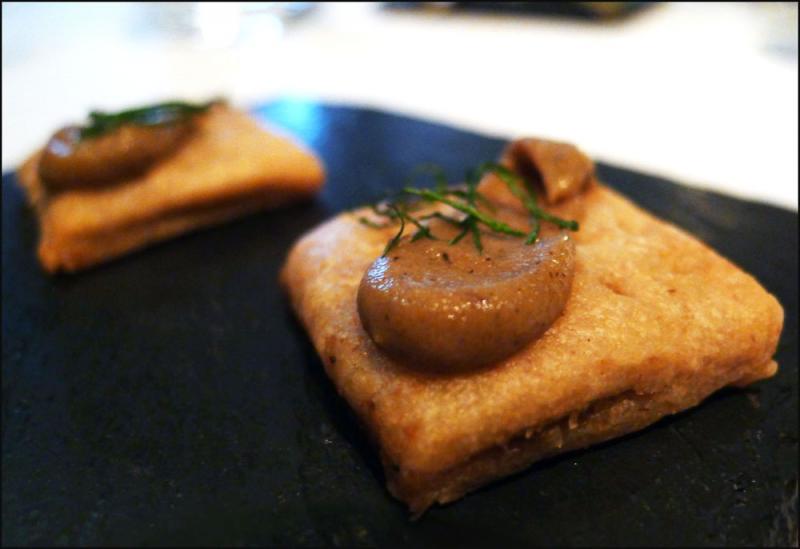 Grilled Quails hearts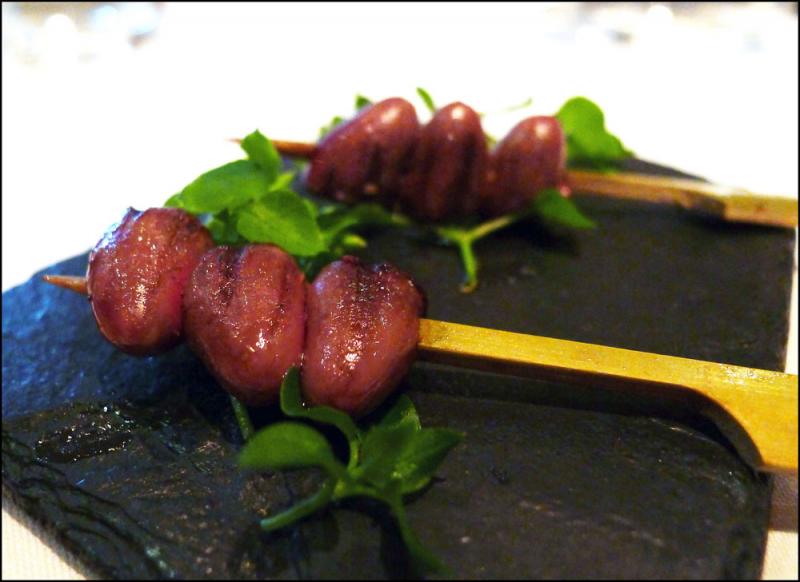 Pickled egg , caviar and Pigs skin
Pineapple weed , Scottish Scallop in pickled Cucumber , grape , Lime
mayonnaise.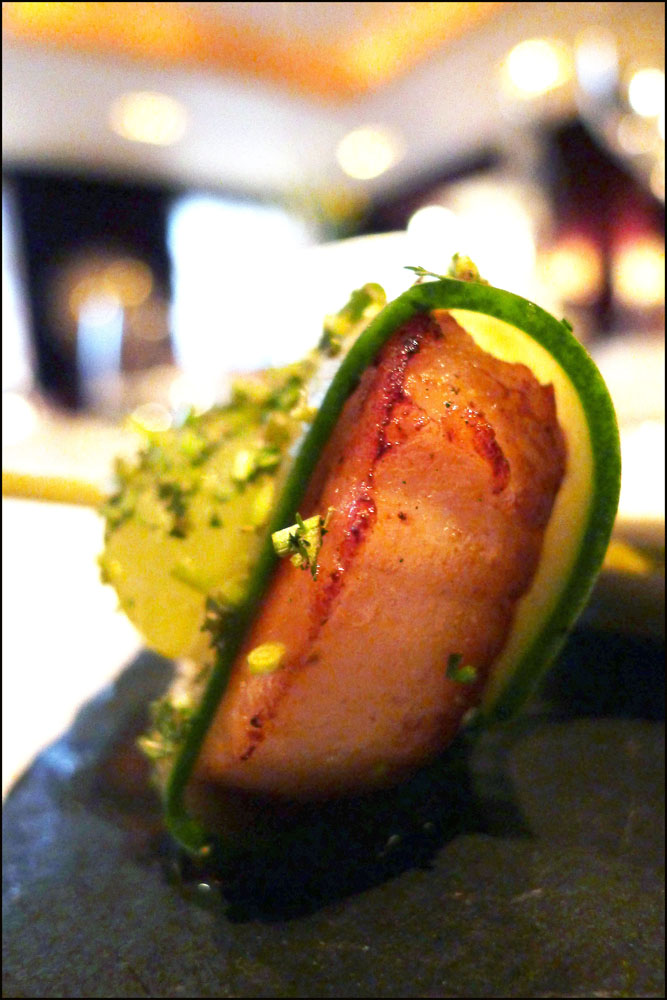 Dorset Crab , Avocado puree , tomato , pickled vegetables , pickled Chilli
, coriander
Creamed Foie Gras , caramelised milk tuile, fresh cobnuts, blackberries
and Hyssop
Burrata "stretched" Mozarella , Malted crumbs , cherries and onions.
Summer "Vegetable patch" - Pickled Damsons , pea puree , turnip , baby
carrots , Elderflowers , soft Goats curd and Elderflower dressing.
Butter poached Scottish Lobster , Quails egg , Nori Seaweed powder ,
buttered cabbage , Vinegar.
Girolles , Herb Papparadelli , Chickweed , Purslane , Truffle butter and
Fresh Truffle from Tuscany.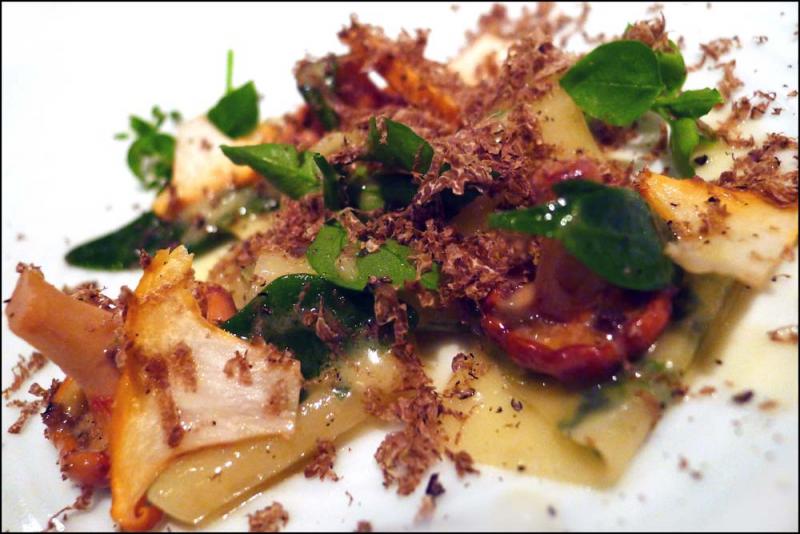 Cornish Mackerel , Smoked Paprika , Paprika oil , Sweetcorn puree , Grated
Zests , Parmesan , coriander , Lime puree.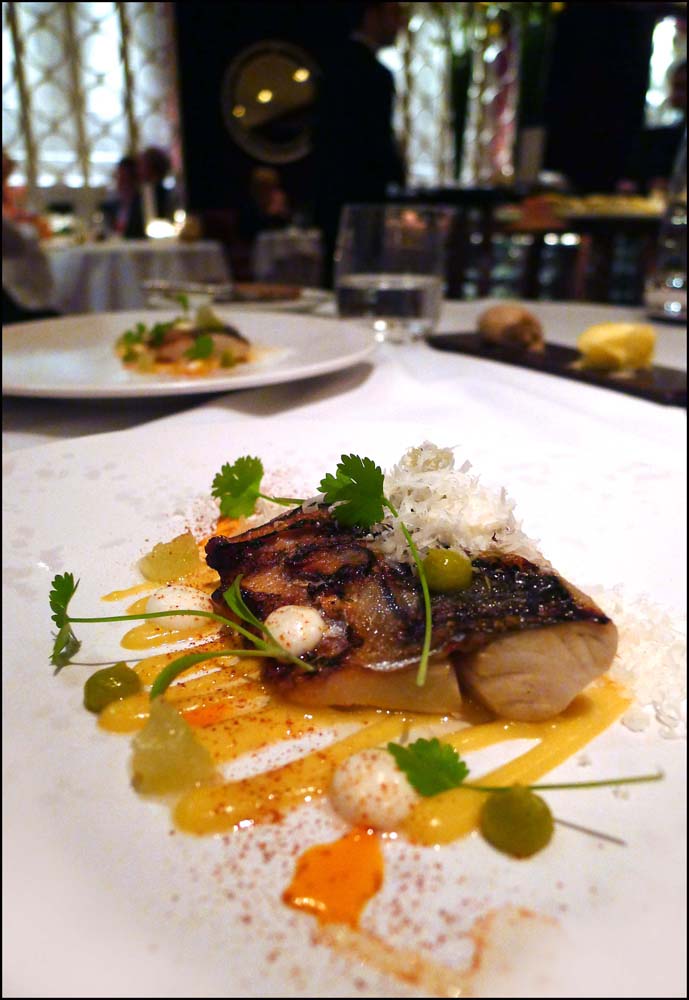 Cornish Line caught Sea bass with 7 textures of Cauliflower , pine nuts ,
flaked Almonds , sauce Polonaise , Purslaine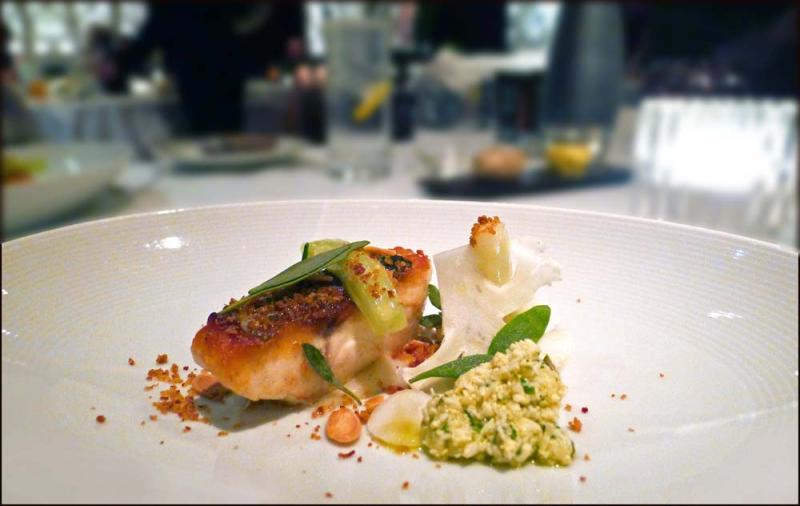 Cornish Turbot , New potatoes , Green Strawberries , courgette and Coastal
herbs.
Wood pigeon , Turnip , cabbage , Chocolate sauce , pigeon jus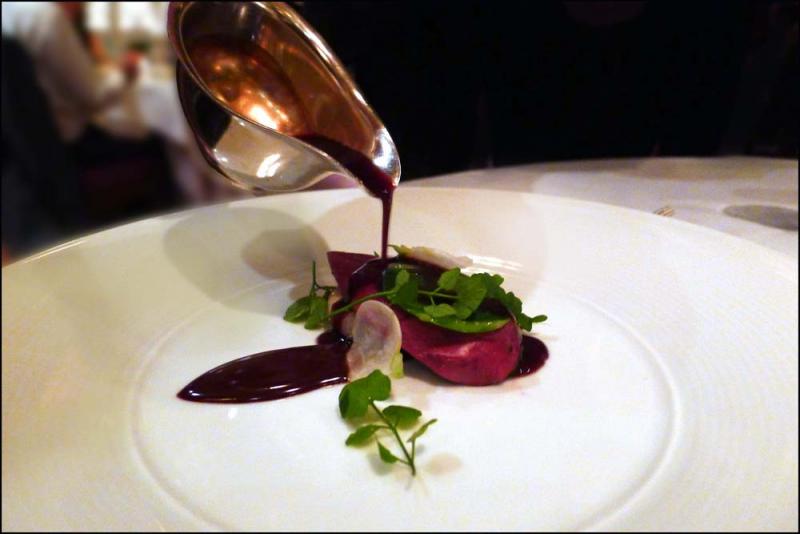 Cumbrian Lamb with Japanese Rose petals , Yoghurt and charred Leeks.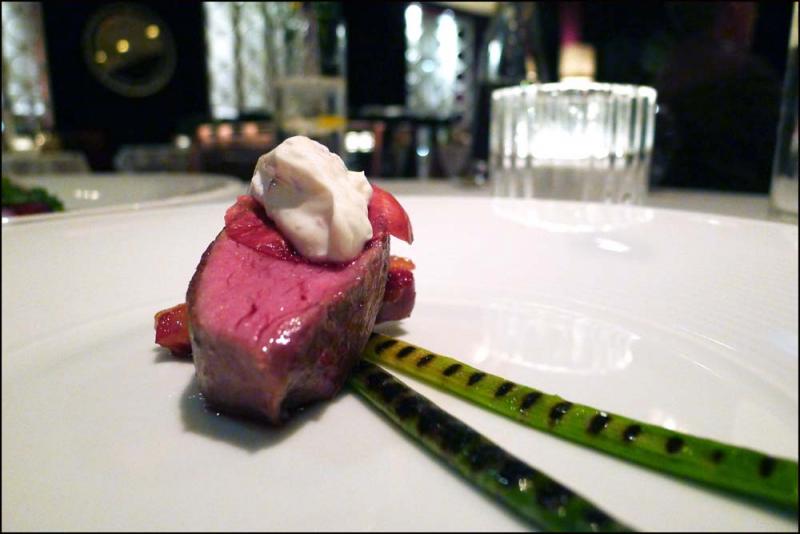 Beef , Smoked Bone marrow , Hogweed seeds , Grilled courgette , cucumber ,
Raspberries and Nasturtiums.Best main course of my life.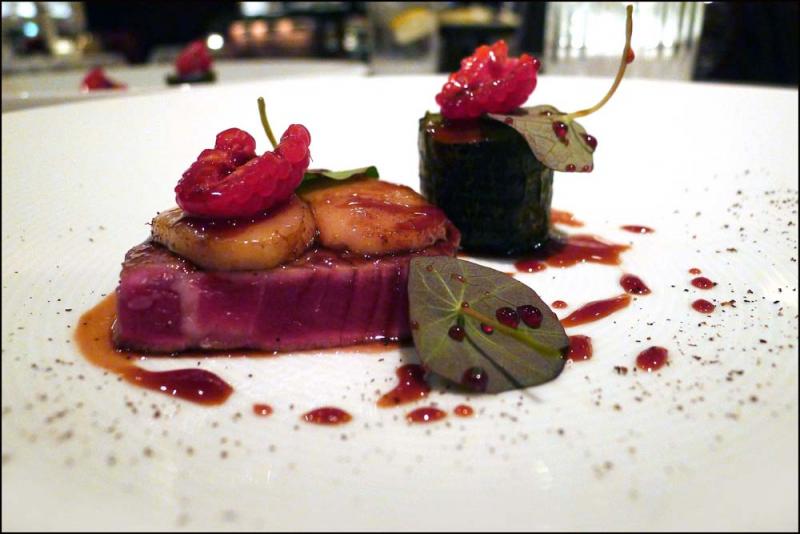 Broken down Pina Colada , Pineapple sorbet , Rum and different textures of
Coconut.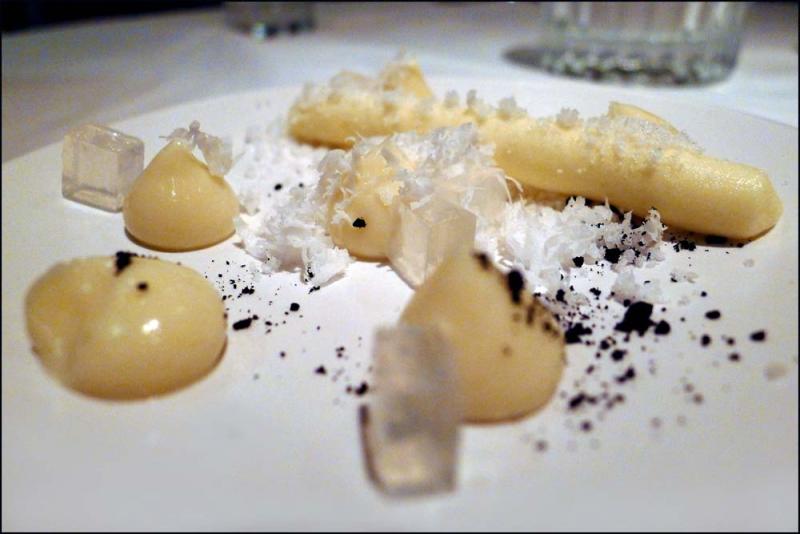 Caramelised apple parfait , Bramley apple jelly and sorbet , pearl barley
and cinnamon.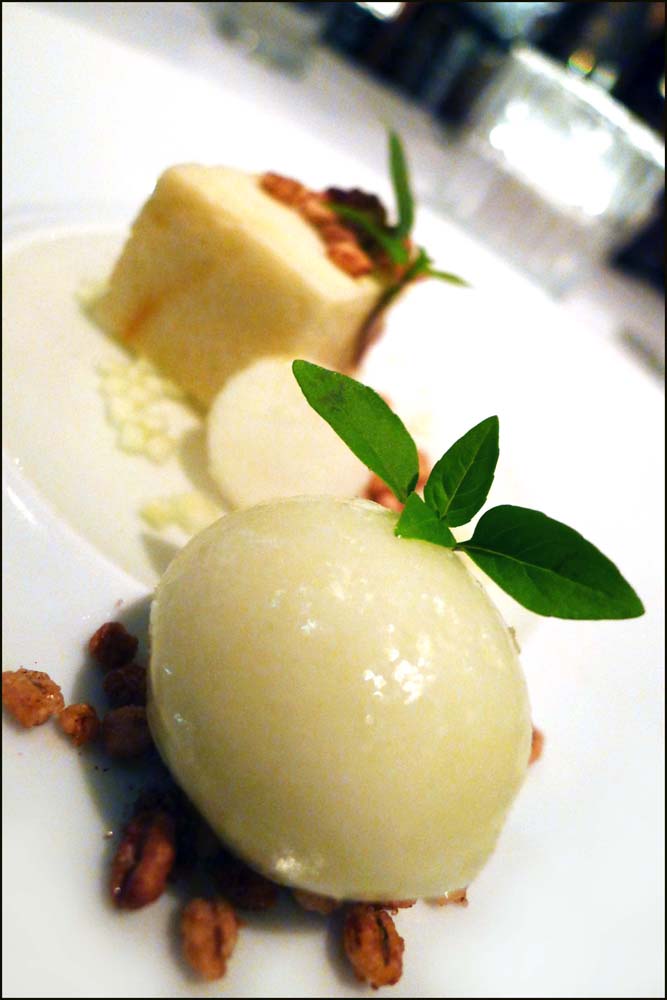 "Hay" creme brulee , Strawberries , Sweet cicely , Malt crumbs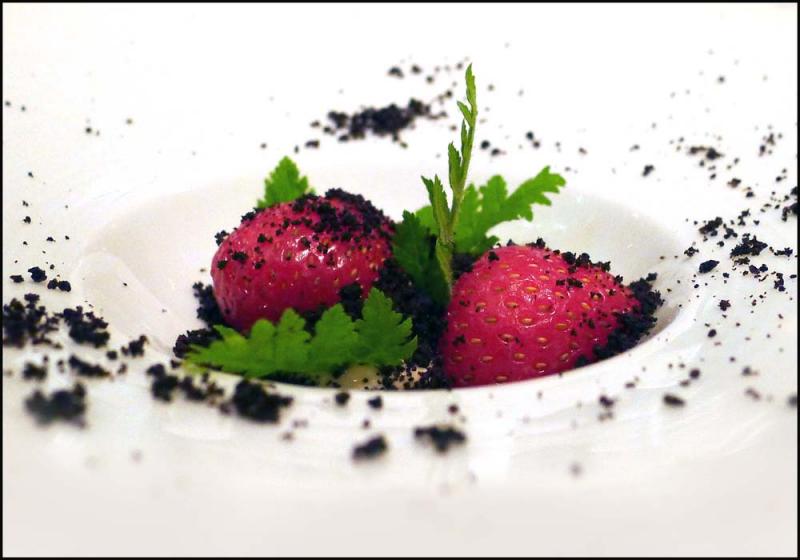 Caramel sundae with different textures of Caramel , Yoghurt and Malt.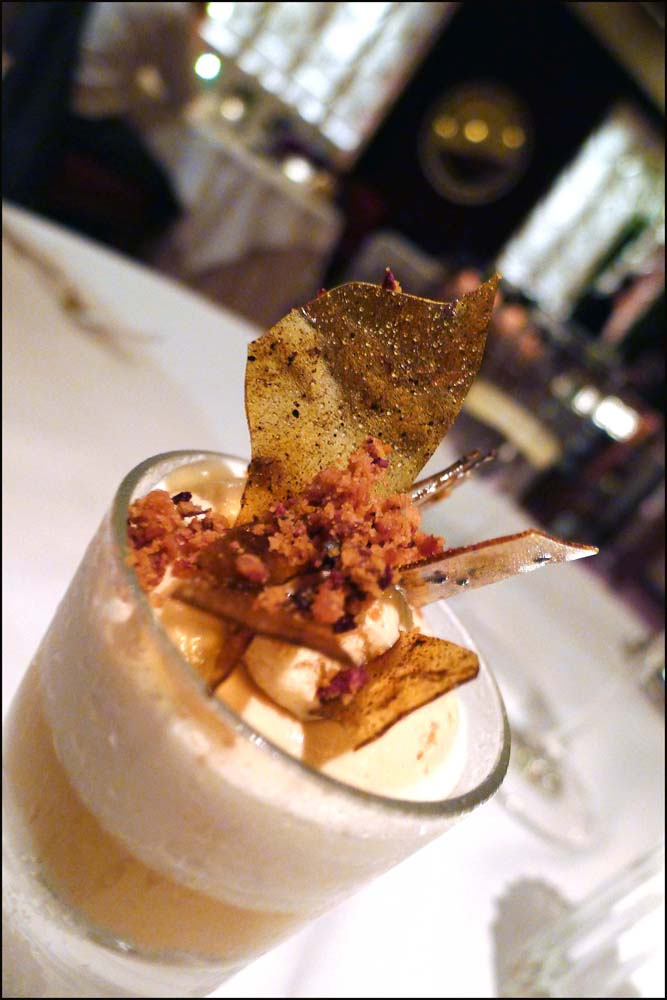 Liquorice cake , Smoked milk ice cream , fresh pear and wood Sorrel.
Sea Buckthorn mousse in Milk chocolate....My special birthday cake .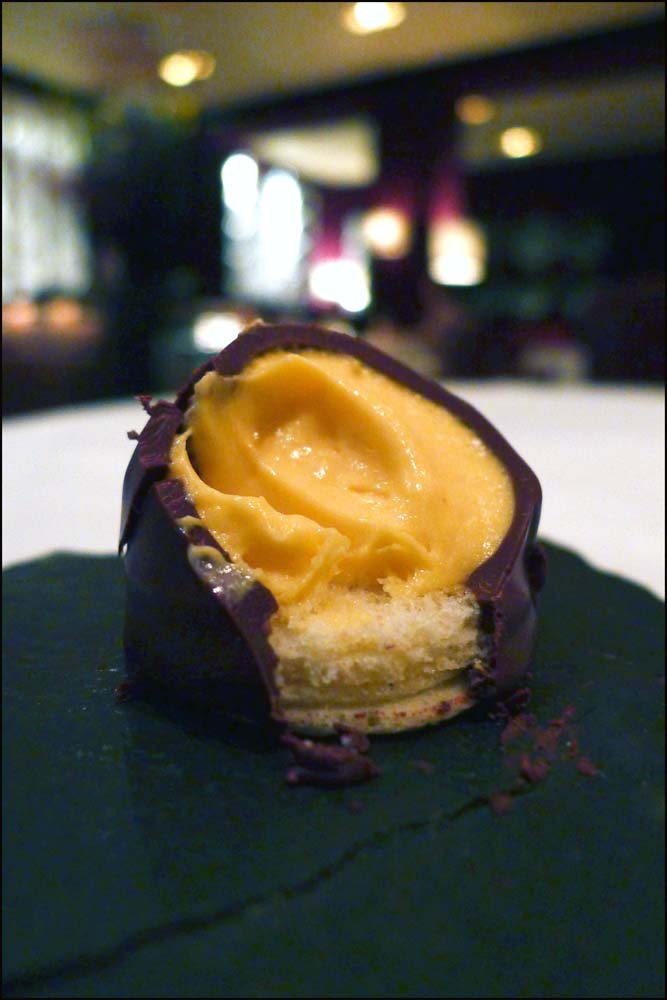 So....to summarise my 22 course dinner by James Knappett @ Marcus Wareing @ The Berkeley.....Spoken from the heart as an `impartial diner` - First of all the negative points....or should i just say `point` ?....The restaurant lighting.The lighting was horrendous for anyone who enjoys taking pics of their meal , flash photography isnt allowed in the restaurant in respect for other diners so food lovers.So bloggers and those wanting to show others their wonderful meal on their phones or cameras
have to rely on the available light. Far more importantly the food is so amazing and pleasing to the eye that i personally feel that it needs to be proudly presented in all of its glory.Take for example the `summer vegetable patch` , it was visually beautiful , a work of art on the plate but sadly couldnt be seen to its full potential and beauty because of the poor lighting , same for the rest of the food. So cmon Berkeley and tweak the lighting levels up "just a wee bit".
As for the good points....Ohhhhhh i`m gonna struggle here ha ha....Well for a start, no two ways about it I ate 3 star Michelin food, ....I ate James Knappetts 3 star Michelin food.This guy is so talented he blew me away with his innovative , perfectly cooked and faultless food....Words fail me right now but theres no doubting that this guy is going places, he`s cooking up there with the best 3 star chefs in Europe and its only a matter of time before the name is up in lights.There you go...Summed up an a couple of lines.I`m a happy diner , im a happy blogger and hopefully my photos and words will portray what an amazing dining experience we had at the the Berkeley. Marcus...You`re
leaving your kitchen in very good hands.
I cant end this piece without thanking the front of house team.It makes the world of difference to see people smiling and it seems that everyone at the restaurant was doing just that.It`s evident that everyone is happy there and that came over during service. A quick look inside the kitchen ( By
then it was 01:15am ) and a big thank you to Chef James and we had to make our excuses to leave and let the lads all get back to their beds......Seeing as though they were all back up again at 07:00.....Ohhhhh No.....life as a chef , not for me.
Edited by sped98, 27 August 2011 - 02:37 AM.