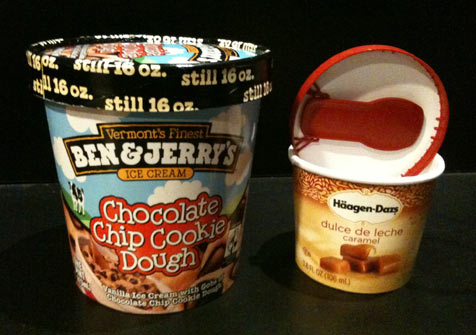 There's a new size in ice cream cartons...the miniature. See the picture above.
I consumed the contents of both containers (someone has to take one for the team

) and took this picture of the two containers side by side.
On the left is a pint container from Ben & Jerry's (proudly announcing on the lid that it's still a pint-sized container where some other brands are not). On the right is the newest size of ice cream containers coming in at 3.6 fluid ounces. I lifted up the lid on the small container to show you that it comes with a tiny spoon inside (at least the Häagen-Dazs version does). I noticed most major brands were selling this new small size of ice cream (including Ben & Jerry's).
I have to say that I think it offers just enough ice cream for a snack/dessert. It's a shade smaller than the size of a scoop of ice cream you'd get when buying a Thrifty's ice cream cone scooped fresh in the store.
So what do you think? Has anyone else tried them?
It could be a great way to sample a lot of different flavors since you're not investing in a half-gallon size (or whatever size it has been downgraded to these days). Plus, it could add a new twist to making desserts like a banana split with the different flavors of these mini-ice creams instead of the usual suspects (vanilla, chocolate and strawberry).