I'm spending the week in Sydney. I'm visiting 14 restaurants all up. Seven days' worth of lunch and dinner.
Sake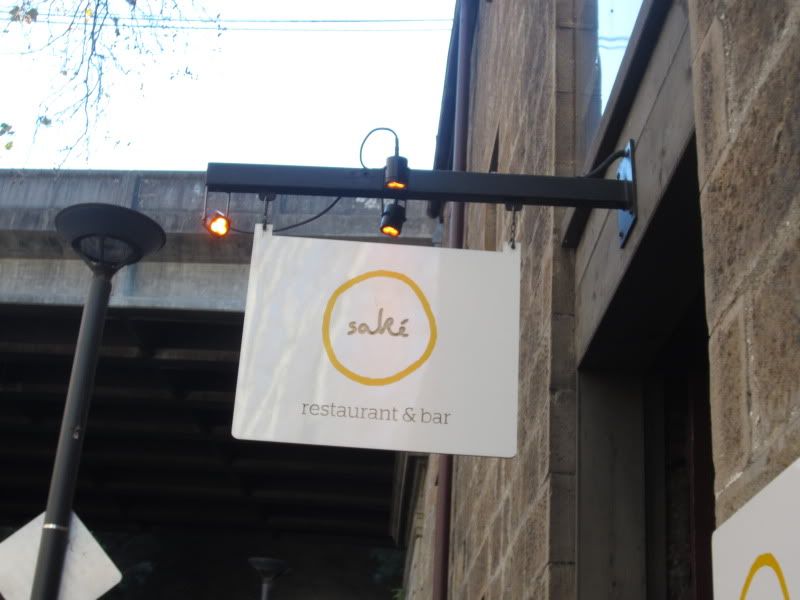 Sake is obviously a Japanese restaurant. The menu runs from the standards--the boiled soy beans, the tempura, the selection of sushi and sashimi you'd expect to find at a traditional sushi bar--to some oddities, such as pieces of fish poached in yuzu or tuna 'tacos' that include chunks of jalapeno. Sake lives up to its name with its drinks menu. There is a very large selection of sake (avaliable in sets of three 30mL tasting portions, 60mL glasses, half bottles and full bottles made from a range of grains in a range of styles at a range of price points). There is also a decent selection of regular wines, plum wines, beers (mostly Japanese but with a couple of poor quality local offerings for some reason), cocktails (many based on sake) and other Japanese alcohols.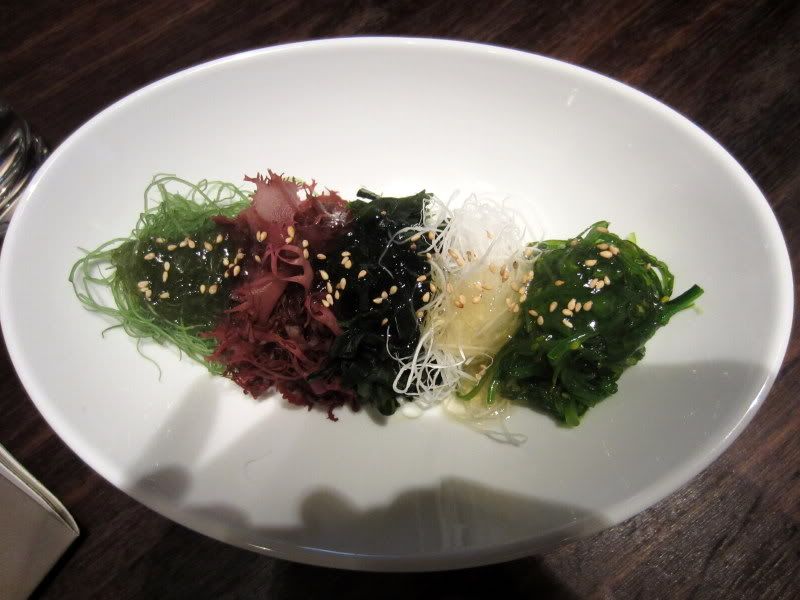 Seaweed salad. Five different seaweeds. Nice if you like seaweed, I guess, but I was kind of glad this was a shared plate--I wouldn't want *that* much.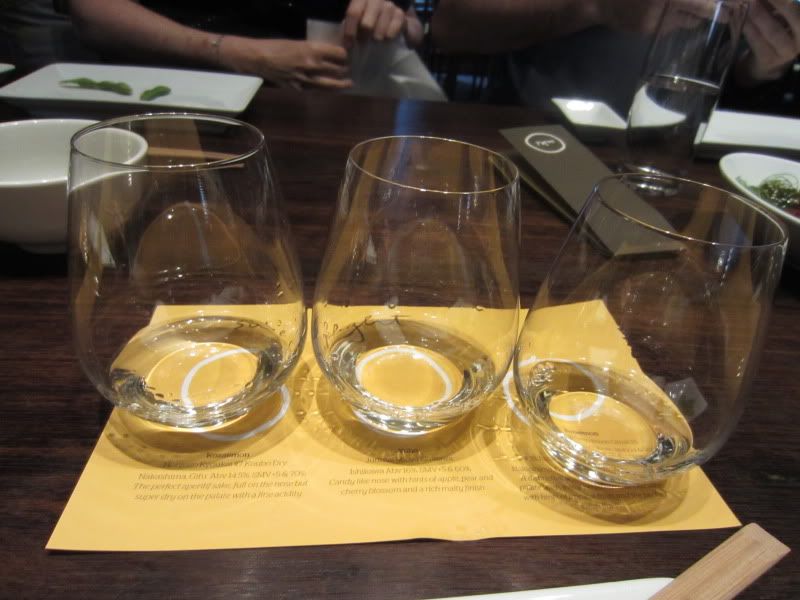 There were two sake 'flights'. One showcased a sake made from three different strains of rice. The other, seen here, showcased three different styles of sake--a 'dry' one, a 'fruity' one and a 'floral' one. This was a reasonably priced way for me to sample sake seriously for the first time. Overall, I wasn't offended by any of them. I thought they were all very drinkable although I can't imagine myself putting in the effort to track down bottles of these sakes for consumption at home.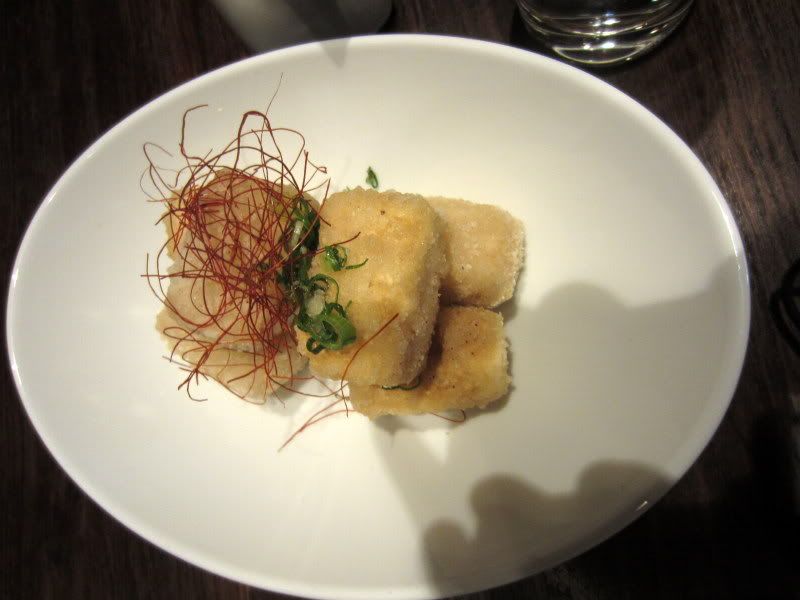 This was the deep-fried tofu. It doesn't look like it in the picture--and it didn't look like it in the restaurant either--but the batter was very crisp. It was spiced somewhat with chilli.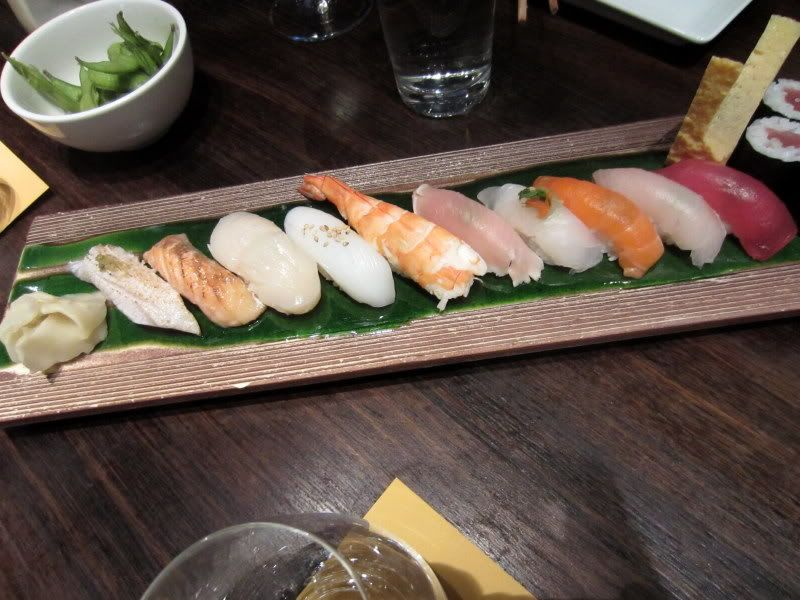 The boiled soy beans and the sushi platter. I've had tuna tartare and other raw fish dishes in a lot of fine dining restaurants, but this was the first time I'd paid for high quality sushi. And wow. I understand where the money goes. Beautiful quality fish. The perfect quantities of vinegar, wasabi and soy. Pickled ginger that has actually come from a root vegetable. I don't like the taste of straight eggs that much but even they were pretty good. Some discarded soy beans can be seen in the background--we didn't get a photo of the platter they arrived on. The soy beans were simply boiled then seasoned with sea salt which had been laced with chilli and garlic. Everyone seemed to love them.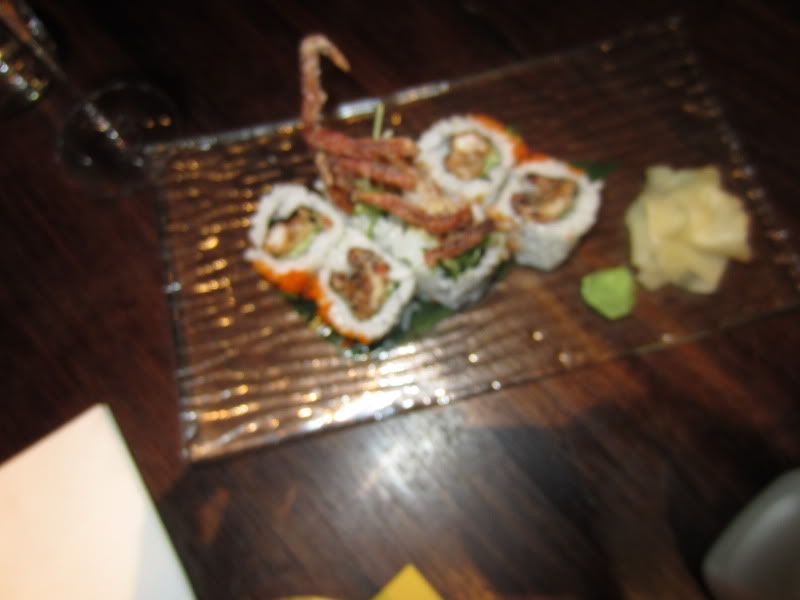 We only got a dodgy photo of my favourite dish: hand rolls filled with deep-fried soft shell crab. Incidentally, it was the first time I'd had soft shell crab. Until I had these I was at a stage where I could take or leave crab but now, finally, I get it.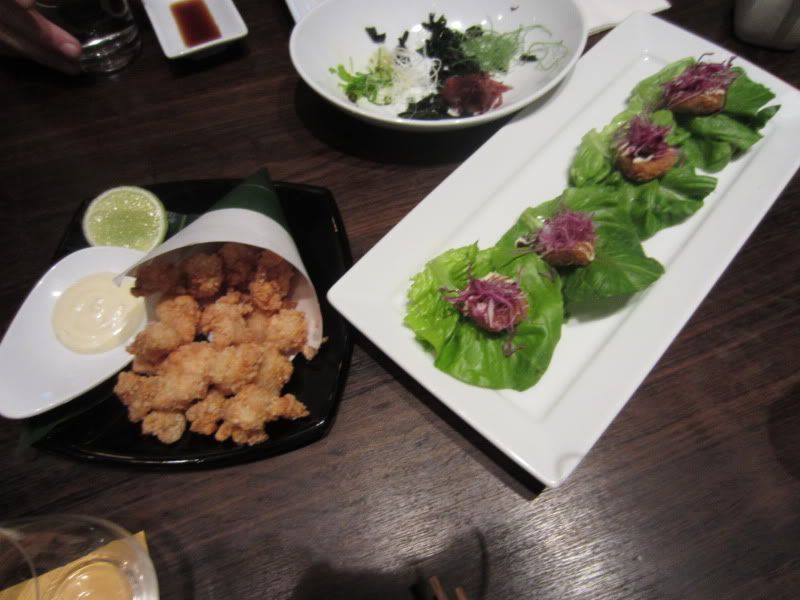 A couple of dishes. The 'popcorn chicken'-looking bites are in fact deep-fried chunks of bay bugs. Bay bugs are essentially smaller, uglier lobsters sans the large claws. I'd go so far as to argue that bay bugs are superior to lobster.
You can also see 'tonkatsu cups'--essentially a lettuce leave containined a deep-fried cube of crumbed, soft pork belly with cabbage. I thought they were okay.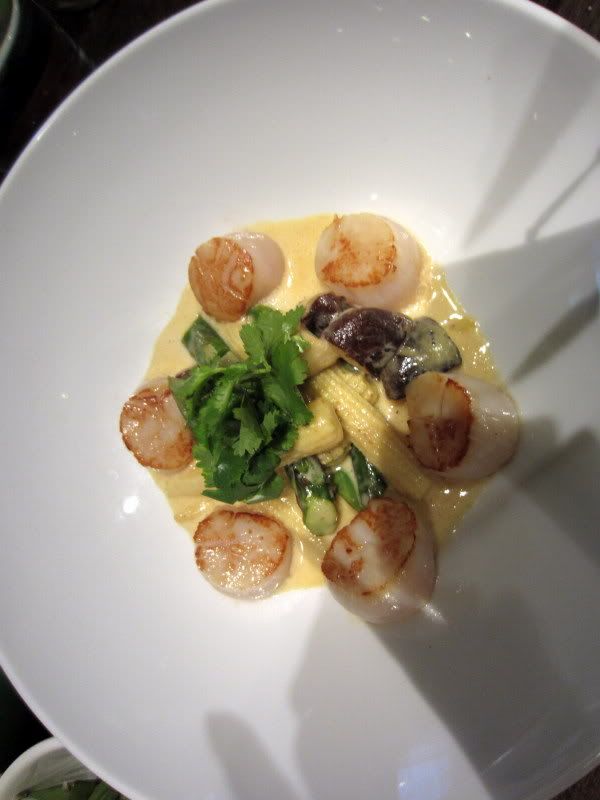 I didn't order these. Scallops in what I think was a yuzu sauce with shiitake mushrooms and some different vegetables including, obviously, baby sweetcorn. I didn't taste the scallops but the sauce was, er, interesting. Some people liked it but I found it a bit overpowering. More akin to something I'd fill a tart shell with and serve for dessert.
I had to run away at this point to go pick up a trumpet, so I'll leave you with photos of two dishes I didn't get to see or sample. I think there's grilled eel and chicken.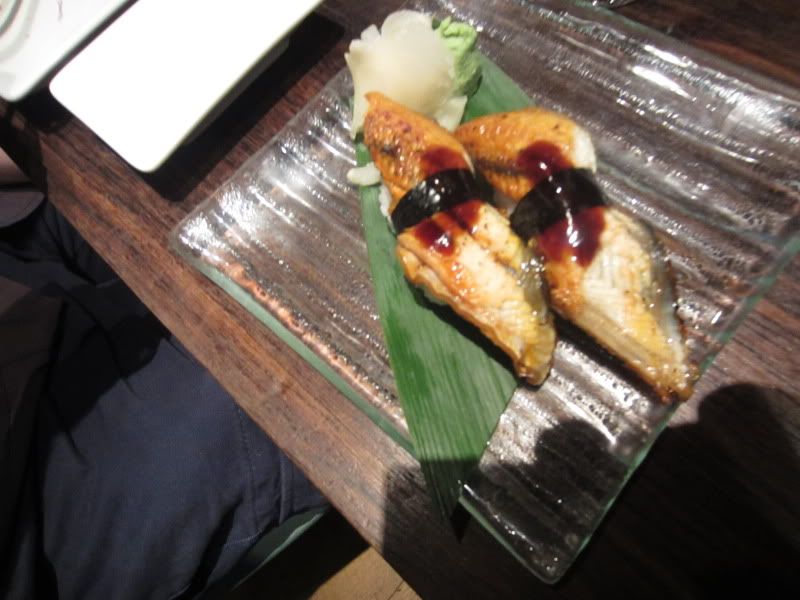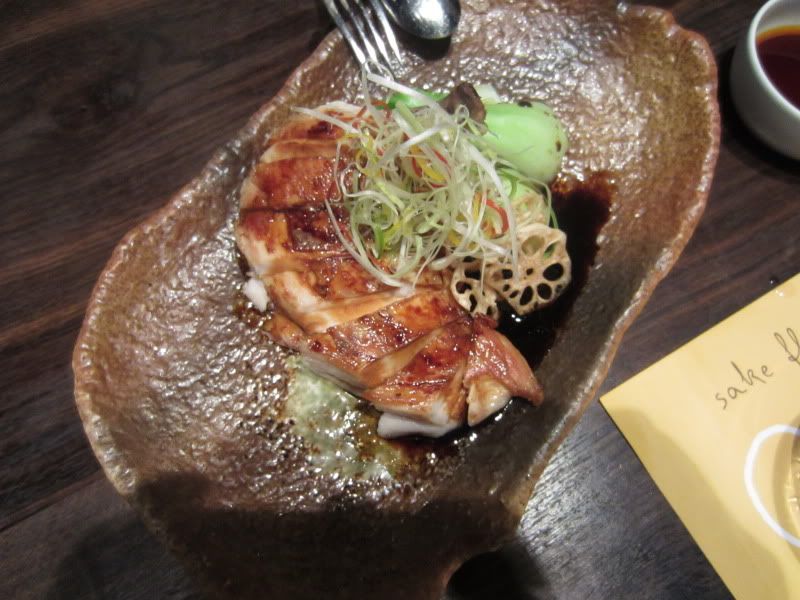 Overall, I was very happy with the food. The service was a bit patchy--it was really quiet when we visited but things took a while to happen in the front-of-house. Either they get a lot of waiters in on busy Saturday nights or things would just fall apart.
Guillaume at Bennelong
Guillaume at Bennelong is located in the Sydney Opera House. Yes, there are world famous landmarks that contain nice restaurants. Guillaume at Bennelong is a modern French restaurant. You get the odd Asian ingredient here or there--some soy sauce, maybe--but you get lots of classic French techniques. Classic in the sense they're described in Escoffier's guide to cuisine and Larousse Gastronomique. It was very difficult to get decent photos at this restaurant because of the lighting.
A Pacific oyster with a cucumber jelly. The mouthfeel of the jelly made the oyster even saltier than usual--purely because, I guess, jelly sits on the tongue whereas the oyster juices normally roll right off.
Seared tuna steak infused (that's how they described the technique) with basil. The flavour of the basil came on really strong. There was a soy and mustard seed vinaigrette. All I could taste in the vinaigrette was the soy, though.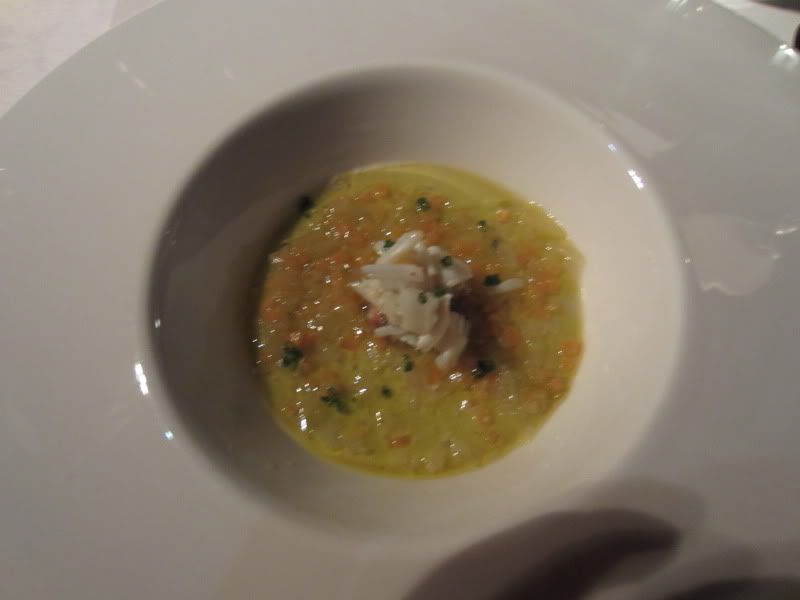 A crappy photo but a nice dish: royale of global artichokes with mud crab. At the bottom of the plate there was a fish mousse topped with the jellied artichoke soup and the mud crab flesh.
Scallops with Sterling caviar, a lemon emulsion (I found it bit a strong but by no means overpowering) and a watercress veloute (unseen: it's underneath the lemon froth). Until this dish I could take or leave scallops. I'd only ever had undercooked scallops or scallops of dubious quality. These were lovely.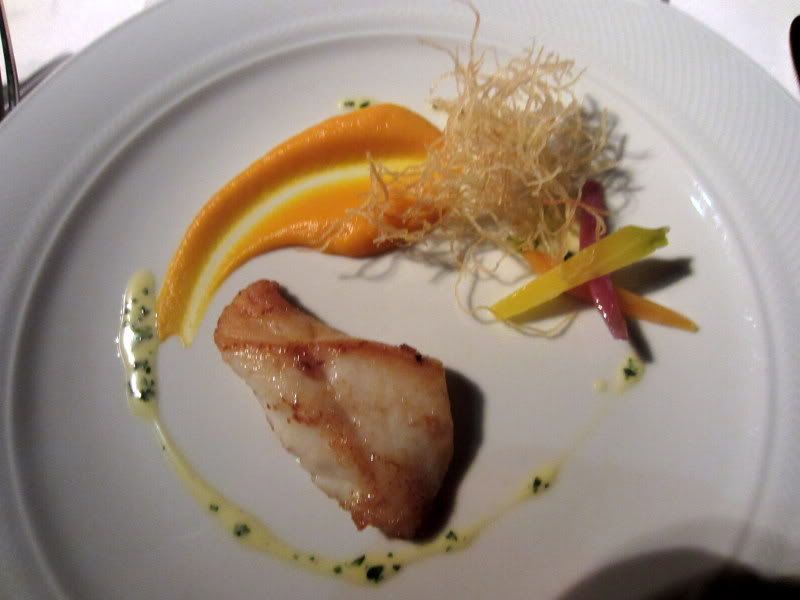 Another crappy photo. A seared piece of John Dory with a carrot and ginger puree (tasted so strongly of ginger we decided that the carrot must be there to provide colour and texture and a hint of vegetable sweetness). The potatoes had been roasted (presumably to dehydrate them), sliced on a mandolin and then cut into those tiny, see-through straws by hand. I imagine that job is the chef's way of giving his workers a bollocking when they get on his rotten side.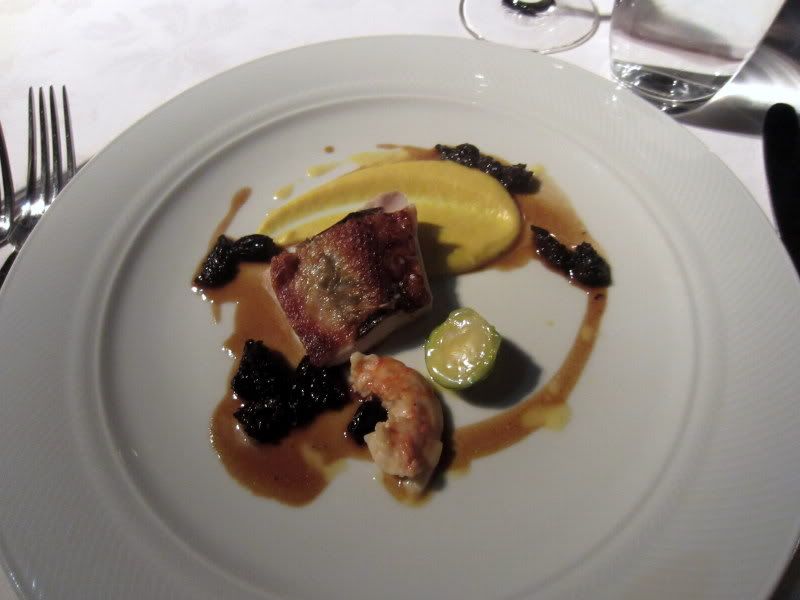 One of my favourites. Truffled roast chicken, sweetcorn puree, a Brussels sprout, a yabby (native freshwater crayfish), morels and a 'yellow wine' reduction. A simple dish you could replicate at home, if you really wanted to, but few things can match a perfectly roasted chicken.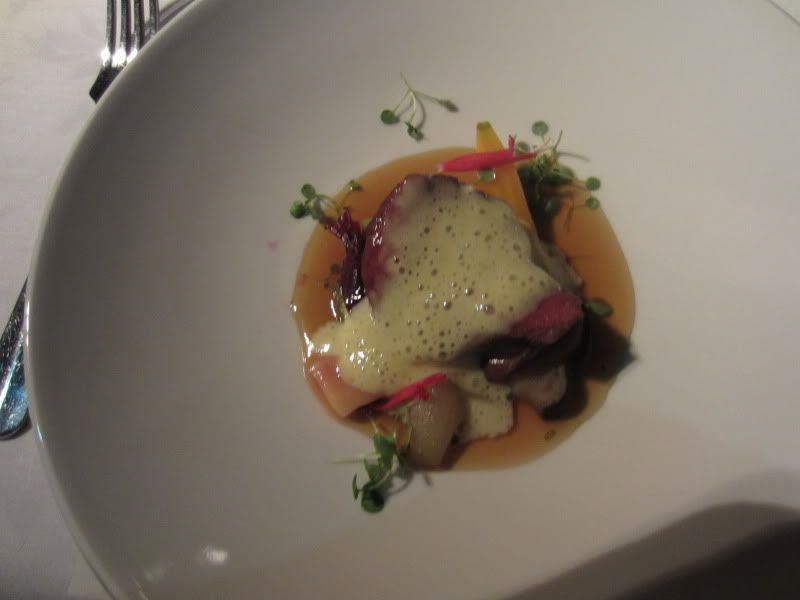 I normally don't care for the beef courses on degustations. In Australia, at least, everyone seems to throw in a beef course (usually wagyu but sometimes a nice piece of grass-fed beef) just because, according to some unwritten rule, you need to. This one was actually nice. A piece of poached beef tenderloin with picked vegetables, a beef consomme and an English mustard emulsion (the foam).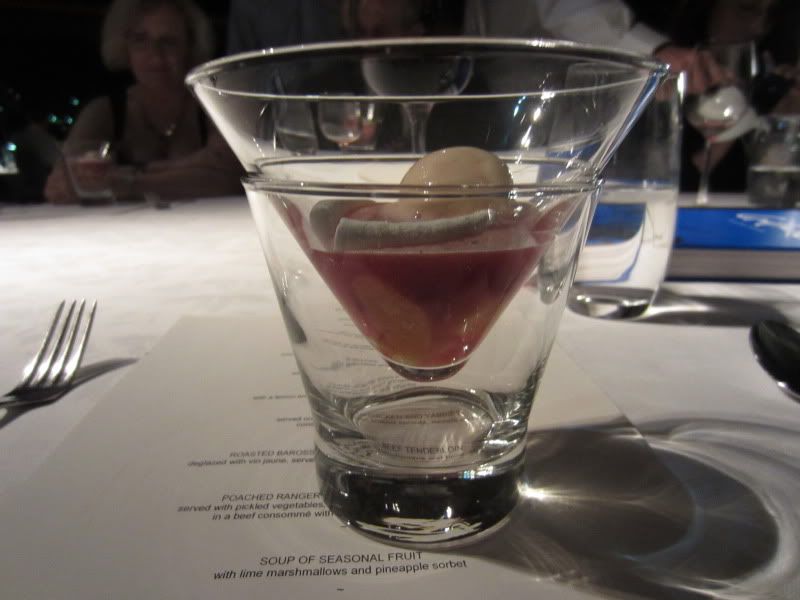 A soup of 'seasonal' fruit with lime marshmellows and pineapple sorbet. It was pleasant enough, although I'm glad the portion was small. It was a childish, playful dessert. Possibly by design. I could imagine children consuming this in great quantity at a birthday party.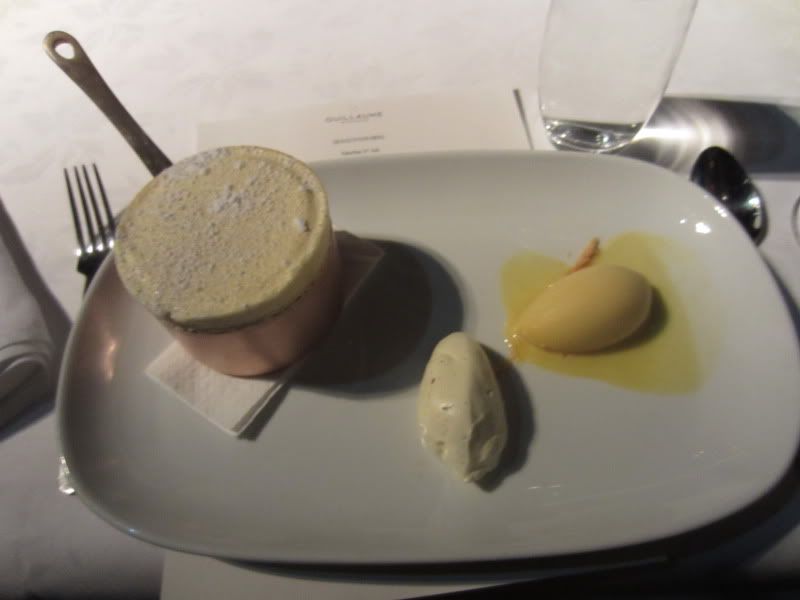 A large passionfruit souffle (with my savoury leanings I found it too rich and sweet to comfortably finish), passionfruit sorbet and a banana and vanilla creme chantilly. The chantilly and sorbet were nice.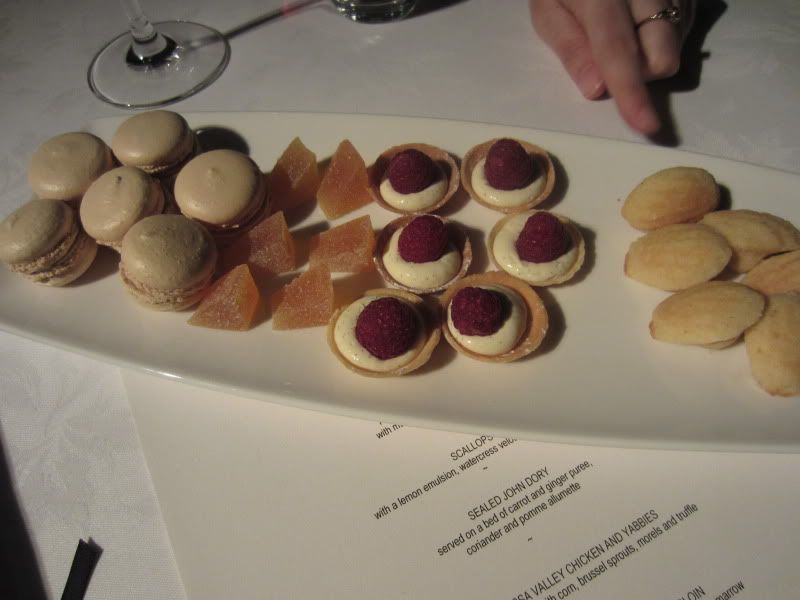 Petit fours. From the left: macarons filled with a milky caramel, passionfruit jellies, raspberry and creme chantilly tarts, tiny madelines.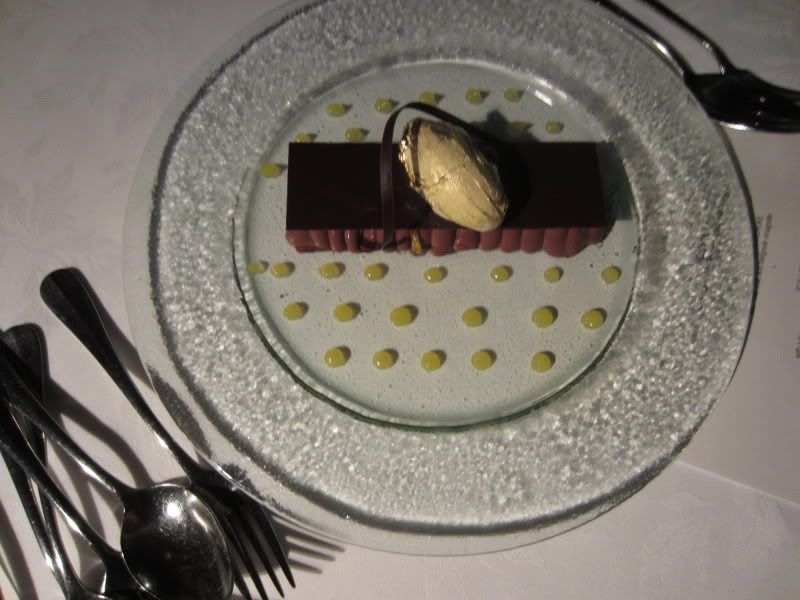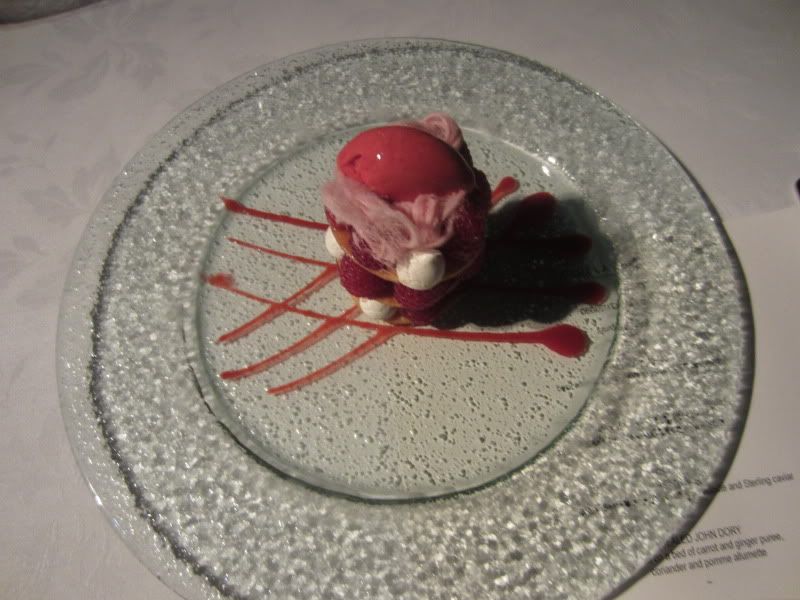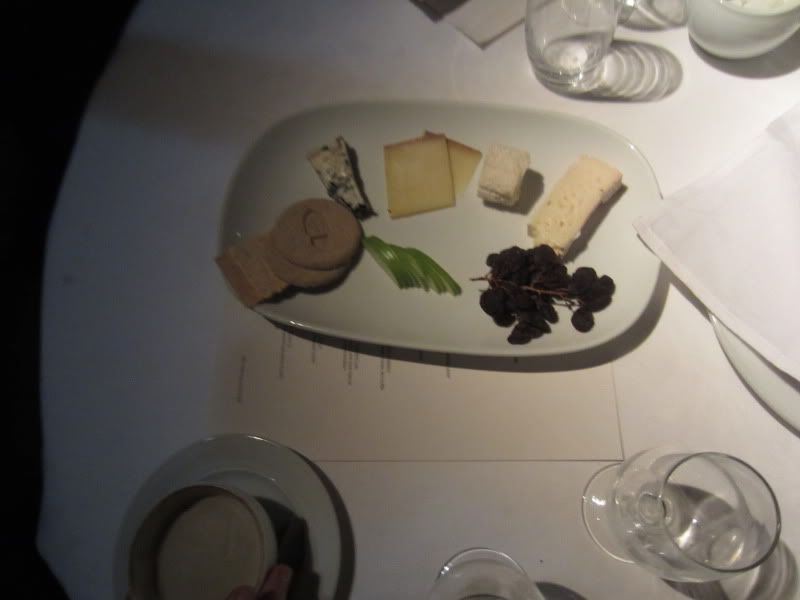 A friend of mine ordered two extra desserts. Someone else ordered a cheese platter.
I enjoyed Guillaume at Bennelong. I liked finally seeing some of the old school French techniques I'd read about in Escoffier (sans the flour and obligatory garnishes of caviar, cockscombs and kidneys). There were one or two elements, here or there, that weren't so hot--they were a bit generous with that strongly flavoured carrot and ginger puree, I think--but I wouldn't say there was a single dud dish. The service got off to a rough start when we had a bit of an issue with the sommelier not asking everyone what they wanted to drink (one person was neglected until a complaint was made--we saw the sommelier get taken aside and given a bollocking over this) and the first couple of dishes only being explained at one end of the table. Our comments about this must have been overheard as very soon a waiter capable of projecting his voice emerged. After explaining each dish he'd ensure everyone at the table had heard his speech. After the shaky start the service was excellent. A wonderful meal spaced out well over the course of four hours. Afterwards I sat outside, looking at the bridge and Tuesday's destination--Quay--across the harbour, and tried to get a consistent note out of the trumpet. It might've been easier to cut a kilogram's worth of potato straws.