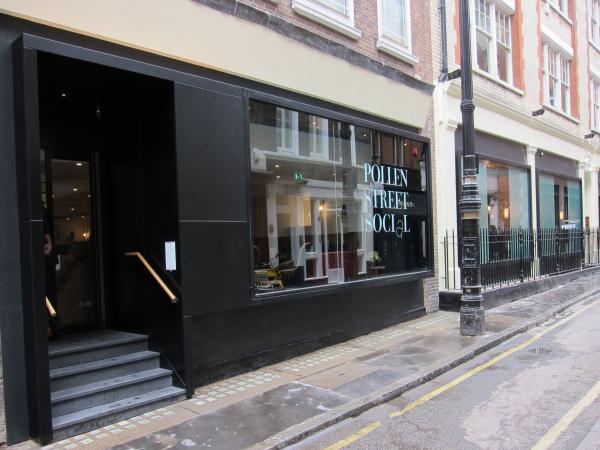 A little more than a cockstride from Maze, five hundred metres in fact. Jason Atherton has finally realised his own dream opening. And what a dream it is. I bet he's pinching himself. From the cocktail bar, through to the restaurant proper, with dessert bar to your left and super state of the art glass fronted kitchen to its right.You can watch the chefs at work losing a few calories, whilst you work your way through a few more. It does not stop there. Down the stairs is a glass fronted private dining area, another kitchen, again glass fronted, and to keep the theme going glass fronted loos for a very posh pee and perk up. The whole space is fabulous. Top marks to the design team.
General Manager Michael West with customer at the dessert bar which is flooded with natural light from above. The glass fronted kitchen in the background.
Private dining room, with the lighting echoed from the dessert bar.
SOCIAL- Seeking or enjoying the companionship of others, gregarious.
I think Mr Atherton has covered all the bases here. Its completely informal. No bookings required for the Social room bar. Pop in for a drink or a cocktail. Sample the tapas style menu. Or if there is space, take your cocktail through to the dessert bar and scoff down some calories. What's not to like.
We were extremely fortunate to bag an early table here, thanks to a very good friend, who shall remain nameless. As we think that this is the most coveted opening since Heston's Dinner, we view it as a bit of a scoop. If you look at the website, bookings are well in advance for dinner, but a few lunch ones are available. How long that will last, who knows, the big London reviews will be out soon, and those tables will evaporate.
Ham, Egg, Tomato, Mushroom, (£10)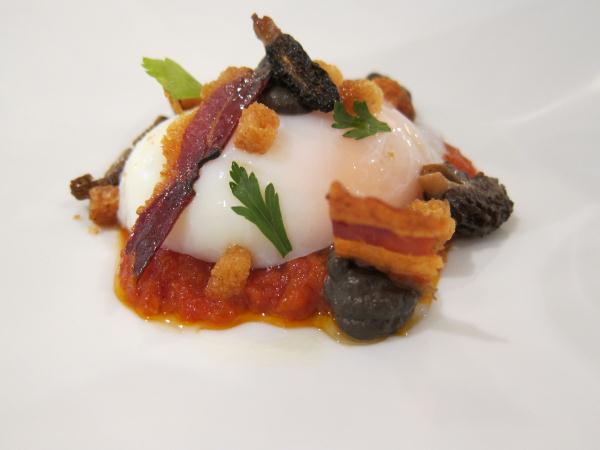 Anyone for breakfast?
As you may expect perfectly cooked egg. In fact perfectly cooked everything, but ask for a spoon or dip your bread in. Its actually served with a fried bread cream poured around, but you will still need the bread to mop it up.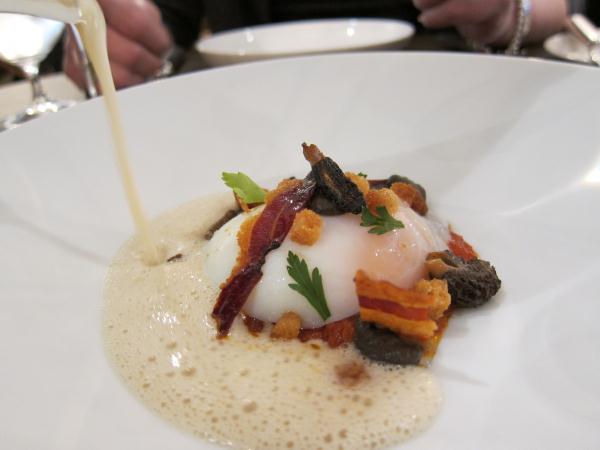 Bread was white and brown sourdough. The white was ok, the brown was absolutely terrific, some of the best we have eaten this year. Its not made on site but I don't think it could be beaten if it was.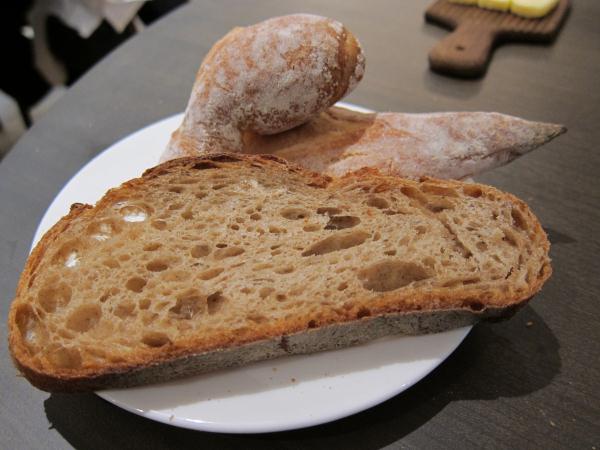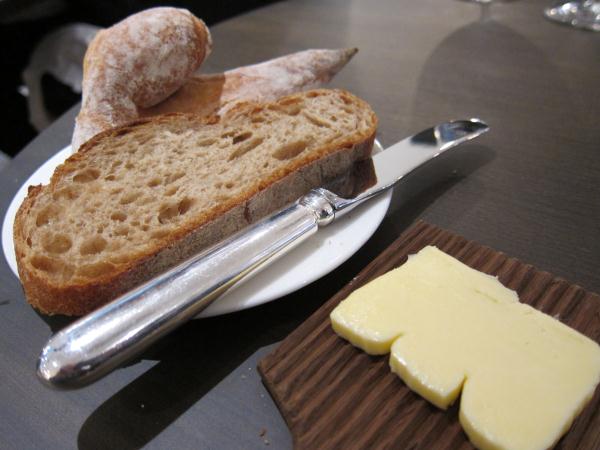 Orkney Scallops, mackerel tartare, grapefruit, miso tar (£11)
This is the dish Jason cooked on last weeks
Saturday Kitchen
substituting pomelo for grapefruit. Quite a pleasant dish, full of interesting flavours. The scallops holding their own against the sometimes full on mackerel.
Light cured Loch Duart salmon, avocado, smoked herring roe cream (£12.50)
I love the way this dish presents itself against the slate. No need to muck about too much with top quality ingedients and the salmon was top notch. Quite a decent portion too, as all the dishes were. The jelly snake on top is made from roasting the skin and making a consomme, and adding agar agar to set it.
I can't remember what the pretty red ribbons were to garnish the dish, perhaps radish? dyed with ? beetroot? Refreshing, clean flavours.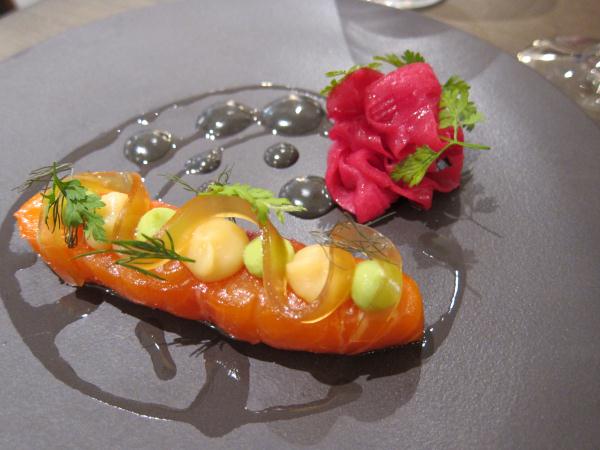 Cauliflower and Squid (£10.50)
The squid was diced to make it appear like a risotto,the cauliflower slivers still having bite. The clear roasted squid juices were poured around in a puddle of fishy loveliness. The black discs at the base of the dish are actually turnip soaked in squid ink. Samphire is in evidence as was dill and sea purslane. There is more going on in these dishes than a layman can take in. Shame I'm too old to offer my services to a kitchen foc. I'm sure it would be quite a learning curve.
Again ask for a spoon. Those juices are too precious to waste.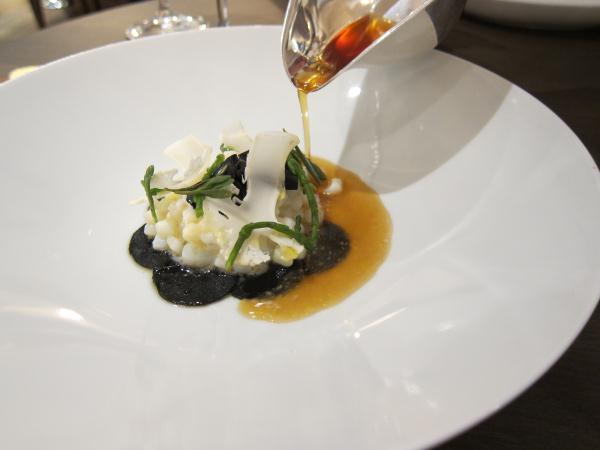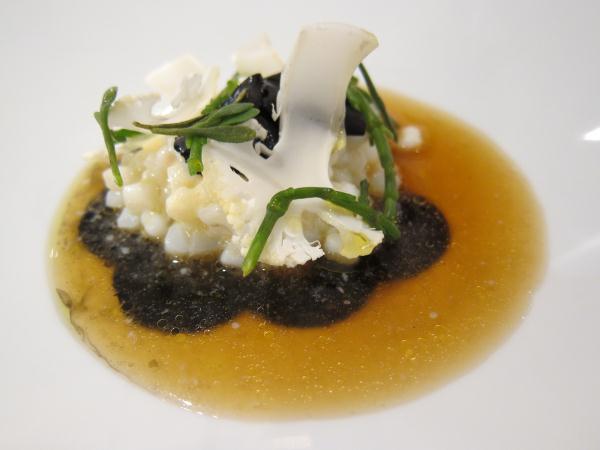 24 Hour braised Suffolk Pork belly and cheek (£12.50)
A stonking dish this. Looks the part on the plate. It certainly had the juices flowing. There is some braised parsnip root, pork crackling, puy lentils, oats, beer, hops and wild chickweed on the plate. I will not be trying to recreate this dish at home, trust me.
Braised Irish Ox Tongue n Cheek, (£13.50)
Again a gutsy full flavoured dish the sort of food I never tire of eating. An accompanying dish of horseradish mash almost turned it into a meal in itself. Witness also the salt baked carrots.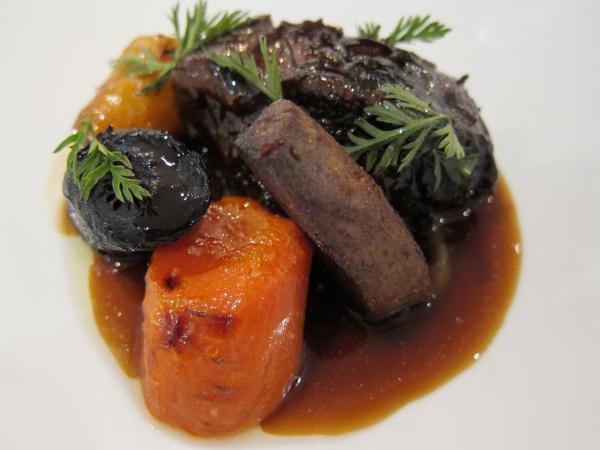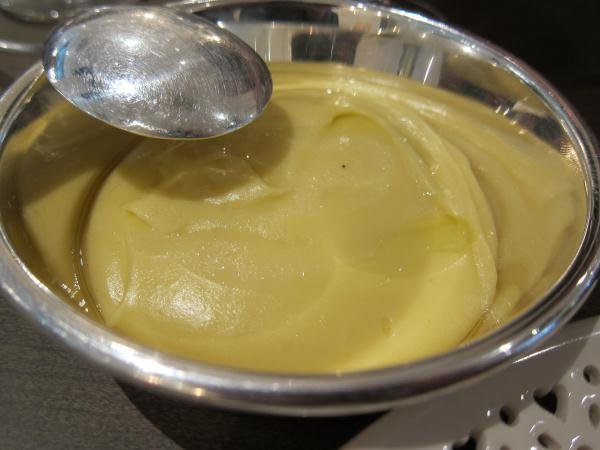 The first of two desserts was
"Tiramisu" (£8)
and if you want a chocolate fix this is for you. Hot chocolate coffee was poured tableside onto the dish adding an extra dimension. The jelly cubes are made with Kahlua.
A real girlie treat which touched my feminine side.
To finish the meal proper, the other dessert was
Baked beetroot sorbet, frozen yogurt, basil ash meringue (£7)
. Snaking its way over the yogurt and meringue btw is beetroot jelly.
Again pretty as a picture, a fitting end to quite a special meal.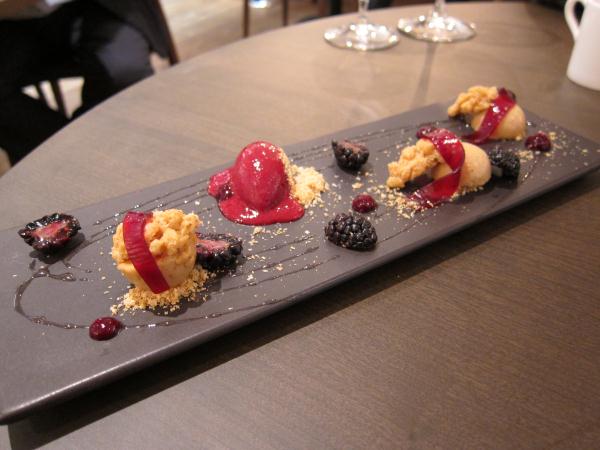 Well I think any fool can see that this is going to be an instant hit. Its got the lot. An open house policy for casual food and drink or the more formal proper dining side for more structured eating. Its going to be a goldmine. If he ever sells shares in the place stump up the money fast.
As you may expect you will not pay Soho prices in Mayfair, but the portion sizes when we visited were generous to say the least. Main courses hover just below £30 but the real value is in the starters and sharing plates, plenty of variation exists to splash out on for not a lot of money.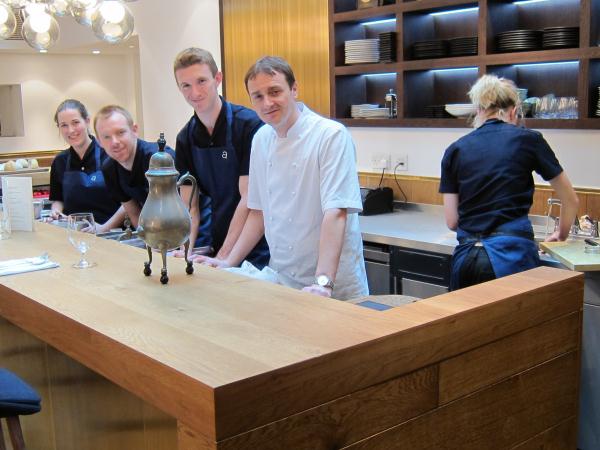 A very happy Jason Atherton with some of his excellent, highly trained, and informative staff.
Oh btw did I mention its a certain Michelin star.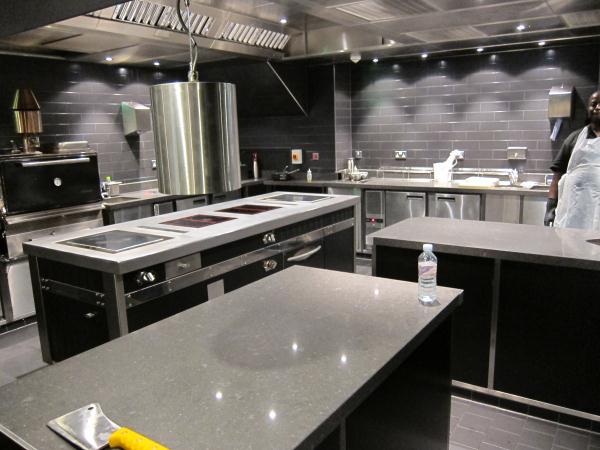 Spotlessly clean state of the art kitchen. Induction hobs?
Don't upset the chef, look at that meat cleaver.