First of all, I am very excited to be blogging – a little nervous, but excited. I have a lot of things planned, but I am sure I won't get to all of them. Most of all, I hope to have a lot of fun blogging this week and introducing you to some of the food that is not the typical things people hear about – which is all about the Creole food from New Orleans and Cajun food from southwest Louisiana. There's more... there's good old country food that most of us grew up eating.
How did I come up with the name of Honeysuckles and Huckleberries? It's the name of a cookbook I put together for our family. What the name means to me is country living and home. Growing up I remember Mama loved the sweet, sensational smell of honeysuckles. It was her favorite flower. They grew wild on the fences around our property. They were always pretty and fragrant, and I would pull the stem from them until it came out of the bottom of the flower all for one drop of juice, which tasted out of this world. One of my dreams then was to have one whole glass of honeysuckle juice!

We also had a pond that had turtles, fish, snakes and everything else that intrigues children. There were also wild blackberry bushes. In the summertime, we would take our buckets and pick blackberries all afternoon. We were told not to eat the berries until they were washed, and our blackberry-stained tongues would tell Mom, "No, ma'am. We didn't eat any."

After a little lecture, and after the berries were washed, we would smash the berries in a bowl and add cream and sugar and eat them with a spoon. Then, she would make us a blackberry cobbler for dessert that night! So... blackberries aren't huckleberries, but they're close enough, and they remind me of Huckleberry Finn and little boys having adventures growing up on the Mississippi River.
Brett, my brother, had his own adventures growing up in the country. He hunted, fished, skipped school to go horseback riding all day, etc. Whenever he would catch a fish, he would excitedly run into the house and say, "Cook this for me, Mama!"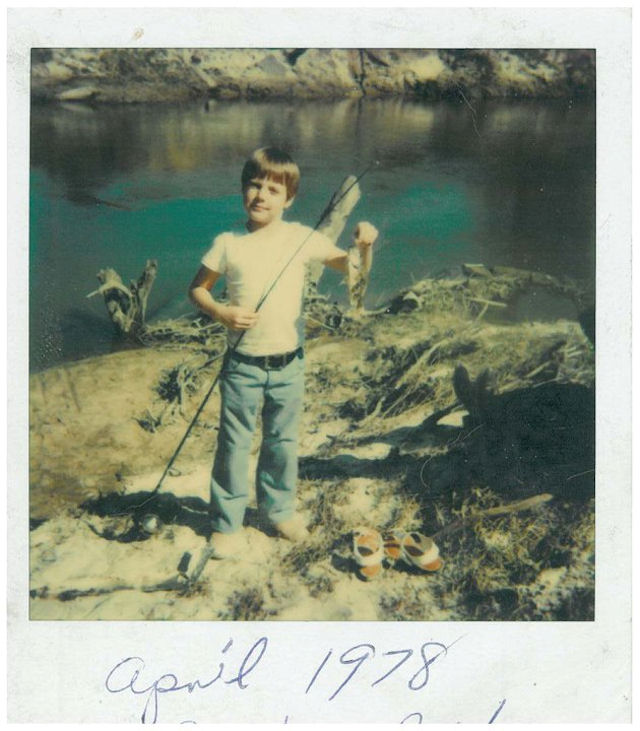 It was a wonderful place to grow up, and while we were a family of very modest means, we always ate well – just like most of the people around here.
What I hope to do in this blog is introduce you to a little bit of Louisiana country living. There will be a few field trips to some interesting places. Food will be cooked, of course, but I am going to do my best to stay away from the standard fare that everyone hears so much about (except jambalaya – there will be jambalaya) and cook old time country favorites, and by the end of this week I would hope that you would feel like a welcome guest in our home.