We are not what you would call social drinkers. I quit drinking for the most part a few years ago and DH drinks one neat vodka before bed. Oh, I sip vodka if I have a coughing fit in the night. Not exciting.
Last weekend was the Annual Dog Weekend which meant lots of food and lots of drink. American dog friends brought an assortment of stuff with them, most of which I have never seen before and have no idea of whether I could get them in Canada.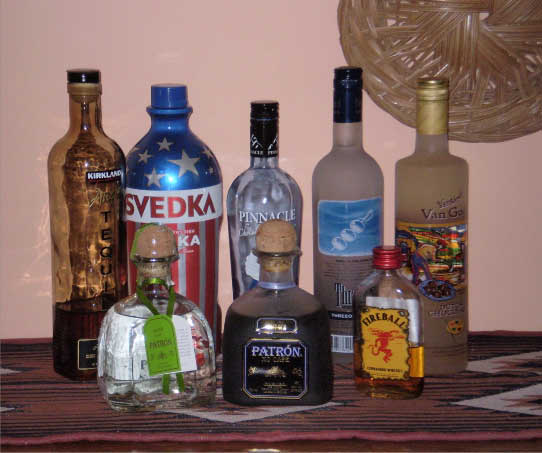 Left to right:
* Kirkland Tequila – in Ontario we can get liquor only in an LCBO
* Patron Silver Tequila – very nice, very expensive in Canada, for sipping
* Svedka vodka – love the snazzy red, white and blue bottle. Keeping the empty bottle in the Americana Room, assembled in the beginning to annoy our anti-American friends. Yes, there are anti-American Canadians (idiots)
* Patron XO Tequila Café – very tasty for sipping
* Pinnacle Chocolate Whipped Vodka. It was served by a friend from DE mixed with cherry juice. I have no idea why. I thought it was awful, but others liked it. From France
* Three Olives Vodka – empty bottle; I never got to taste it.
* Fireball Red Hot Cinnamon Whisky – ironically made in Canada, exported to the USA, and brought back across the border. I love pretty much anything with a bite.
* Vincent Van Gogh Dutch Chocolate Flavored Vodka – just opened it and tasted it. I hope that without being rude or hurting our friends, I can dissuade them from bringing either of the chocolate-flavored vodkas again. (No, they don't belong to eGullet.)
There was much drinking of frozen Margaritas made from Goya Peach, Mango, and Pear. Personally, I like the regular lime based best by far.