The thicker the metal, the more heat capacity, but also the longer it will take for it to heat up. You can use anything from 1/4" thick up to 1" thick. Concievably you could even use something thicker. The page in MC says 3/4" but you could use something thinner. In fact, I might change the text to say that for the next edition.
Neapolitan pizza has two defining properties. Oven spring and char. Without char, it's NY style pizza, not Neapolitan. Here is a photo of the kind of char I'm referring to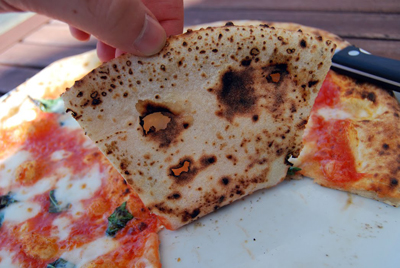 The high heat that produces char also generates oven spring- you can't have one without the other.
I've tested this extensively and 1/4" steel plate at temperatures of 550 and below will not produce anything close to this amount of undercrust char/oven spring in 2 minutes. 1/2" won't either. 3/4" should, but that's only for homeowners with ovens that actually go to 550. You'd be amazed by the number of ovens that can't go too far above 500.
3/4" steel plate, cut to the 'size of the oven shelf' will weigh upwards of 90 pounds. Cut to a comfortable size for launching a traditional 14" pizza onto (16"), it still clocks in at 50 lbs. Oven shelf integrity varies considerably from model to model. I've seen shelves that can handle considerable amounts of weight and I've seen others that started bowing at well below 50 lbs. 3/4" steel plate is going to break a few oven shelves.
If you want to tell your readers that they can make NY style pizza at home with 1/2" steel plate, that would be accurate, as would telling them they can make Neapolitan, with the right oven, at the right temp, with 3/4" steel. But Neapolitan with 1/4" plate? Not in a million years.
And aluminum, seriously? Come on, Nathan, you have to be aware of the aluminum's conductivity. You can pre-heat it for as long as you want and the moment you open the door, the temperature will plummet. Aluminum will not store heat- and for pizza, stored heat is critical.
Edited by scott123, 25 February 2011 - 07:44 AM.