OK, admittedly, it might be premature to start a topic for a restaurant
this
far before it opens, I'm not even sure a location has been chosen for it yet. But if you act quickly, you can get a preview of what some of the food might be like tonight - Monday February 21, 2011.
There's a "Pop-up" version of the restaurant happening at the Khyber Pass Pub tonight, featuring Hakata-stlye Ramen.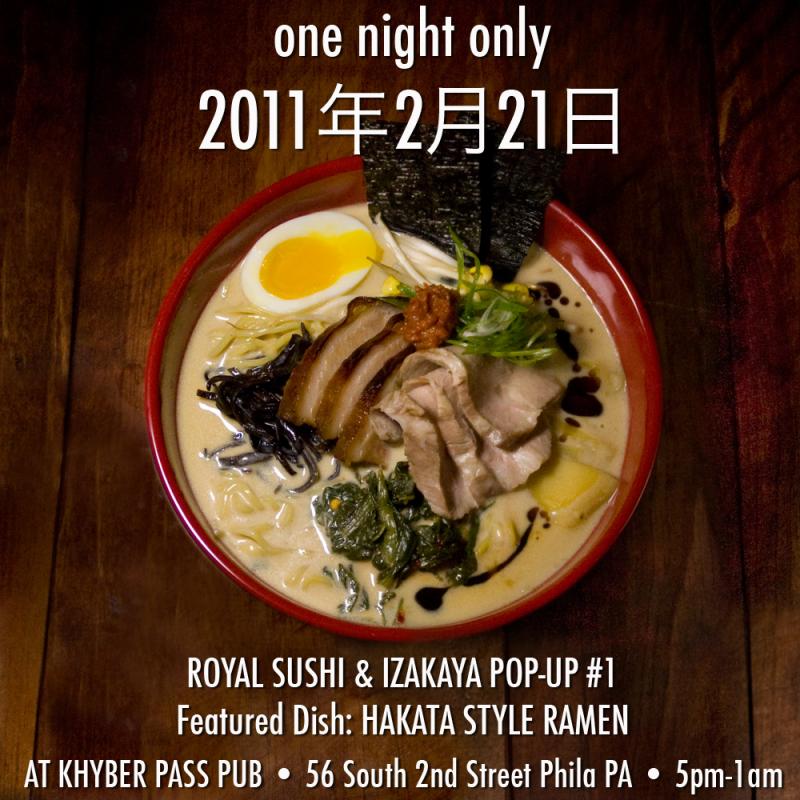 There's more than Ramen too:
Sometimes it's good to be in the right place at the right time: I happened to wander by the sushi restaurant called
Ro-Zu
during its short premiere, when chef Todd Dae Kulper was manning the counter, and was very impressed with his skill and imagination. After he parted ways with the owner of Ro-Zu, I hoped that we hadn't seen the last of him in Philly. It turns out that he's hooked-up with the owners of the Royal Tavern (and the Khyber Pass Pub, and the Cantina Los Caballitos and Cantina Dos Segundos) and they're planning an Izakaya (basically a casual bar with food) that will also feature Japanese snacks as well as Kulper's sushi skills.
While they're working on that, they decided to do a "Pop-Up" restaurant to offer a brief preview.
Again, being in the right place at the right time, it happens that I know the owners of the Royal/Khyber/Cantinas, and I managed to sneak a preview of the preview, getting an advance taste of many of the dishes. So you can engage all appropriate skepticism about my ability to be objective in a circumstance like this, but I'm kind of excited!
This post is actually rather late, given that they're starting to ladle-out bowls of ramen in a few hours, and it's one night only, but I figured some of you might like even a last-minute heads-up, especially about the availability of the elusive high-quality ramen. (I was contemplating not telling anybody, so there'd be more soup for me... )
It's called Pop-Up #1, I have no idea if there are plans for more, and if so when, or where, or what food would be featured, so if you're a ramen fan, you might want to seize the moment!
More info about tonight here:
http://royalsushiandizakaya.com/
It's being held at the Khyber Pass Pub, which is on 2nd street just north of Chestnut St.
And hopefully it won't be long before there's a permanent spot, not a random pop-up. I'll post here if I learn anything.