Hi everybody. Welcome to what we believe is the first eG foodblog from New Zealand. Due to time differences it's a little late in the day now for me, but shall we start with some breakfast?




Those are from Joanne Harris and Fran Warde's book The French Market. The only change I make is to omit the egg wash – I find it gives a slightly 'wrong' taste; bitter, perhaps. And I have no trouble getting them brown enough (apologies for these ones – they're slightly more brown than I'd like. That's what happens when you put them in the oven just as you're serving dinner, then forget …). I usually make a batch and freeze them; then they're available at a moment's notice when breakfast calls.

I hope I can satisfy the anticipation you displayed in your reaction to the teaser photos. It's going to be an interesting week for me, anyway. Shortly I'll tell you about the City Market here in Wellington, where we'll meet some very dedicated food people. Tomorrow we're visiting a local gin distiller, and I'm taking you all to Valentine's Day dinner (don't read too much into that!) at my absolutely favourite Wellington restaurant - we'll meet its chef at the market, just to get you in the mood. We have people coming to dinner on Wednesday (which is unusual, but I'll manage it somehow), so you can sit in on that for a classic, if maybe predictable, dish (any guesses?). At some stage I'll take you to a few of my favourite Wellington food shops, and next Saturday, weather permitting, we're having a picnic with some of my work people – I have some very traditional New Zealand food planned for that. And there'll be a few other bits and pieces thrown in as we go. Just as well I'm taking the next couple of days off work – I don't think I could cope otherwise!

Finished your croissants? How about some coffee before we go? Yes, Peter, I made one for you.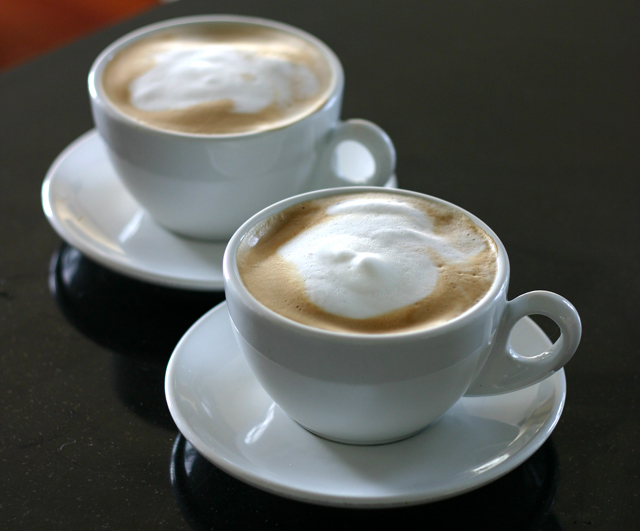 While you're enjoying that, let's get some of the dry, factual stuff out of way, shall we? New Zealand is that funny-looking little group of islands way down at the bottom of the South Pacific (no, not that far down – that's Antarctica). The two largest islands are imaginatively named the North and South Islands. Important note: if you're ever talking about them, it's always THE North Island or THE South Island – don't forget the definite article. There's also the West Island where Nick (nickrey) lives, but we won't say too much about that.

Wellington is the capital city and is at the bottom tip of the North Island, near enough to the geographical centre of the country. Greater Wellington has a population of 370,000 or so, of which Wellington City itself makes up around 180,000 (New Zealand's total population is somewhere around 4.5 million – roughly the same as Sydney. Or Boston, apparently). The New Zealand dollar is worth around $US0.76 (or, to put it another way, $US10 buys $NZ13), and any measurements you see in the photos will be metric.

Our time zone (we have an hour of daylight saving in effect at the moment) is 12 hours ahead of Europe, 18 ahead of California and 21 ahead of New York – that's if my amateur time calculations are to be trusted. 10am here is 1pm yesterday in LA, anyway. This creates some difficulties doing a blog like this; I'll try to make it sound like real-time, but in fact I'll be well and truly shut down and in bed before many of you start thinking about reading it.
Ethnically we're quite a mixture. Most of us – it's hard to say how many; the census figures are complicated by people claiming multiple origins – are of European ancestry – we have English, we have Greek, we have Irish, we have Italian – you name it, they're here! The rest of us are of Maori, Pacific Island or Asian descent, with plenty of cultural mingling. That does make for an interesting food landscape, although I must confess up front: my palate leans very much towards Europe. I can't help it; Asian tastes just doesn't do it for me.

Partly in recognition of this, our dinner tonight is going to be as traditionally New Zealand as it gets.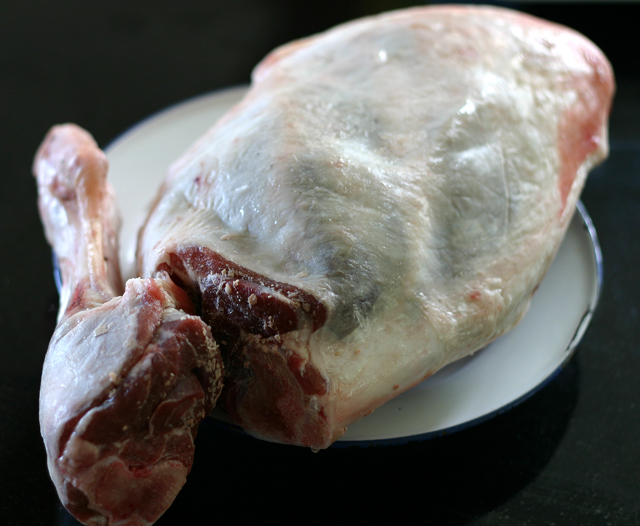 I'll get that in the oven a little later and show you how it turned out - probably tomorrow (my time).

A technical note, for those who are interested: the photos were taken using a Canon EOS 300D, most commonly with a 50mm f1.8 lens. I bought the lens, a fairly inexpensive one, specially for this blog and I can thoroughly recommend the joys of a fast lens for food photography.

And yes, we must mention the teaser photos. I suspect there may be the odd smartypants out there who can use Google, so the quote in the second one probably wasn't as hard as it might have been. But just so everybody knows:




This one, I grant, could be anywhere. In the foreground are some nibbles I make for almost every dinner party we have. They're a very simple El Bulli recipe; peeled cherry tomatoes and balls of watermelon, separated by a basil leaf. The ones in the photo are shown not-quite-finished - there's a drizzle of basil oil and a sprinkle of salt and pepper to come. In the background, a loaf of the bread I make from the subject of this thread, and very good it is too.




This one is part of the Wellington Writers' Walk along the waterfront. The quote is from a poem by Bill Manhire, who among other things teaches creative writing at Wellington's Victoria University.




This one is over the roof of our house, looking towards Evans Bay. The airport is in the middle distance towards the right. It's often said here that you can't beat Wellington on a good day. This was one.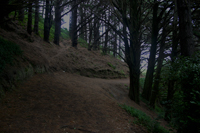 And this one gets the obligatory Lord of the Rings reference out of the way. Remember the part in the first film where the hobbits are hiding from the Black Rider? That was filmed on Mount Victoria, in these very trees, maybe half a kilometre from home.

Enough already. Let's go to the market.