About 15 years ago I started using dried ingredients in Chinese Cooking. Dried scallops mixed with Chinese sausage and sticky rice then wrapped in lotus leaves and steamed, dried shrimp stir-fried with minced pork and spooned over fried Chinese long beans are just two of my favorite dishes using dried ingredients.
Venturing into the kitchen with the thought of using dried ingredients can be pretty overwhelming without a bit of education. I took numerous trips to Asian markets and gradually built-up a small library of Chinese cookbooks before I felt comfortable that I had a basic knowledge of the different types of dried ingredients. While packaging today has come a long way by offering both Chinese and English labels, there are still plenty of little plastic bags that don't give you a written clue as to what's inside. Gnarly, dried shreds of what looks like something out of a sci-fi movie can be somewhat unappealing-yet once you get beyond the lack of visual attractiveness and start experimenting in the kitchen you find that dried ingredients add an incredible amount of texture and flavor to Chinese dishes.
One of the dishes I've somewhat mastered is a stir-fry of Scallops or Prawns with Wood Ear Fungus and Cucumber. Wood Ear Fungus, or Dried Black Fungus, sort of looks like bits of dried black leather before it's reconstituted in hot water.
Like any dried fungus or mushroom, 30 minutes in hot water brings Wood Ear Fungus back to life. Cut into strips, it adds a bit of crisp texture and mild flavor to the dish. Fresh cucumber adds another layer of texture and a clean, fresh flavor which accents rich Sea Scallops. The sauce is a basic mixture of soy sauce, oyster sauce, garlic, ginger and clam juice thickened with cornstarch.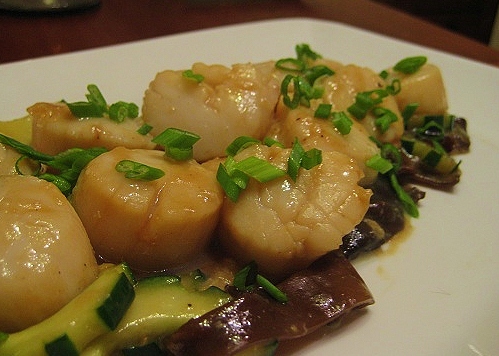 Next week I'm going to try my first attempt using Dried Lily Bulb. Any ideas on what type of dish I should use them in?