Over the holidays I stumbled across some really beautiful salt cod at a local Italian market. I couldn't resist buying too much of it. Over
here
there's been occasional discussion about salt cod, but except for
this excellent tutorial
on a philippino baccalao stew, we've never shared our cooking exploits.
For those of you unacquainted with this humble product, here's a 2+ lb, skinless and boneless fillet: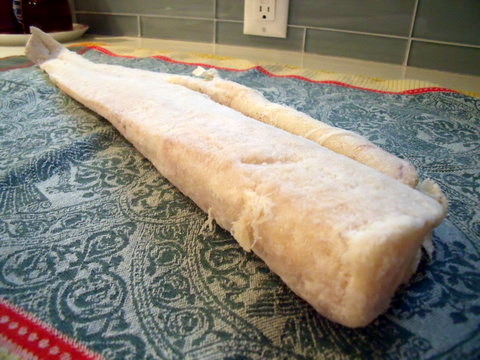 Though most local grocery stores carry salt cod pieces packed in little wooden boxes, if you can find whole fillets like this they are generally far superior, with thick, white flesh.
You can see how dry it is before being soaked:
And how it looks, cut into large pieces, after 48 hrs in several changes of water: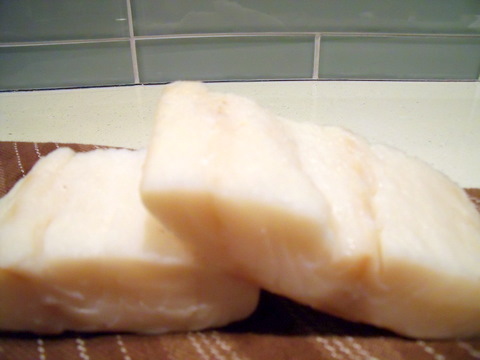 Before venturing into new territory, I needed a fix of brandade, that delicious puree of salt cod, potatoes (optional), and cream, with some olive oil and garlic thrown in for good measure.
I cooked it in water and milk, though often I only use water. Once it simmers, take it off the heat and let it sit for 10-15 minutes, then remove it from the liquid to cool. Once cooked, it flakes easily. I like mine chunky:
Of course, there are differing opinions on the various components of brandade. Potato or no potato? I usually add it because that's what I grew up with. My mother added potato out of economy but it also mellows the flavor of really strong salt cod. Garlic? Not every recipe calls for garlic, but I've come to like it. The last variable is the fat—milk, cream, crème fraiche, or olive oil—or some combination? I've adopted a combo of cream and olive oil but that's my personal taste.
Here's a portion served with a few garlic-rubbed croutons, a salad, and some wine. Don't let its unassuming appearance deceive you--it's briny, earthy, slightly sweet from the cream, a hint of garlic--my idea of comfort food par excellence.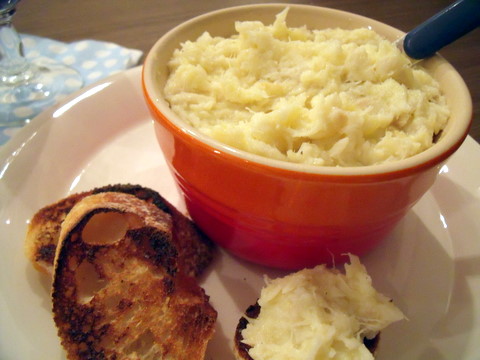 I haven't decided what I'll cook next with the 3+ lbs of salt cod I still have left. Any suggestions? Anyone else cooking with salt cod these days?