I was excited to see a small artisan bakery open up on Phoenixville's Main street a while back. They have opened gradually, with more and more breads of their own, along with some brought in from Sweet Water Baking.
They also have a nice selection of cheeses, some charcuterie, smoked meats and fish, etc. With those ingredients, they'll make sandwiches, or party trays.
Here's a sandwich made with locally-smoked pork loin, apple butter and cheddar, on one of their baguettes. It was very good.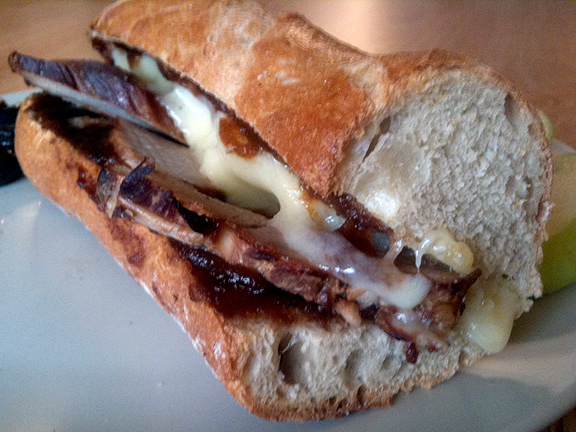 The baguettes are really good, featuring a nice crust, and a chewy, but airy crumb. Bagels are a work-in-progress, for now, they're pretty tasty bagel-shaped bread, but the texture isn't quite right...
I was especially excited to see a sign out front last weekend advertising Pizza Night. On friday and saturday nights, (they may have added thursdays too) they use that brick oven for Neapolitan style pizza crusts, and top them simply with a few good ingredients. They're not fooling around, they use Caputo 00 flour for the crust (based on a recipe by Roberto Caporuscio of Keste pizza in NY) and San Marzano tomatoes. The results are pretty righteous.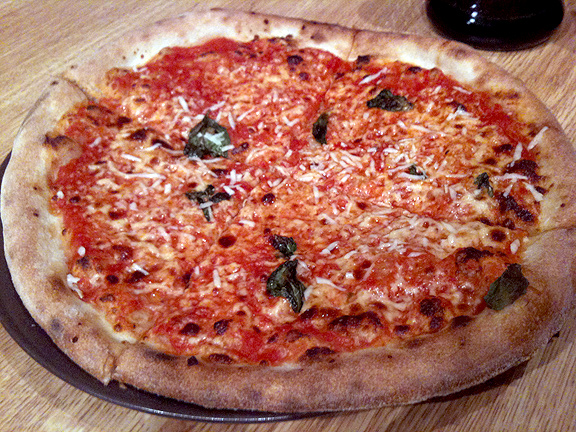 That's a basic Margherita. They also do a white pizza, and you can add a few basic toppings if you like, depending on what they have around.
The texture of the crust was very nice, with a good spotty char on the bottom.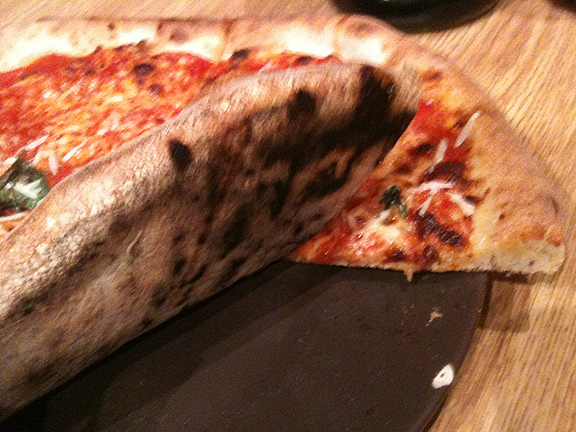 It might have been a little crisper and firmer in the middle than some classic Neapolitan preparations, but I actually prefer that...
The pies are the classic Neapolitan size, about 10-inches in diameter, perfect for one person, or for sharing a few at the table.
I've only made it in once, so I can't say anything about consistency, but they seem pretty serious about what they're doing, and they have a good oven to work with, so I feel pretty confident. It's not a classic domed wood-fired oven built specifically for pizza, but it's doing a nice job with the crust. I'm not sure if it gets to the super-high temperatures of those purpose-built beehives, but I had my pizza in less than 10 minutes, and that includes assembly as well as its time in the oven.
Downtown Phoenixville just gets more and more interesting. The very good Thai restaurant called Thai L'Elephant is just about ready to open, having moved from the outskirts of town to the corner of Bridge and Gay, Majolica is still putting out excellent food near that same corner, the Guatemalan restaurant Antigua Guatamala a couple blocks up Main st has expanded their menu, John Mims seems to be doing good business with his Louisiana-themed place, there are a couple of new Mexican markets... The town is certainly worth a visit, especially if it's pizza night.
Brick Oven Bread and Cheese Shop
138 Bridge Street, Phoenixville PA, 19460
(610) 933-3003
www.brickovenbreadshoppe.com
(website is pretty out-of-date...)
Edited by philadining, 11 December 2010 - 06:48 AM.