As usual, I am late. Why should my first (who am I kidding? -- my only) eGullet food blog differ at all from any other aspect of my life? I am late for things. For instance, dinner will be late tonight. Again. I suppose I could have skipped
Dexter
last night, but it was really good, and I am really obsessed.
Hello, and welcome! As astounding as it may seem, the fine folks at eGullet have invited *me* to blog this week. Me!! Who the hell am I? Clearly, no one. All your eG faves must be holed away in charcuterie and pastry boot camps 'round the world, leaving only yours truly to keep the flame alive. I sort of feel like Will Smith in
I Am Legend
, except I am neither heroic, nor do I expect this to have as cheerful an ending. -- May I add that I, too, am disappointed that Gifted Gourmet isn't this week's featured blogger.
First things first...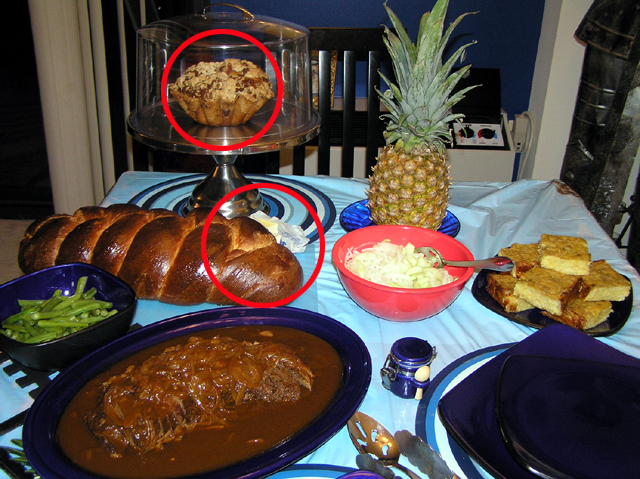 This was a meal I prepared for Rosh Hashanah in 2007, while still shacking up with my now-husband, Howard. Sadly, this was not our living room in Ashkelon, Israel, but our first apartment in Hackensack, New Jersey. I spent the first 30 years of my life in Brooklyn, New York – Bensonhurst, to be exact – then a few years in Astoria, Queens, then Hackensack. We've since migrated to Lawrenceville, New Jersey and, now, Exton, Pennsylvania. I am of (mostly) Italian American / Roman Catholic extraction, while Howard, originally from the Bronx, is Jewish. Neither of us is religious. After four years together, I still have not mastered the art of of Jewish cookery. There is brisket on the table, along with challah that was made, and served, with butter, as well as butter-laden chocolate babka. Apparently, this is a no no. I have tagged these items as "treif" in Facebook. Fortunately, no one in this household really cares. Unfortunately, we are both going to hell, whose tropical climate may be the most sensible explanation I can offer for the pineapple.
I have a couple of things planned for this week, and I am off to go do them. A pastrami is the works, as well as several gluten free items. I recently discovered that gluten is an issue for me. This absolutely kills me. I love to bake bread and, as most of you know, gluten free bread is the stuff of nightmares. Howard is also diabetic, a condition he never took seriously until a few months ago. As such, I will attempt at least one sugar free dessert this week. Then there's the now annual Christmas cookie bake-a-thon, mostly for distribution to Howard's colleagues. I plan to make at least eight different varieties, plus some English toffee, and it all needs to be done by December 15th. Of
this
year! That's about a pound and a half of cookie per person for several dozen people. You do the math. Doughmaking will have to somehow coincide with the rest of the week's activities. Given the back pain that helped start the day, I expect to be in full traction by week's end.
More to come…
Edited to include religious denomination.
Edited by abooja, 06 December 2010 - 10:08 AM.