I think I,m in love. Or is it infatuation? I,m not sure.
Its most certainly cupboard love and definitly love at first bite.
Virtually every review of Sam Harris,s new Bermonsey restaurant positively glows and I will add to that.
A brisk walk from Tower Bridge and of course the Tower of London down Bermondsey street, lies Zucca housed in a modern glass fronted building. Quite an interesting neighbourhood and I bet its residents are well pleased with this addition.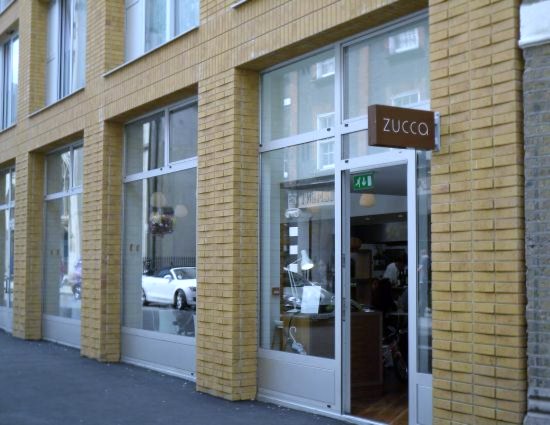 Inside is smart, chic and minimal, with clinical white table and chairs, bare concrete walls and a long open kitchen at the rear manned by a trio of chefs including Mr H to your left.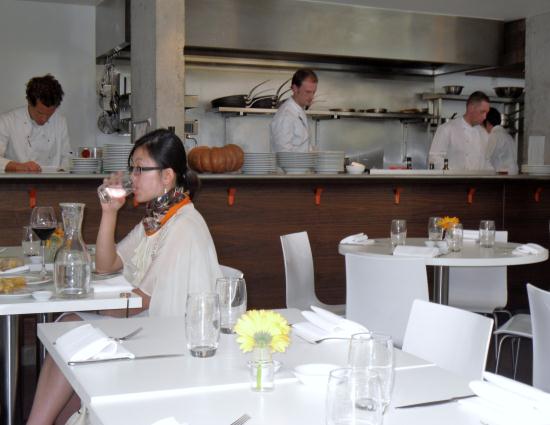 I was quite exited at the prospect of eating here especially having learned Mr H had worked at River Cafe, Bibendum, and spent four years as an Egon Ronay inspector, so during those four years alone he certainly was able to sort good from bad.
Now we have never been to the River Cafe due to an aversion to their pricing, which to describe as grasping is not being unkind.
I am justified in bringing this up as Zucca is at least a third of the price with antipasti starting at £3 and ending at £4.25. This is truly astonishing pricing for food of this quality anywhere in the country never mind London.
Mains are no more than £13.95 and half are a quid less than that.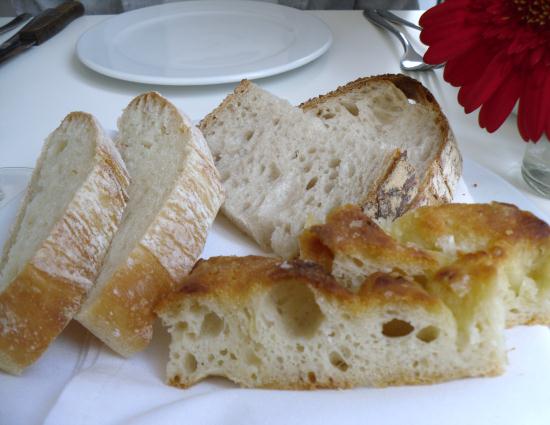 Bread is home made and terrific quality, soudough, ciabatta, and a fantastic olive oil soaked, salty focaccia.
Some maldon sea salt and Planeta Olive oil are complimentary, as is a jug of tap water.
"The use of mobile phones is both unsociable and unnecessary" reads the menu, and I wholeheartedly agree. Ban the buggers, send them outside with the smokers.

Before we start and before the pedantics have a pop, some of the photos are a bit blurred, this is because I am diabetic and my blood sugar dropped very low causing a bout of shakes at the start of the meal. And I am not looking for a sympathy vote just giving an explanation.
Sardines, sweet and sour (£4.15) was a generous portion of very fresh fish served with pine nuts, raisins, chilli, and onions and jolly nice they were too.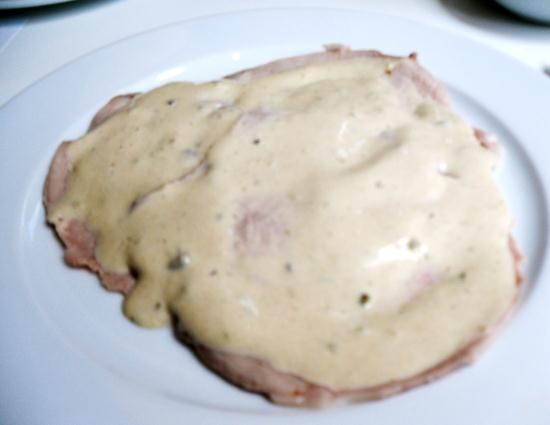 Vitello tonnato (£4.25) is a classic Italian dish that we have not tried before perhaps because we don,t eat much Italian food. However after our recent excursions that will change I assure you. The dish was cooked Veal served cold with a tuna, anchovy, caper, and mayo sauce and was surprisingly good.
Fregola with clams and tomato (£6.50) was next up. As you can see from the photo the tomato skins should perhaps have been removed at the pass as they are inedible, having said that the clams were tasty, the broth full of flavour. The Fregola (Sardinian pasta) was a welcome first also for us, nothing to fault, except those pesky tomato skins.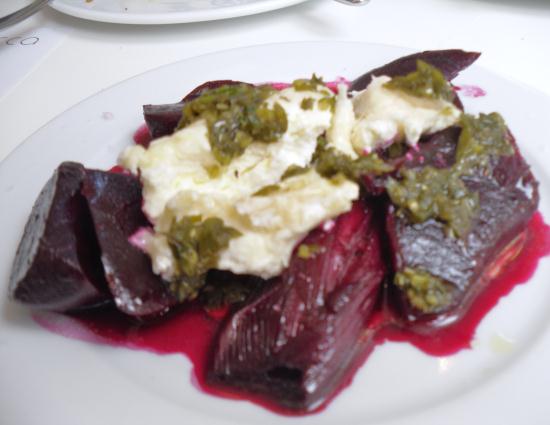 Beetroot, rochetta cheese, and tarragon (£4.15) another steal from the generously proportioned antipasti menu was a delightful summery plateful of seasonal joy helped along with some more of that wonderful bread.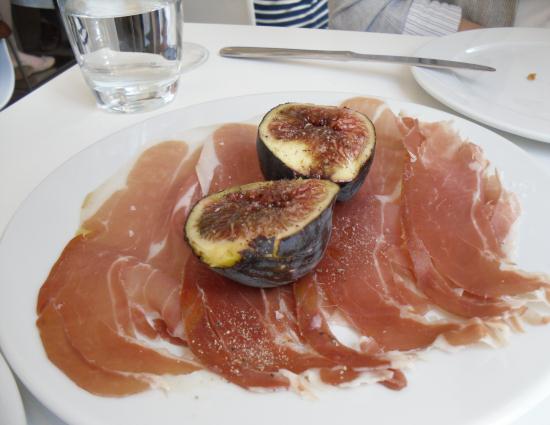 San Daniele ham with figs (£4.15) was another steal, top notch produce, seductivly ripe fig melding perfectly with the full flavoured nicely salted and black peppered ham.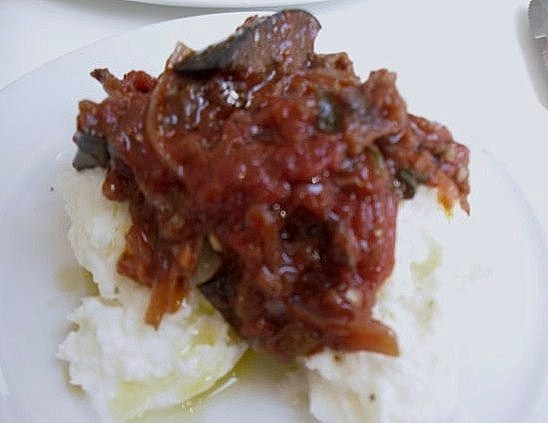 Mozzarella "Norma" (£4.25) is another dish that we are not familiar with again simply excellent prime ingredients, the mozzarella topped with a tasty aubergine and tomato sauce.
Now by this time and especially due to the portion sizes we know we have ordered way too much food and are beginning to feel a bit full. No probs we press on regardless.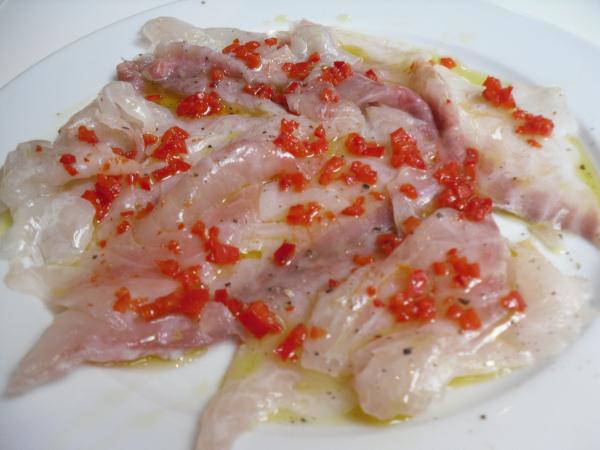 We have now reached the stage where we are feeling guilty about eating all this food, and its beginning to feel like a form of theft because of the low, low prices.
Carpaccio of Sea Bream (£4.15) was our last antipasti, and don't ask me how they can serve portion sizes and quality this good for four quid, a skinny model would last all day on this portion.
Spankinly fresh with flecks of chilli and red pepper lemon juice and olive oil, this was a real joy to eat.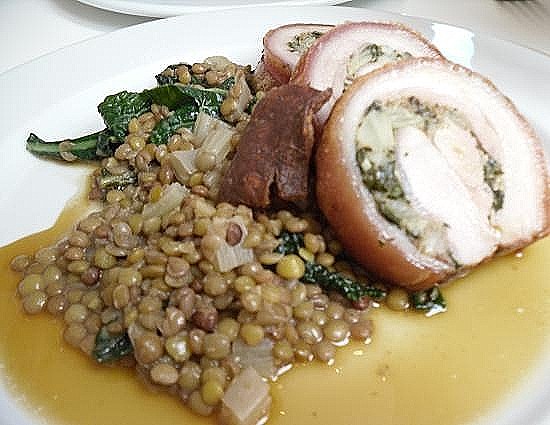 The marathon nearly over we can,t resist a main course of Roast Suckling Pig, chard and castelluccio lentils (£12. 95).
Very good but not as stunning as I thought it would be, the crackling was a bit rubbery in parts which was a shame as the dish itself was very good in the main.
We finished the meal with an astonishingly good vanilla flecked Panacotta which was accompanied by some poached peach. Light, sweet, and pleasurable it slipped down a treat to finally fill the very tiny pocket of space in our gluttonous bellys.
As you can gather we rather enjoyed Zucca somewhat enormously.
It truly is fantastic value fom money and well worth travelling too from afar.
I did not keep the bill but from memory all of the above, and easily enough to feed four, came to £71 and that included a handsome bottle of wine at about £22, stunning value and very well worthy of much continued success.
It may come as some comfort to you that Sam Harris confirmed to me that no matter how successful they are prices will not go up.
Fantastic, all the success in the world to you, Sir.
I forgot to mention no service charge is levied and I am assured the staff are paid a decent wage, not relying on tips to make their wage up. Nevertheless we tipped on top of the £71 to make it up to £80 partly because we felt guilty and part because the service was charming and informed.
Edited by david goodfellow, 29 August 2010 - 01:00 PM.