Cass Lake, Minnesota: a town of about 770 people and, at this time of the year, many additional campers and fisherfolk. For a town of its size, it has an impressive grocery store. I went in to pick up packages of this season's wild rice.
Product demonstrator cast the line: "Hello, have you had your Oreos today?"
"No," I said, struggling to remember when I last had eaten an Oreo. Has it been in this decade? This century? Not that I'm opposed to them, mind, except for the calories.
She set the hook: "They have a dozen new flavors. Want to try some?" She had samples of half a dozen new cookie flavors: all with the traditional chocolate or vanilla wafers, but the cream/creme filling was different. There were vanilla wafers with lemon. Chocolate wafers with a raspberry/strawberry combo. Chocolate with peanut butter. Chocolate with mint. I tried all that she had. Untested but visible were variations for folks who want to change the wafer/filling ratio: on the one hand they had triple sandwich cookies with three wafers and two layers of filling; on the other hand they had single wafers with a layer of cream/creme, the whole lot coated with chocolate. Think Mystic Mint Meets Oreos.
She reeled me in: "See if you can guess the fillings." In almost all cases I could get them - they really did taste as advertised - but one confounded me. "It looks like confetti in the filling," I said. I liked it, both because and in spite of its too-rich back-of-the-throat sweetness. I couldn't place it. "Most of us love these until we're about 30 years old," she hinted, "and then we want nothing more to do with them." Aha!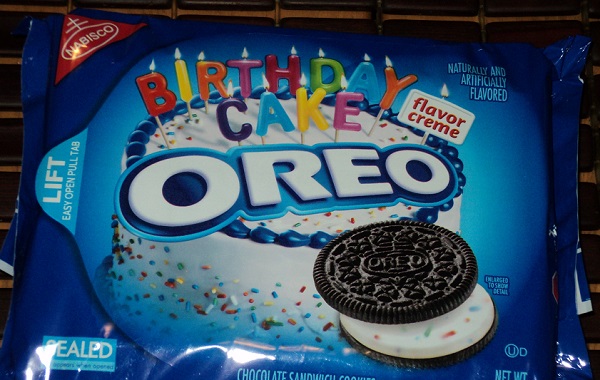 My purchase. The cookies have that rich sweet flavor of a fully-loaded birthday cake with frosting. I'm not sure I dare open the package.