I want to go to Vietnam. My long time friend and business mentor has raved on about it since his visit, and I was fascinated reading about the country during the war torn years, devouring any reading matter that I could get my hands on.
The closest that I will get this year was down Kingsland Road, in Shoreditch, East London. The most populated area of Vietnamese Restaurants in the country.
After our recent visit to Viajante in Bethnal Green, and Bistro Bruno Loubet in Clerkenwell I am beginning to develop a fondness for this side of London.
Viet Grill is much loved by bloggers, and it came to my attention initially having read that popular chef Mark Hix rates it very highly. I think the feeling must be mutual because they stock a couple of his own brews,Hix Oyster, and Hix India pale ale.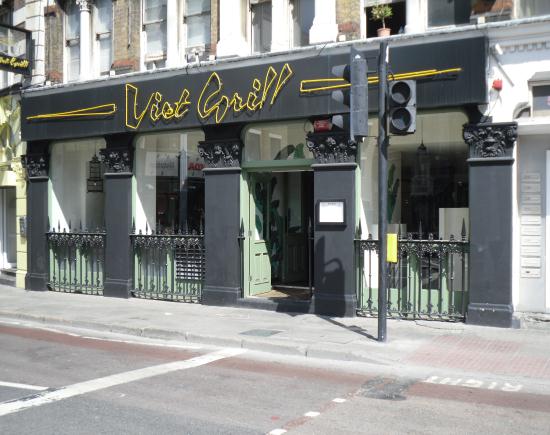 Having read a few reviews I was looking forward to sampling the food, especially as I needed to be convinced that Viet food was for me.
The place itself is not too shabby, but I find sticky unclothed tables very offputting, fine dining this is not, let me tell you.
The menu itself is very attractive, its in front of me now and there are at least twenty dishes that I would like to try.
We,(or should I say I), started with a Pho (soup)as Mrs G took one look at the very fatty chunks of Beef Brisket and decided it was not for her.
Described on the menu as "Siagon Beef Stew Noodle" (£4) it was true to its handle. The broth was deep and rich unlike anything I could recreate at home, thats perhaps why we eat out so much. The chunks and I do mean chunks of brisket were tender and had a great flavour,the fat had not been trimmed for the express intention of getting that flavour into the broth. The field of greenery on top was a mixture of enryngo, a type of vietnamese coriander, holy basil and water spinach.
A very large bowl indeed,but the one next up at £7 was humongous.
" Wok Fried fresh Scallops, King Prawns, Calamari" (£9) was dished up on a sizzling plate.
The Scallops were singular, as in one sliced three ways. I will allow them a bit of artistic licence but this really is a bit of a pith take. The dish was decent enough quality so as not to take them to task. Saucing was garlic and gingery. Big hunks of cauliflower added a bit of crunch. Thai celery was of interest also.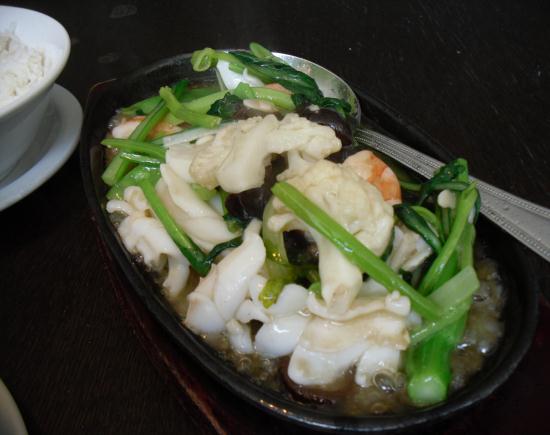 I'm partial to a bit of Quail and "Viet Quail curry" (£8) was to be put through the paces.
Again I could not fault the broth, it had great depth of flavour and good chilli hit. Aubergine, crunchy okra,and coconut were all in there. It was however difficult to eat as it was whole and of course still on the bone. Needs must I was forced to split it by hand. Be warned this is not first date territory, by the time you have slurped through your noodles in the Pho dish your date will look at you in a different light.
"Heaven and Earth" (£9) Does'n't Mark Hix do a similar named dish?
Pork with Tiger Prawn was a bit similar to one of the other dishes. Similar saucing with again cauliflower and Thai celery.
Wood ears (mushrooms) provided a slimy bite between bites of pork and prawn.
The most interesting texture on the plate was "pork crackling" as it was described to us. This was like no pork crackling we have tried before. It was most certainly porkie but had the texture of a water sodden sea sponge. Quite a wierd and wonderful experience.
Now nearing bursting point, she who must be obeyed chastised me for my cavalier attitude regarding the food order, noting that the Pho was my choice and I had eaten most of it.
Its hard being a gentleman all of the time and I do stoop to doing ladish things now and again, so to make amends I ordered "Chilli Salt and Pepper Soft Shell Crab" (£7)one of her favourites.
I did the fair thing and ate far less than half. It was extremely moreish and crunched down to nothing in no time whatsoever.
Sorry about the blurry picture it must have been all of that broth sloshing about inside of me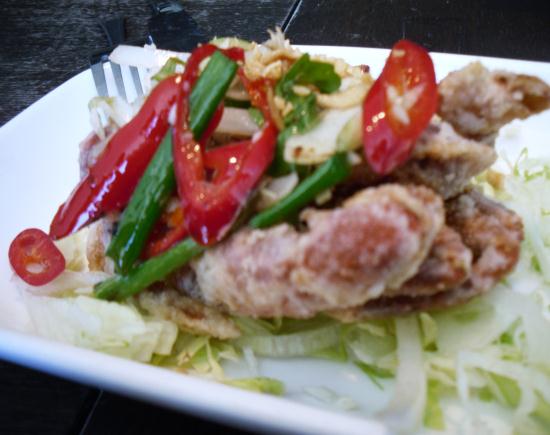 I was most impressed with this meal, and even though I'm inexperienced with this type of food I think its the real deal and would be surprised if it could be bettered. Sadly I won't get the chance to eat my way down Kingsland Road its just too far away.
A couple of things I did not mention was that Malcolm Gluck, he of Superplonk fame has advised on the wine list and they avoid the hefty mark ups of other places. I will drink to that.
The addition of a 12.5% service charge grates on me a bit, not that I am mean, far from it, but to serve warm tap water, with no ice or lemon in it is just not good enough.
There is a distinct lack of finesse from wait staff, they just do not work hard enough for 12.5%, although in fairness they perhaps see little of it (and therein perhaps lies the problem)
Would I return?
Yes indeed, but I would insist on better treatment or the service would be witheld.
Very large meal for two including an entry level bottle of wine, and some warm Thames tap water £62.44,
I thank you.