We were in Modena two months ago and had one of the most unforgettable meals. Here are some highlights:
A miniature Fish Market with fresh raw seafood on ice - oyster, prawn, lobster, and sea bream from Adriatic Sea with a flick of sea water emulsion. The surprising part was actually underneath the ice! We broke open the ice before eating and found ourselves surrounded by an intense charcoal smokiness from this "abstract grill"!
http://www.youtube.com/watch?v=0qESuJvDXsE
This is the only place you could have "grilled sashimi"!
Another superb course was
Eel swimming up stream in the Po river
: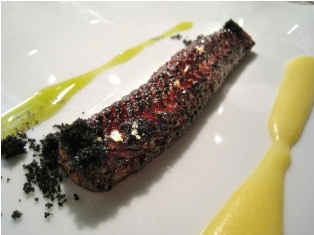 Using eel from the main river in northern Italy, this is Massimo's version of Japanese barbeque eel but using Saba sauce instead! Served with an acidity distilled green apple on the left and a polenta cream on the right.
The menu was well thought out that each course had its point! Here, Massimo reinvented a traditional Modena dish, Cotechino.
Cotechino and Lentils in May
It was a menu full of outstanding courses, but the desserts took the spotlight! Before the meal, they did ask us how opened-minded we were with dessert.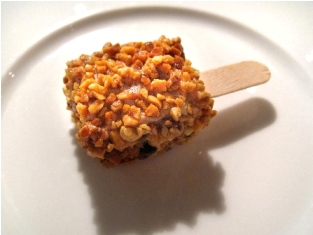 It was foie gras with 40-year old balsamic vinegar spilling out, coated with crushed hazelnut and almond! The richness of the creamy foie, the deep flavour from the aged balsamic, the crunchiness from the roasted nuts, and the delicate sweetness from the Moscato...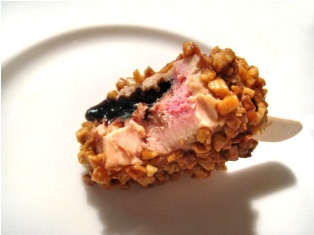 Exceptional, truly exceptional! Chef Bottura really has guts to serve foie gras as a pre-dessert, but the manager said they usually serve it much earlier as it could be too shocking for many diners. Regardless when you have it, this is a spectacular snack anytime of the day!
Then, the most unforgettable dessert in my life! Not only was it impressive on the palate, but in my mind too. How could things that sounded so wrong for dessert be so right?!
The warm baked aroma coming out of this sweet potato was appealing, the seductive fragrance from the white truffle was arousing, and without a doubt, the crème anglaise did a brilliant job of marrying them together.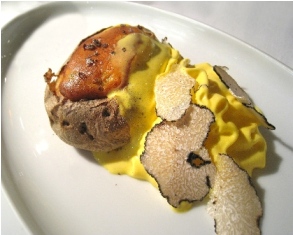 They first scooped out the baked sweet potato and then made a soufflé out of it. Even with the crème anglaise, this airy soufflé wasn't overwhelming at all and it did a good job of satisfying our sweet cravings. It was indeed a damn good dessert!
This meal definitely justifies a special trip to Modena!
For album of full meal, see
HERE
.