We've had these in our market for about two weeks. So far they only come in Coors Light and Miller Lite (rain water and slightly flavored rain water).
Each holds 5.7 liters (16 12oz beers $18.99 no deposit) and are fitted with a CO2 widget to dispense as well as keep the beer fresh for a whole month (obviously for amateur drinkers).
They sit in your fridge and are dispensed in the horizontal position.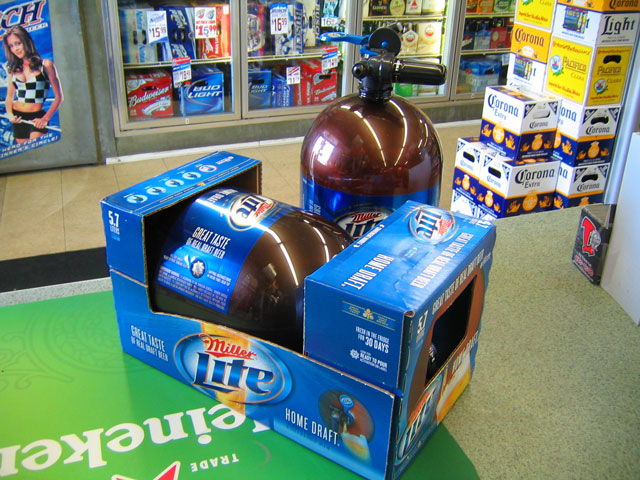 The thing in the forefront holds a CO2 cartridge. When twisted clockwise the cartridge is pushed against a pin that punctures it.
They are not really a good deal since they cost as much as a 24pk. and are really crappy beers. So why am I telling you about them?!
Because..
v
v
v
v
v
v
They are reusable!
The whole widget unscrews off the heavy duty P.E.T. container. And while the gizmo which holds the CO2 cartridge is designed to twist in with a ratcheting action to prevent one from unscrewing it, I found that giving it a good yank counter clockwise with a pair of Channel locks, breaks the plastic ratcheting pins, and then it is free.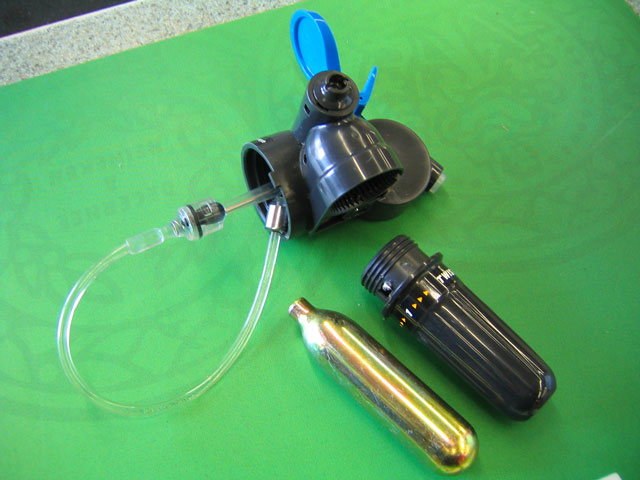 If you don't want to buy an expensive Cornelius setup or you just don't brew big batches, this is the ticket.

It can be used to carbonate and dispense any brew, alcoholic or otherwise like homemade ginger ale or soda water. If the PET container is ever damaged, the widget fits perfectly on any 3 liter soda bottle with a wide-mouth opening.