I thought I'd share with you my experiences in building a Tandoori Oven in a beer keg.
I have always been a fan of Indian food, even from a young age. I just love it hot and spicy. When I was a teenager I tried out for a job at the local Indian take-away making Naan bread. Needless to say, I couldn't hack the heat and resulting burnt arm! However, my interest did not dwindle in Tandoor cooking.
Why in a beer keg you ask? Because I had one sitting in the shed for about 10 years taking up space. I'm not even sure how got it in the first place (or why), but I'm guessing I had some crazy idea about making a pot belly stove, BBQ or something else like an ethanol extraction unit.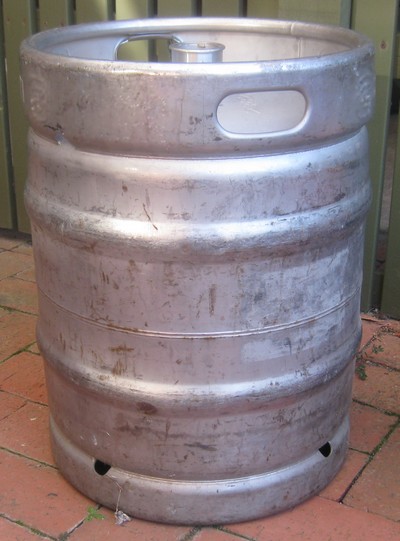 Myself and the family really enjoy Naan bread and buying it was getting expensive. I had tried making it too, and although it was OK, I couldn't get the top and bottom to cook simultaneously with the correct, crispy skin you get. I tried everything, and the best method was a red hot charcoal BBQ, cooking the bread on the grill, and flipping it over to finish the top off.
Recently I had found a few posts about home built Tandoori Ovens. Cool! Exactly what I wanted - a real Tandoor to cook the bread in. I sketched up a few ideas on a Napkin (the normal starting point for all great plans) and then translated the concept in Sketch-up.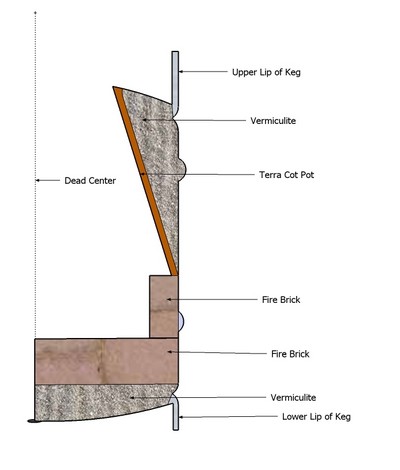 Essentially the Tandoor is built from firebricks and a Terra Cotta pot. The keg holds everything together, and keeps the vermiculite in place providing thermal insulation for the terra cotta. The pot is actually inverted and has the base cut off. A small door was also required for ventilation at the bottom.