Haven't seen much about D.O.M. in Egullet, so I will start this by sharing my recent experience there.
We had the tasting menu for about USD$170! Thatís around the price of Fat Duck or Ramsay!
We arrived at 7pm but were the only customers there for the first 90min. Locals there eat late I guess. It was full house when we left.
The receptionist of the restaurant was very friendly and tried her best to translate most ingredients to us when each course arrived. She started learning English recently.
Extremely high ceiling dining room with an 18-feet wooden door!
Here are a few excellent courses of the evening:
"Citrus green tomato gel with Amazonian herb and flower"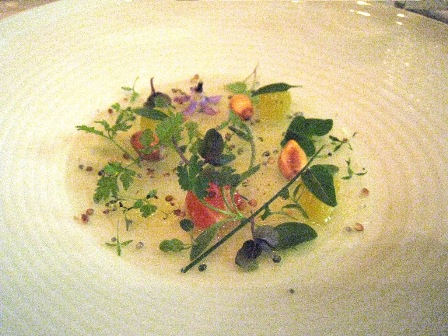 It was a colourful and refreshing starter showcasing various flavours from the Amazon like wild coriander seeds, Peruvian corn, and various aromatic herbs. The citrus jelly underneath was quite mild, which had the effect of highlighting his unique ingredients.
This is the 2nd best course of the evening. Laying on top of a crunchy paper of palm heart were carpaccio of sea scallop with citronella oil, seaweed puree, local herbs, and pear sticks. The moist scallop's pure freshness and the pear's fruity sweetness, along with the flavours from those exotic herbs, together with the crunchiness from the palm heart. It was superb!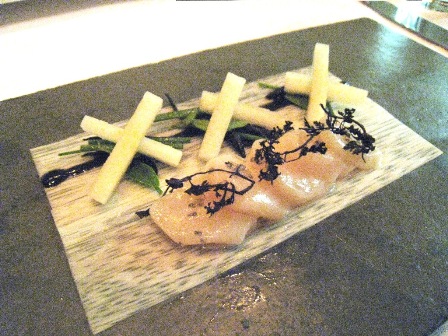 AND this was the best of the night: a concentrated veal jus with tucupi and Amazonian herbs.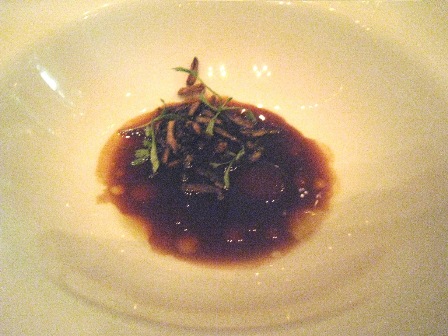 Our server then poured over an intense wild mushroom bisque. Wow, it was like taking flavours from thousands of mushrooms and packed them into this airy soup. Mixing in the savoury veal stock with tucupi from the bottom gave us a further boost on the palate! Really great stuff!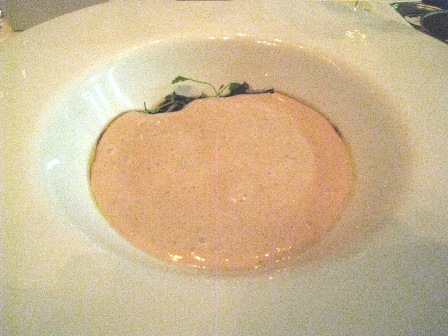 They also have aligot there, but nothing compared to
Michel Bras
.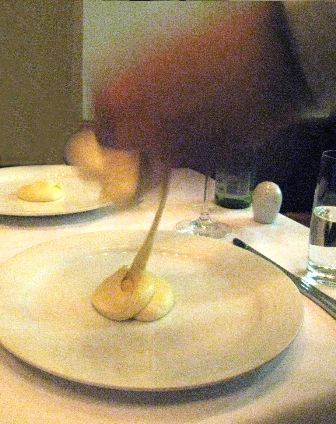 Even though we had a few great dishes, we still think it was on the expensive side. Including just a few glasses of wine and service, it was a USD$500 meal for two of us!
I am interested in hearing other opinions about this restaurant. Anyone had a recent visit there??
Full album here:
www.finediningexplorer.com/dom