Of late I've become much more interested in dry-curing my own salami. I make a lot of fresh sausage already, but dry curing is a great and unique challenge, and well-made salami is one of my favorite foods. I think I got hooked for good after making the peperone out of the Ruhlman and Polcyn book (I wrote about that
over here
). I had made the
Sopresatta
first, and it was good, but that peperone was AMAZING.
I have quite a few
books on charcuterie
, including the
Marianski book dedicated to dry-curing
. I do my
curing in a wine fridge
, I've got a
smoker set up
, I use the
Northern Tool grinder
, and a
cylinder stuffer
with a 5lb capacity. Hell, I've even got an old
slicer
I got off eBay. I should be totally good to go. But sometimes, you just have one of those days...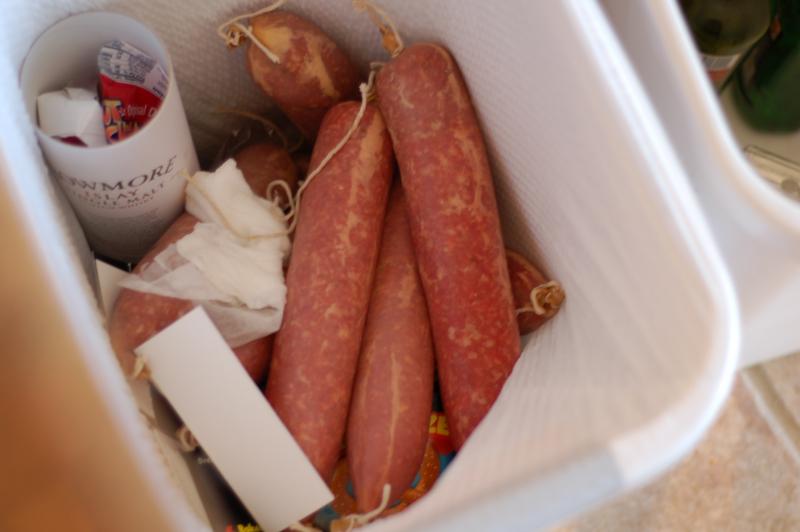 This morning I threw away twelve pounds of salami that I started curing last weekend. The problem? I killed the starter. Somehow. Dunno what I did, but when my
new pH test strips
arrived (thanks for the recommendation, Dougal, they worked great), to my surprise the pH had not dropped one bit. But, it turns out the three-year-old bottle of distilled water I was using to make the meat slurry had a pH of 5.5!!!
So, this topic is for advice, assistance, and general commiseration about how everything woulda been just fine if only...
Advice point 1: when that package of starter culture says "use no less than 1/4 of this package," they have a reason. Because instead, I foolishly followed the Marianski recipe to the letter and included only 0.6 grams of starter. The results speak for themselves. Hey, maybe that's not what did it, maybe there was something else wrong. But $45 in trashed meat later and I'm seriously regretting my decision to skimp on the starter.