We were discussing the question of
best mass-produced treats
, and the venerable Heath bar got a few mentions. This led to me going out to try to find a Heath bar at a newsstand or bodega, but I found that Heath had surprisingly limited availability. Chris Amirault then inquired about Skor bars, which until then I had never tasted. More widely available -- though still not a Tier 1 candy like Snickers or M&Ms where you can get one pretty much anywhere candy is sold in the US -- would the Skor bar be the answer to my dreams?
I bought one and, to me, it tasted great and seemed to be an earnest Heath-bar facsimile. I then decided I should get one of each and do a taste test. This proved challenging. I finally found a Heath bar at a Duane-Reade pharmacy (probably the dominant chain here in New York City), but once I found it I couldn't find a Skor bar anywhere. By the time I found a Skor bar, I'd eaten the Heath bar. This went on for days.
Finally, I managed to get both at the same time.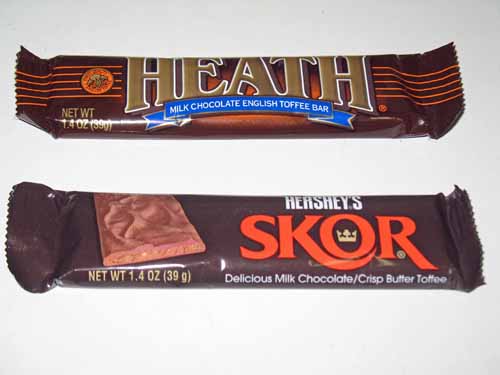 I'll cut to the chase: Skor is better. I went into this experiment thinking Heath would be better, but in the end the superiority of Skor was inescapable.
I'm not the first person to conduct a Heath-Skor challenge, or even the first person to post online about it. A blogger who goes by "Flax" did a
particularly nice job
comparing the two bars (and by the way also ruled for Skor). But I thought I could add a little.
Here's the essential information from the "Flax" effort:
Skor was introduced by Hershey's in 1983 to compete with the much older Heath - but Hershey's actually acquired Heath in 1996
From other Googling, I found indications that Heath and Skor are now made in the very same factory. Also I remember Heath used to come as two small bars in a package, but it has now been converted to a single-bar format. I'm wondering if they're even made with the same machinery. They look quite similar, though the ripple pattern is not identical.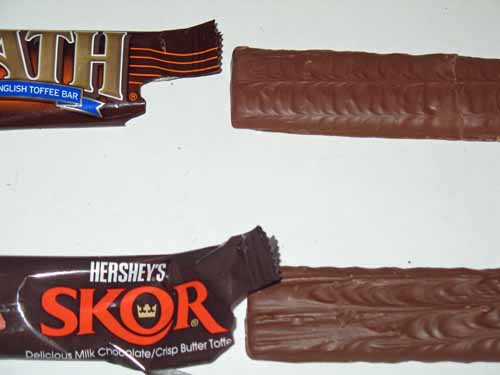 Heath's toffee is light in color and bits of almonds can be seen on the inside. The taste is primarily that of almonds, with the chocolate coating providing additional flavor. The toffee snaps fairly easily under the teeth upon biting into the bar. Heath contains palm oil (the only ingredient it contains which does not also appear in Skor), which might help explain its slightly softer texture.
"Flax" is correct about the difference in appearance. Inside, Heath is lighter in color and the bits of almond are visible.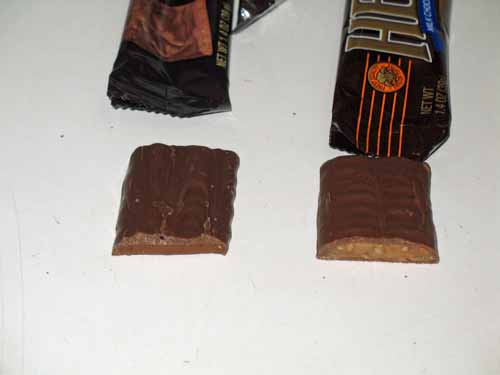 As for ingredients (which can be found listed under the fold of the wrapper -- it took me a minute to discover that), here they are: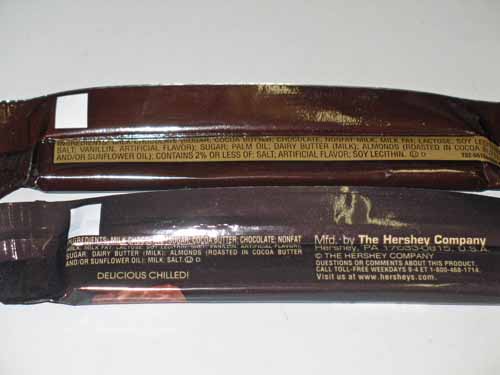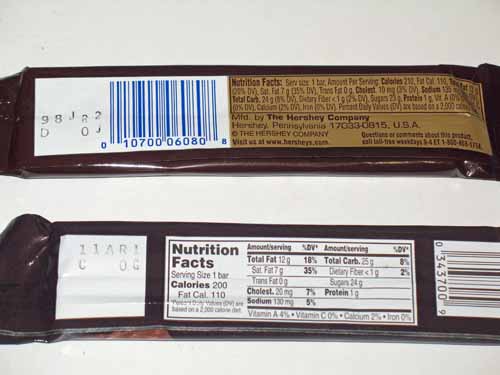 "Flax" is also correct that the main difference in taste is Skor's buttery richness:
Skor's toffee has a rich, buttery taste which dominates the product. The outer layer of chocolate is barely even noticeable from a flavor standpoint. The toffee is also much darker in color and while it does contain bits of almonds, their flavor does not predominate as they do in Heath. The dark, buttery toffee flavor is the driving force. Also, while the two bars are about the same thickness, Skor's toffee is slightly stickier and more resistant to the tooth.
"Flax" concludes, as I did, that Skor is the tastier candy bar:
put everything together - Skor's richer taste and its entertaining packaging (as far as I can think of, it's the only mainstream US candy bar that actually shows a picture of the bar on its wrapper, which I've always enjoyed) - and you come up with a clear winner.
But I'm not one to rely fully on single-observer tests. So I also set up a blind tasting. My friend Sean and my wife Ellen were served samples A and B and asked to comment. The decision was instant and unanimous: they liked Skor better.
Not only is Skor better than Heath, it's also simply a great candy bar. As luck would have it, I was able to acquire some of the professional high-end pastry-chef version of Skor/Heath from my friend Nicole, who is in my opinion one of the best pastry chefs going. This is what you get when you make a chocolate-toffee confection with high-quality chocolate and all the other top-shelf ingredients: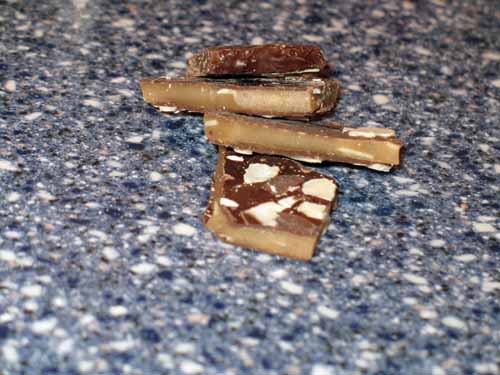 Needless to say, the chocolate in this version tasted superior. The chocolate used in Heath and Skor is mediocre Hershey's chocolate. Luckily this doesn't matter all that much because it's such a small component of the candy. But I will say that, even though the pastry-chef version was based on superior ingredients that could be easily tasted and preferred, there were things to be learned from Skor's food scientists. The Skor bar was saltier and more buttery, and I think having compared them side-by-side my pastry-chef friend will increase the salt and butter components next time she makes this item.
So, to Skor, I say bravo not only for being better than Heath but also for having a thing or two to teach even a top pastry chef.