The meal I showed above cost around 50,000 won, or around 3,200 yen at today's exchange. Friends from Korea visited us at Lunar New Year and were weeping at the combined exchange and prices in Japan. Korea is a bargain, for sure. A sweet, delicious bargain.
Shinchon
This neighborhood has both Yonsei and Ehwa universities, so it's a great area for shopping, eating, and people watching. And it's cheap.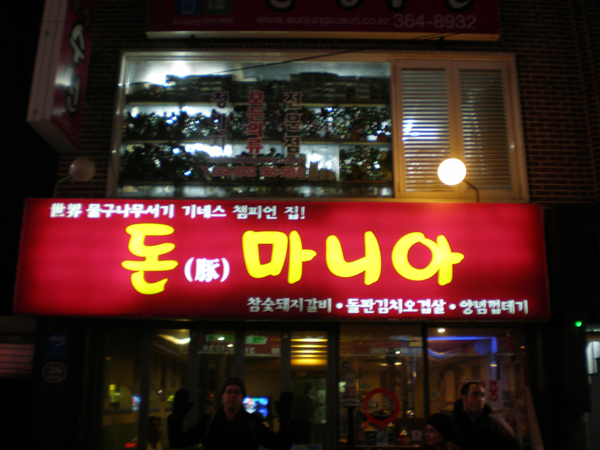 "Don-mania" or "Ton-mania" depending on your romanising preferences.
Our hands down, favourite meat restaurant in Seoul is up the back alleys of this area, amongst the love hotels and san nakji joints. The older couple that runs it remembered us from years ago. The adjumma used to give me her kimchi to take home, since I always complemented her on it. She makes it herself, and swears up and down that she ages it six months before letting it out on the floor. The aging gives it a lovely cider-y fizziness and tang that strips the grease from the samgyeopbsal right off your tongue.
Her galbi salad is the standard I set mine by - in perfect parts sweet, spicy, and sharp. And constantly re-filled, which is good, since I can put away a lot, alotalotalot of galbi salad.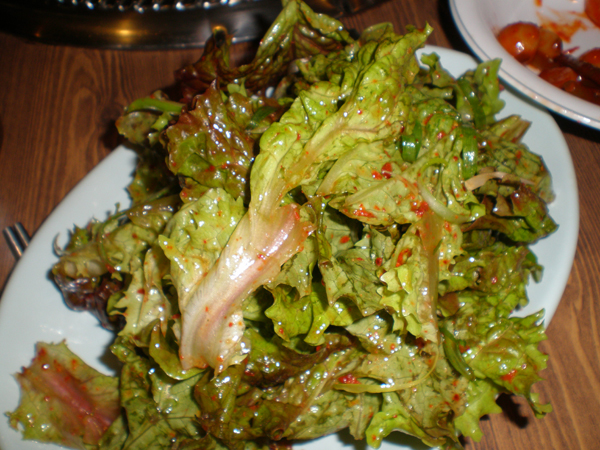 And the pork? Oh, the pork. Sweet, creamy slabs of it. Not for nothin' is this place called Pork Mania.
The focus here is pork, and we divided our time between o-gyeobsal (five-layer pork belly) and galmeggisal (disturbingly translated as pork diaphragm by just about every electronic dictionary in existence. It's the kind of linguistic precision I can do without, thankyouverymuch). Galmeggisal has an amazing richness of flavour that belies the pink lumps on the plate, and the pork belly - well, it's pork belly.
Side dishes are minimal, as the focus is rightly on the meat.
Garlic's Mother-and Child reunion: pickled scapes and cloves in chili sauce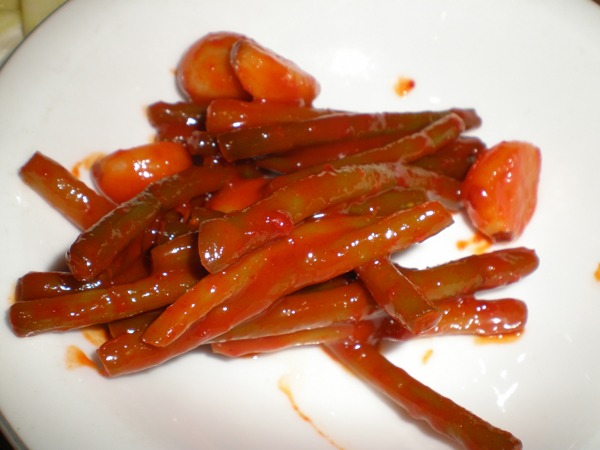 Standard rice at this place comes with a little red rice mixed in, the sort of touch that lets you know you're in the hands of professionals - people who know their pork is so good, you'll need some kind of fibre to counteract the administered dosage of pork fat.
If you need to push the envelope, you can always order an "egg roll"; an omelet stuffed with cheese and kimchi (
What? They're both fermented
) which, I think you'll agree, is not the sort of egg roll you probably grew up with if you're a North American; you will regret this fact after your first bite.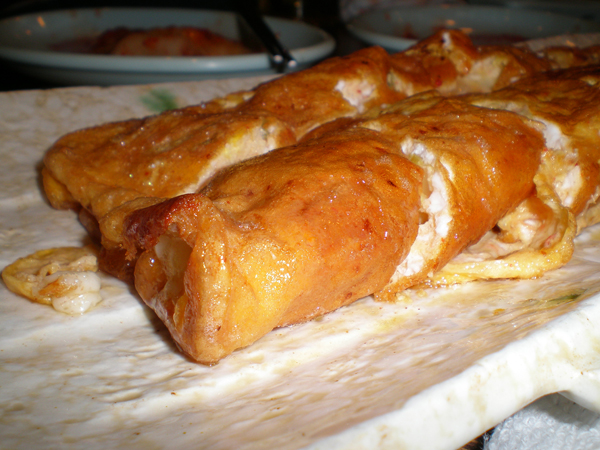 Directions:
Exit Shinchon station by exit three. Follow straight along that street - McDonalds will be on your right. You'll pass a shop called "Andrew's Ties", also on the right. Keep going until you reach an alley on your right with a Paris Baguette on the corner. Turn down the alley - go about 50 feet, until you reach an intersection with a GS 25 convenience store opposite. Turn left onto the street with the GS 25. From there, it's another 100 ft. on the right.