Last week I enjoyed a fun dinner at the Border Grill helmed by Mary Sue Millikan and Susan Fenigan (The Two Hot Tamales). This was a margarita paired tasting dinner hosted by Ray Ramos of Corralejo Tequila. Their Triple distilled is my favorite sipping tequila, hard to find, it's at Bevmo.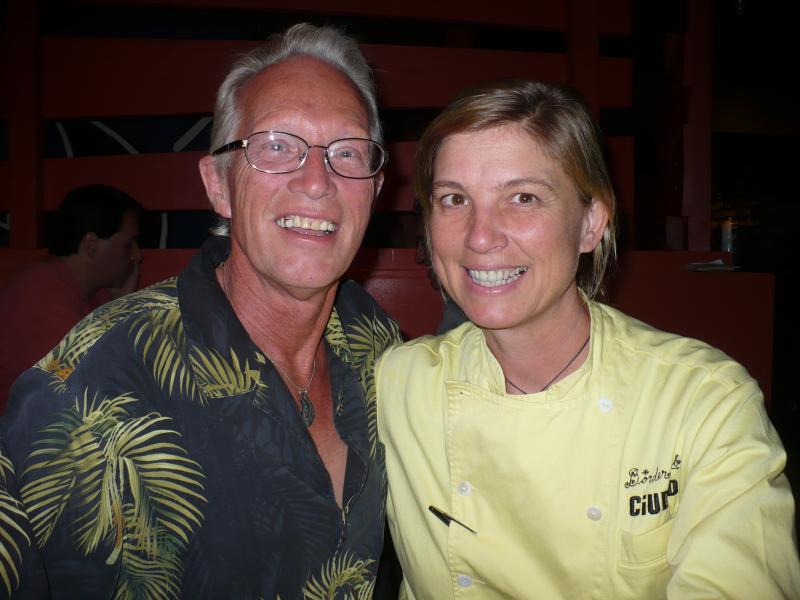 Mary Sue Millikan and The Captain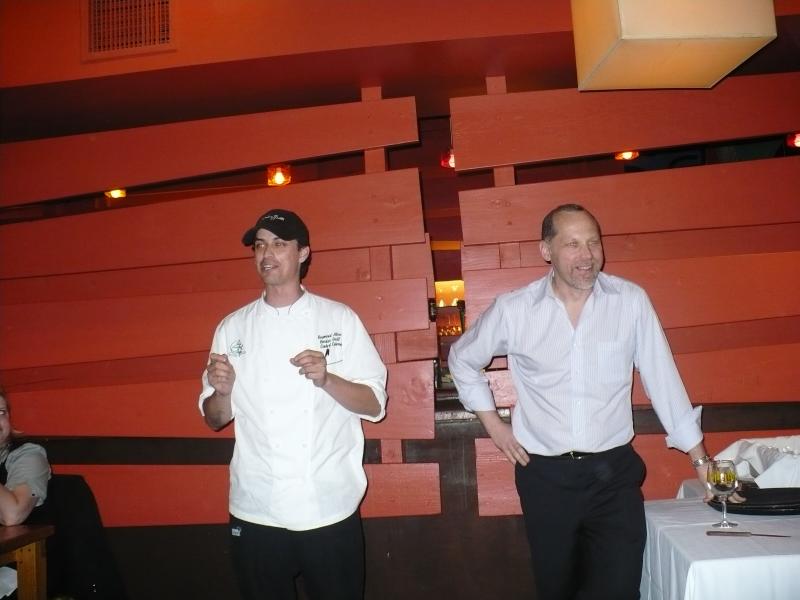 Chef Raymond
This was the third or fourth tequila dinner I've attended at Border Grill and it was the best. The Grill is in downtown Santa Monica, just off the Promenade. Fortunately for me, it is located at a bus stop which bus also runs by my home in Venice. No driving was involved. For that, I gave thanks, for I was impaired when I left.
This is how I roll.
Each course was accompnied by a shot of the selected tequila and a generous margarita. Also, before the dinner there was a surprise margarita and several tastes. It pays to arrive early and also have a Local's Club membership.
The first course was a Hoja Santa Wrapped Stuffed Shitake. It included carmelized leeks, oaxacan cheese, salsa verde, and pincho. Hoja Santa is an aromatic herb with a heart shaped pepperleaf that is considered a sacred herb because Mary is said to have dried the diapers of Jesus over them. None the less, it had an anise/nutmeg flavor. I'm not sure why the description includes "pincho". The only pincho I know refers to a stick stuck through a combination of food much like a skewer through yakitori. However, there was no stick. And, it needed none.
The Tequila was a reposado. The Margarita was named Grape-nilla. It was mixed with green grapes, a vanilla bean infusion, lime juice, and the house citrus blend. The combination worked quite well, even though I am a margarits snob. To me, currently, I think a 3 to 1 ratio of Cazadores reposado and Roses Lime Juice over ice cubes is the way to go.
The next offering was just great. It was named Albondigas Dos Cominos. It consisted of two meatballs, each different with their own sides. The Kobe beef was gently seasoned and sat on salsa bravo with roasted shallot aioli. Quite tasty, but suffered in comparison with the Lamb ball. I could totally enjoy this "meatball" as a large entree. The lamb was very tasty and was surrounded by a fresh curried yogurt, a caramelized onion marmalade and oregano chimichurri. Outstanding. Chimichurri is an Argentenian green sauce, usually made with parsley, olive oil, garlic, vinegar and peppers. I cooked one summer at the Coyote Cafe in Santa Fe and Mark served it with rabbit, though much spicier. Chef Raymonds take was much finer and fit very well with the lamb.
The tequila was anejo, like me, and the drink was a Curried Margarita, it included muddled neem leaf and muddled lime. I had to look up neem and found out that it is an evergreen tree from India that taste of peanut and garlic. It is claimed that it produces a medicinal oil. What doesn't?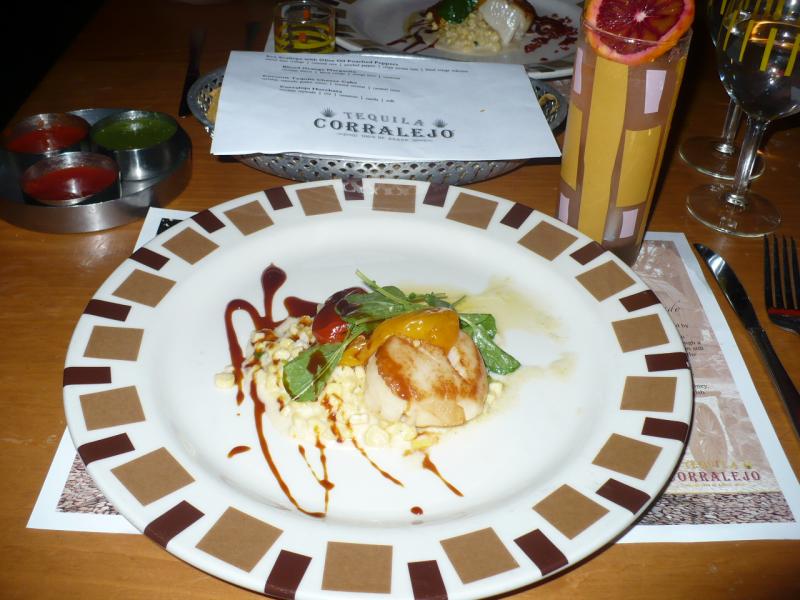 Next up was a Sea Scallop served with olive oil poached peppers. An outstanding dish with a large succulant scallop resting on white creamed corn, a combination of poached peppers and serrano ham, drizzled with a blood orange reduction. Lordy, I love scallops. This one was just right and the orange gave it a great tang.
The tequila was blanco, and of course the cocktail was a Blood Orange Margarita, with a beautiful slice of blood orange decorating the glass. By now, I needed the security of knowing that I had a designated bus driver.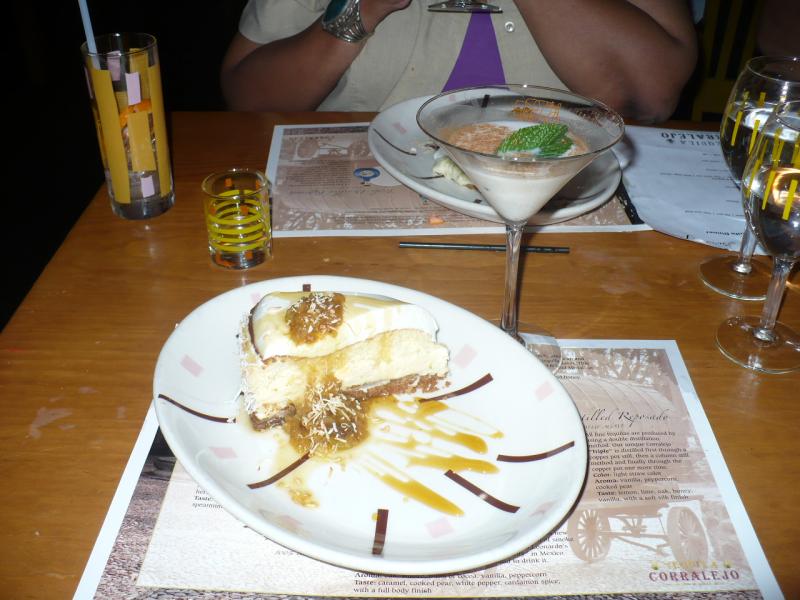 Sadly, we were at the last course. However it was a combination of three of my favorite tastes, Tequila, naturally, coconut and cheesecake. TMI, when I was pastry chef at Strattons at the Westwood Playhouse, I served what I called the Tequila Surfride Cheesecake. It was fairly well received. This Coconut Tequila Cheese Cake, put mine to rest, with its tequila soaked golden raisins, toasted coconut and a just right caramel sauce.
The tequila was reposado, as was I until late the next day. The "Margarita" was very untraditional. It was a Corralejo Horchata cocktail. If you dont know, horchata is a rice milk drink made in every latino kitchen I been in out of rice, milk, vanilla, and cinnamon. Not unlike a wet rice pudding strained through cheesecloth. I've enjoyed it for years and now see a commercial version in some grocery stores. It was just the smooth drink that the cheesecake needed.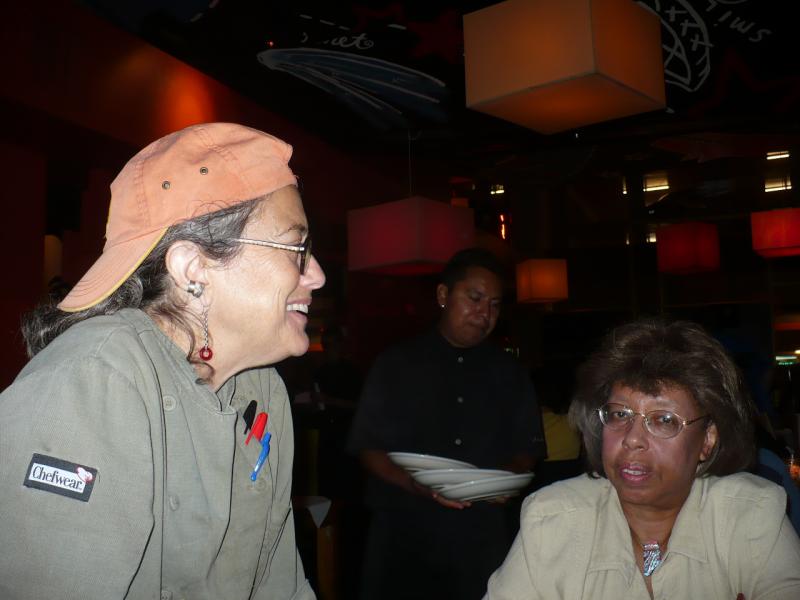 Susan Feniger and Toni
Chef Raymond, the Tamales and Ray Ramos from Corralejo put on an outstanding party and you weren't there. Pity.