Lamb Stew -- Cook-Off 50
eGullet Recipe Cook-Off Series
Welcome to eG Cook-Off 50.
Click here for the Cook-Off index.
Lamb stew can be called by so many different names, in so many different languages. It can be a
navarin
,
ragout
or even a
daube
. It might be called
mishmishiya
in Egypt, where the name comes from the Arabic word for apricot, or mishmish; apricots make up a large part of the recipe. It's a
tagine
in Morocco, certainly. And a
calderete de cordero
in parts of Spain. In Peru you might eat
seco de cordero
, lamb stew with vegetables, while lamb curries are popular in Africa, India, Indonesia and Malaysia, amongst other locales.
But whatever you call it, in whatever language you'd like, lamb stew is a great dish. Wanna use the neck or shoulder? Go right ahead. How about the breast? Be my guest. Is it a leg you prefer? Well, jump right in. That's what makes lamb stew so good (besides the taste) - you can use practically any part of the animal (though you wouldn't really want to use the loin) and be assured of a tasty, tender dish that will wow your friends and family alike. As a matter of fact, this month's issue of Saveur,
# 123
, has a great cover and stories about lamb, and inside the mag is a pictorial guide to all the cuts of lamb - almost everything you need to know.
Me - I like the shoulder. The other day I popped over to
my butcher shop
, where I was able to procure basically a whole front part of a lamb - both shoulders and the neck, actually. I took both shoulders, which were kindly boned out for me; the bones, of course, were used to make 2 quarts of delicious lamb stock...perfect to add another layer of flavor to my stew.
Here's the butcher at work, while some beautiful shoulder and bones await their fate.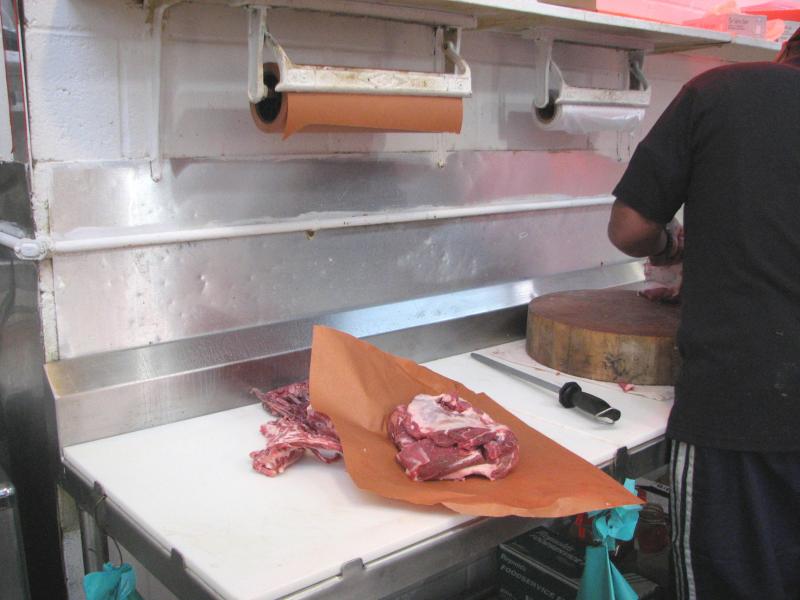 Now, I don't know exactly what type of stew I'm going to cook tomorrow, but the apartment is going to smell great and the neighbors down the hall are going to ask me what's for dinner.
So let's see amd hear all about your favorite way of preparing lamb stew, recipes and all. I'm getting hungry.