I picked up this book before moving to China in hopes of having a few recipes I could turn out for dinner during the week. While there are several more ambitious dishes included (the yolkless egg with shiitake mushrooms comes to mind), I was happy to find lots of easy dishes with clear instructions. I've tried Mao's red-braised pork a couple of times, such that the page is completely spattered with brown sauce and grease from having been too close to the burner when the water went in the caramel. On Sunday, I made beef with cumin from page 102 - an exceptional success, and not more than thirty minutes from prep to plate. Alongside, I made the coriander salad from page 59 - fresh, simple, and green, adjectives which perhaps not a lot of people associate with Chinese food. Perfect home-cooking, however.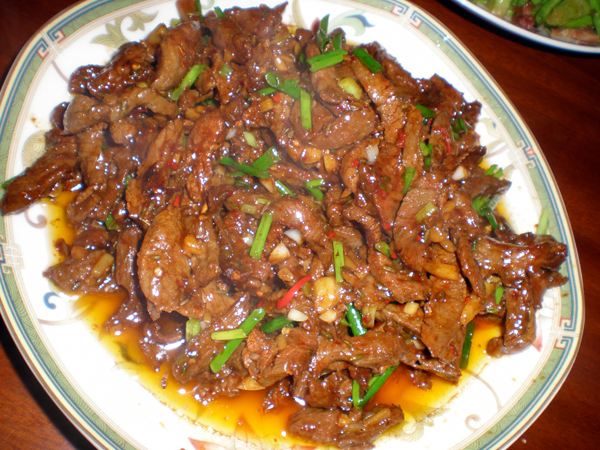 While the design and the intros to recipes in the book give a real sense of place, it does suffer from something that a lot of other Chinese cook books do as well. [minor rant] The Chinese characters used in the recipe titles are traditional, and are accompanied by pinyin without the tones. So if you can't read the characters, you can make sounds in Chinese that have no meaning to Chinese people, but are pronounceable by anglophones? Why bother putting in pinyin without any guidance to the tones? I'm sure, of course, that this book is not meant to be used as a language source, but it's frustrating for me to try and describe either what I've made (to my Chinese friends) or what I'm trying to make(to the butcher or shop owner, while trying to get an ingredient) and have an incomplete set of information to work from.[/minor rant] I'm not hugely bother by this, and it's a point that can be gotten around by bringing the book to the market with me (tedious) or having my husband copy out the characters (useful only to the extent he knows them), but it's worth showing my support on paper, if you will, for the use of proper, toned pinyin in Chinese cookbooks. We wouldn't expect to see a French cookbook leaving off the
accents
aigu
and
grave
, why lose the tone markers on pinyin?