Bar Symon
32858 Walker Road
Avon Lake, OH
Exec. chef: Matt Harlan
Sous chef: Jason Bryson
Pastry chef: Cory Barrett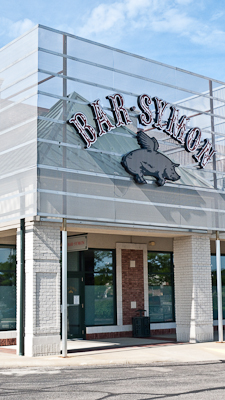 Cleveland restaurateur Michael Symon has opened a new casual place serving a wide selection of beers and a full menu of food ranging from bar snacks to entrées. The beer list is impressive: about ninety beers and ales, forty of them on tap.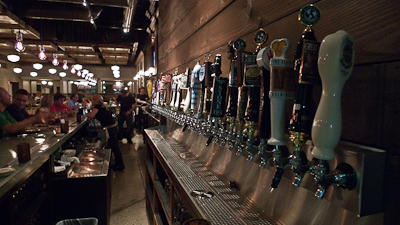 I joined NancyH, her husband Bob, and torakris at Bar Symon for dinner last night. The place was full, but we were able to get a table without too much delay. (Be prepared for a longer wait on the weekends, though).
The menu is far too large and varied for us to explore in one sitting, but we did our best to get a representative sample.

As with all of Symon's restaurants, the charcuterie is made in-house. We started out with a "Big Board" selection of three sausages: Smoked Kielbasa, Spicy Lamb & Mint, and Pork & Fennel. These were accompanied by pickled vegetables, three different mustards, and grilled bread. It's hard to pick a favorite here - they were all terrific. I should also mention that the bread was exceptionally good, with a great smokey flavor from the hardwood grill.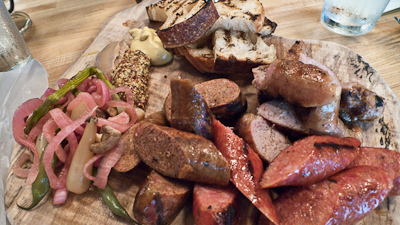 The Tuesday special is goat tacos. The meat is mild and tender, the seasoning just lively enough. Very nice.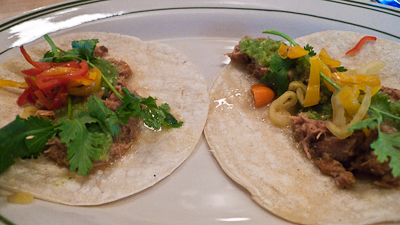 Next up, some P.E.I. oysters. These were served with lemon wedges, cocktail sauce, and lambic mignonette. I usually keep it simple when the oysters are this good, but the mignonette was light and fragrant.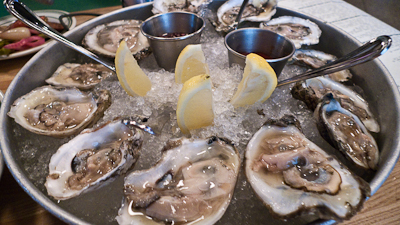 My main dish was a plate of "Barberton Style" fried chicken with truffle honey and parmesan, served with a side of soft polenta. The portion is surprisingly huge. I managed to eat most of it, though - it was just too delicious.
Another surprise is the prices at Bar Symon. The most expensive entreés are just seventeen dollars. The beer list is skewed toward the ten-dollar-and under range, with many at just four or five bucks. (There are a few exotic beers on the list that are quite pricey). Now that the initial buzz is starting to die down it's easier to get a table, at least on a weeknight. The full food menu is available at the bar.
Chef Harlan and general manager Nolan Cleary are both Symon restaurant veterans, having worked at the original Lola and Lolita in Tremont. There are some familiar dishes here - the charcuterie, the chicken, the polenta are similar to what they serve in Tremont. But Bar Symon has a different feel to it compared to Symon's other places. The decor is less fancy, there's a big bar with loads of beer on tap, there are flat-screen TVs over the bar (one of them tuned to the Food Channel

).
I'll definitely be back.