So I was walking down Broadway near Grand Street, stuffing my face with a lamb shish kebab from the Halal food cart near Spring Street, on the way to teach my food-blogging class at the International Culinary Center, when I ran into Dorothy Hamilton. Dorothy is the founder and head of the International Culinary Center, which is the entity that comprises the French Culinary Institute and Italian Culinary Academy. She's also my boss's boss's boss. And she thought it amusing and perhaps horrifying that I'd be eating outside food (as in food not prepared at the International Culinary Center) just half a block from the institution. I believe this caused her to take pity on me. Thinking I wasn't getting enough to eat, she instructed me to come to the fourth floor kitchen on Friday night at 10pm. For what? "A lobster tasting."
Boss's boss's boss or complete stranger, it doesn't really matter: if somebody tells me to be at a lobster tasting, I'm there. I arrived at the fourth floor kitchen about half an hour early. Most of the other guests being chefs, they generally started arriving between one and two hours late. Luckily I'm in the staff category, so I was able to pretend that, no, I'm not some loser with nothing to do on Friday night but, rather, I'm an extremely helpful member of the team and I came early in order to help with setup. Not that anybody trusted me to do very much.
Eventually I was clued in to what was going on. It turns out Dorothy Hamilton's ancestors are from a place in Nova Scotia called Fourchu, on Cape Breton Island. If you happen to live anywhere within the sphere of influence of Fourchu, you take it as a given that the world's best lobsters come from Fourchu. Not from Cape Breton Island in general. If you travel up or down the coast you get inferior lobsters, the local thinking goes. The ones from Fourchu, those are the ones you want.
Dorothy has become a champion of sorts of Fourchu lobsters, and she appears to be on the brink of successfully brokering the importation of a whole bunch of them to New York each year, perhaps starting next year. The season is just a couple of months long, right around now, so these lobsters would be marketed as a premium seasonal delicacy with a terroir-type selling proposition: the Copper River Salmon of the lobster world. She has already led a trip where several of the better New York chefs accompanied her up to Fourchu to check out the situation up there. (The trip is chronicled in Departures magazine by Peter Kaminsky in the May-June 2009 issue.) On this evening, she invited a group of chefs to come to the fourth floor kitchen to play with about three dozen Fourchu lobsters. Also present were about a dozen of the best Maine lobsters available around town, for comparison. Along with the guest chefs and International Culinary Center chef-instructors were various non-chef guests, such as spouses of chefs, as well as hangers on and poseurs like me.
So here we have the unpacking of the Fourchu lobsters:
The guy there holding the lobster is a terrific chef named
Ben Pollinger
. At present, Ben is the chef at the restaurant Oceana, so he knows some things about seafood. When I first met him he was a cook at Tabla, the New Indian restaurant that is part of the Danny Meyer empire. I believe he has also worked at Union Square Cafe, at Le Louis XV and a bunch of other places. On the far right is
Craig Koketsu
. Craig is currently the chef at Quality Meats and Park Avenue Summer (which changes its name, menu and decor each season), which are owned by the Smith & Wollensky group. Craig was, back in the day, one of the hot young cooks working in the Lespinasse kitchen, under both Gray Kunz and Christian Delouvrier. At the end of the Delouvrier era at Lespinasse, Craig was chef de cuisine.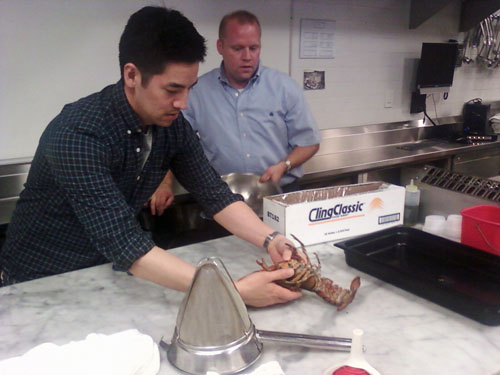 I really thought, before I went into this evening, that I knew pretty much whatever was to be known about cooking lobster, and that there wasn't much to be known. I was quickly disabused of that notion. I can't believe how little I knew. I came to the realization quickly when Ben Pollinger said, like it was no big deal, "I'm going to crush the lobsters' heads in this thing to make a sauce . . ."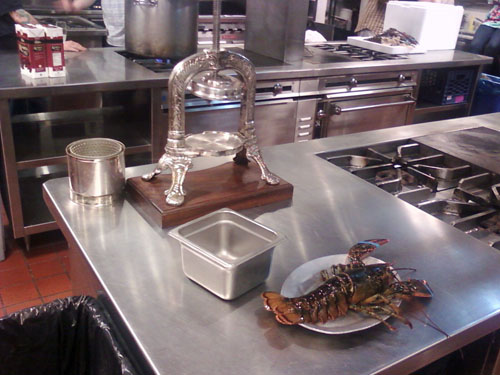 He then proceeded to make quite a remarkable sauce, which seemed to be a relative of lobster Americaine but also seemed to be mostly improvised. In any event, after being sieved and adjusted and spooned over the lobster, it was excellent.
Here we have
Jimmy Lappalainen
.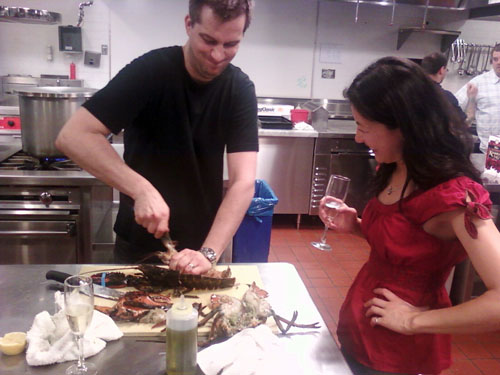 Jimmy, who is Swedish, is currently the chef at Riingo, and was formerly at Aquavit. I don't want to play favorites, but of all the lobster preparations I tasted I thought Jimmy's was the most remarkable. I also realized yet again, watching Jimmy work, how ignorant I was about lobster cookery. Did you know it was possible just to cook a lobster in a skillet?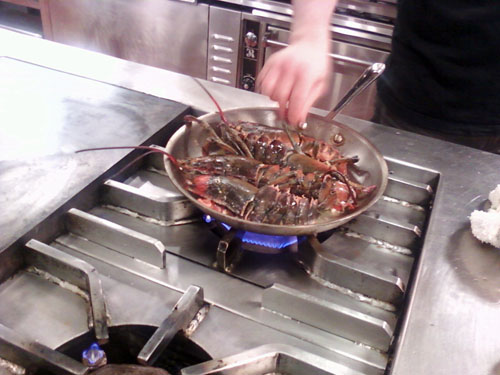 I'm still reeling from what an effective cooking method this is. Jimmy cut the lobster up before cooking and first cooked the halved bodies over high heat (what we amateurs call super-high heat and chefs call medium heat) with some olive oil, lemon juice, shallots, white wine (actually I think he used Champagne), salt and whatever else was around. As the lobster cooked it rendered a bunch of stuff, which combined with the olive oil, lemon juice and other ingredients to make the most remarkable sauce. He took the bodies out first, which were just lightly glazed with the pan sauce.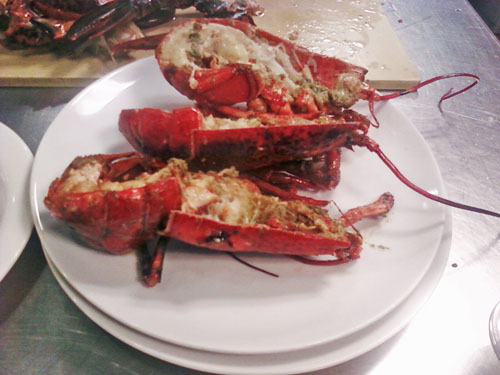 He then cooked the claws in that sauce. In the end, people stood around the skillet dipping bread into the remaining sauce it was so fantastic.
I can't remember whose this was (possibly Mark Ladner from Del Posto?) but it was great:
This is Dorothy Hamilton talking to Cesare Casella.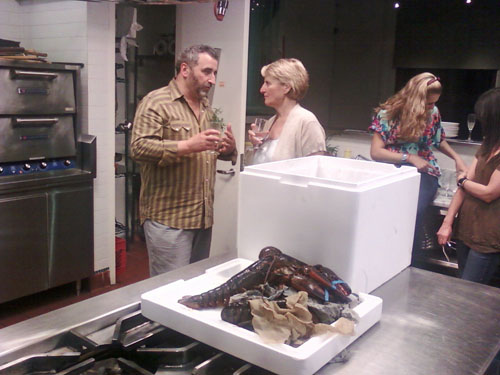 Cesare is, in addition to being a big-deal Italian chef, one of the deans at the International Culinary Center. I actually share an office with him and Alan Richman, as evidenced by our shared phone: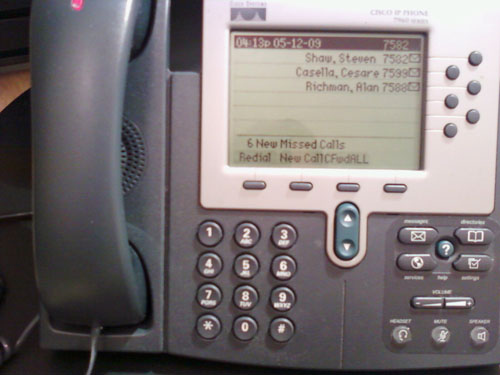 Please note that my name is listed first.
And yes that's rosemary in Cesare's pocket. It's his fashion signature, always fresh herbs in his shirt pocket.
Sam Gelman of Momofuku Ko and Ed McFarlane of Ed's Lobster Bar were also in the house.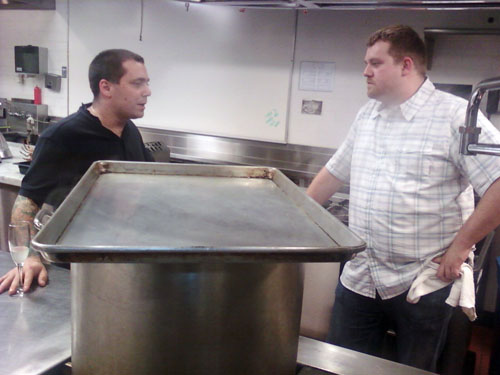 Sam and Ed (Sam is on the right) mostly boiled lobsters in order to facilitate the tasting comparison of the Fourchu and Maine lobsters. Note the use of a sheet pan as a stockpot lid.
There were other chefs present, but there were so many working at once, and I was trying to pitch in here and there (unwanted, I'm sure), so I couldn't photograph or keep track of them all. I do remember Michael Romano roasting a lobster in the convection oven such that it rendered out an omelette-like thing in the pan.
In a humorous moment, after we were all stuffed silly with lobster, one of the staff chefs came out with this: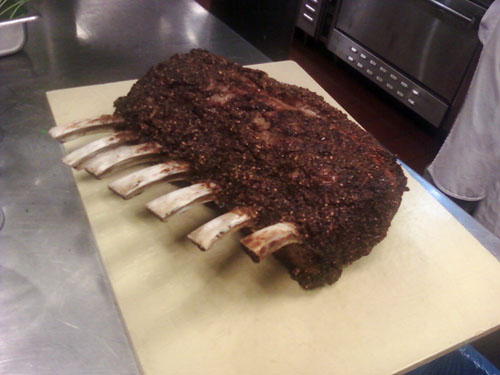 And also a potato gratin and a ton of other food. It was ridiculous, but a lot of it got eaten.
You can also see in the background a massive banquet table set for the assembled guests, but really all the eating occurred standing around in the kitchen.
So, perhaps you are asking, are Fourchu lobsters really all they're cracked up to be?
I think the answer, based on this tasting, is yes. Compared to the Maine lobsters the Fourchu lobsters had far superior meat. This isn't just my opinion or my boss's boss's boss's opionion, but also the clear consensus of the chefs present. The Fourchu tail meat was both firm and tender, as opposed to the Maine meat which was firm and not nearly as tender. The Fourchu meat had a lot of nuance, and the Maine meat by comparison did not. It was like the difference between a cheaper and more expensive wine from the same vineyard: both Chardonnay, both with a lot of similar characteristics, but one with far more complexity and structure. The claw meat wasn't as noticeably different, but the tail meat was quite different.
Apparently this is because the waters around Fourchu are the absolute coldest lobster-fishable waters around. As a result the Fourchu lobsters experience very slow growth and molt only once a year. The short, early summer season for lobster fishing in Fuorchu (where there are something like 50 residents, all involved in this industry) is right before they go into their molting cycle, so their shells are extremely hard and their flesh very well developed. It shows.
But of course it will be necessary to conduct multiple repeat tastings to be sure.
(Edited to fix geographic references.)
Edited by Fat Guy, 14 June 2009 - 04:36 AM.