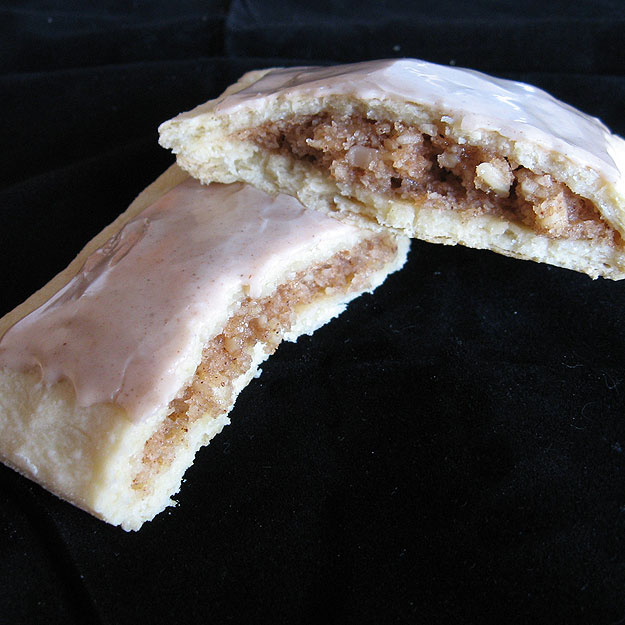 That's right gang, I cracked the Davinci Code for making pop-tarts at home! And you'll see that now you can have much more filling inside!
Pop-Tart Dough
13 oz Unsalted Butter at room temp
1/3 C. & 1 T. (110 g) Milk at room temp
1 Yolk at room temp
1 t. (6 g)Sugar
1 t. (6 g) Salt
3 1/2 C. (645 g) AP Flour
In food processor, combine butter, milk, yolk, sugar and salt and pulse until roughly blended. Add the flour and pulse until it just starts to come together. Form into a disc and wrap in saran wrap, chill at least 3 hours.
Brown-Sugar Cinnamon Filling
1 Egg White at room temp
3/4 C. Powdered Sugar
1/4 C. Almond slivers or slices
1/4 C. Brown sugar
1 T. Cinnamon
In food processor, combine all ingredients and blend until well combined.
Assembly
Roll the dough into a rough square, dusting with flour, until 1/8" thick. Cut dough into 4"x6" rectangles. Pair the rectangles for tops and bottoms. Brush the edges of your bottom with a whisked egg. Place a large dollop of filling on inside the egg wash, then spread it evenly. The amount of filling is up to you, but you can see in the pic below how much I did. Place the top sheet of dough on top and press firmly but gently onto the bottom sheet. Chill your Pop-Tarts for 30 minutes.
Oven to 350F. Bake for abut 15 minutes or until just starting to brown. Let sit until room temp. Frost with a milk and powdered sugar frosting with just a bit of cinnamon added.
Edited by gfron1, 14 May 2009 - 05:23 AM.