Yikes, sorry to hear that. I haven't made a lot of Macarons (four attempts), so that comes down to only a few hundred macarons; I'm just starting.
My first attempt was last year; slightly porous, tiny tiny feet, definitely undermixed. The next 3 are pictured here and are within a few days of each other.
Second attempt: worst batch ever. I could name a lot of things I did wrong: didn't work the syrup to the correct tempt, crystallized all over the place, a lot of it stuck to the bowl. I don't think these were undermixed, but I set the temp to 150C, no baking stone (my oven's only heat source is from above). Never developed any feet, tops started complaining, broke out in ugly pores. Horrible. Baked only for 12 minutes!
(By the way, these were not over-rested; they barely did.)
Third attempt was a good batch, but identical to the last one:
Patrick
, this is for you: (sorry about the pics!)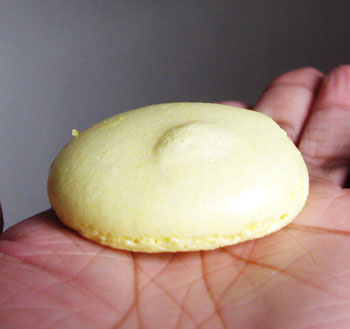 Fourth attempt: Definitely undermixed. I've resolved that an undermixed batter can only be saved by a few more strokes of the spatula. So if the "nipples" aren't sinking into the piped blobs in a minute, it will never, so next time, I'd remove the contents of the piping bag back into the bowl, and fold again until a test drop does. By the way, I didn't have such patience for this batch, so I just ran a wet finger through the tips. It
looked
good going in, but the tips were magnified as they baked.
This time: only 135C, baking stone under. The feet are still pathetic, I know, but that's the best I've ever managed. I blame the 90% humidity (though I have no scientific basis). Baked around 11-12 minutes.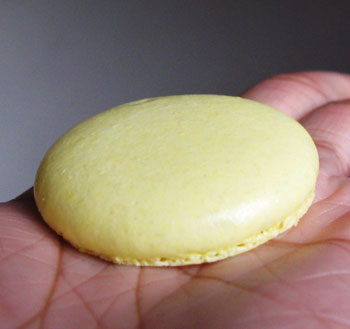 This is still the fourth attempt. I learned my lesson from the first batch I baked and gave the remaining batter a few more folds. Worked like a charm.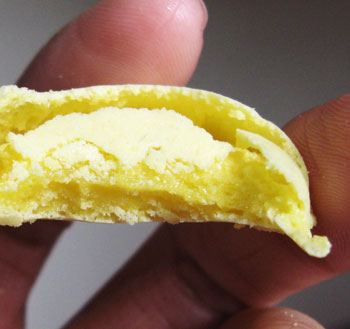 Bit-into. Largish air pocket, but I'm happy with it overall. I know it's a function of the temp mostly, but I've seen the results at higher than 135C in my oven and it still comes out. I could go lower (130C? 127C?) so there isn't much expansion from within the macaron and they stay relatively flat, but I'm afraid of not making any feet at all or underbaking them severely.
Now waiting for Duncan to laugh at these.