For most of the world's residents, Denver, Colorado, is remote. But even using Denver's level of remoteness as a baseline, Westminster, Colorado feels pretty out there. Situated in the vast (as in, you could stick an extra European country in there) no man's land between Denver and Boulder, Westminster is a cluster of strip malls and low-rise office parks that appear mostly to service the high-tech sector.
A year or so ago, when I was circulating an early version of my (to this day, unsold) proposal for a book about culinary creativity around the world, one piece of feedback I heard was that it was "too niche" because there are no creative restaurants outside the big cities where you'd expect to find such cutting-edge arts stuff. Sure, editors told me, the big city-slicker cities boast restaurants like Alinea in Chicago and WD-50 in New York, but normal America only has Cheesecake Factory.
I offered counterexamples aplenty of far-flung chefs and restaurants that had planted the flag of the creative revolution in gastronomy: Richard Blais in Atlanta, Sean Brock in Charleston, the ill-fated Interlude in Australia, Tapas Molecular Bar in Japan, even places in Russia and New Jersey. El Bulli and the Fat Duck are also not exactly in urban centers.
Around that time, I saw a review of a restaurant near Denver called O's Steak & Seafood where, allegedly, a chef named Ian Kleinman was offering a "Molecular Tasting Menu" in a Westin hotel dining room. I noted it for the record, cited the example to no avail in the next draft of my proposal (did I mention that every person who watched 30 seconds of Top Chef season 4 knows about molecular gastronomy?) and moved on to edit a Chinese-restaurant guidebook.
But fate brought me to Denver this weekend for the IACP (International Association of Culinary Professionals) conference, where I was to be on a panel about food blogging. Janet Zimmerman ("JAZ") was moderating the panel, and Dave Scantland ("Dave the Cook") was both moderating a panel (his was on "food miles") and hoping to win an IACP journalism award for his Daily Gullet essay "
One Man's Meat
." This was one of four finalists, up against entries from Gourmet and Saveur. So, not a finalist in some internet category. A finalist in the overall essay category.
We decided to make it our mission in Denver to check in on Ian Kleinman, so we made a late reservation for after the Saturday-night awards gala. (I was only to be in town Friday night through Sunday morning.) My secondary mission was to have a Denver omelet in Denver.
The seemingly endless taxi ride from downtown Denver to the Westin in Westminster, with zero traffic, took 45 minutes and cost $45. Our driver had never even heard of the place. At one point the GPS routed us through a shopping-mall parking lot. I could go on. Suffice it to say that were I a smoker I couldn't have lasted the ride without a cigarette.
The Westin Westminster, if you can make it there in one piece, is a pretty spectacular hotel in what is or should be called the Western Modern style: soaring exposed-beam ceilings, Western and Native American art, and a hilarious (to this New Yorker) expanse of square footage. The restaurant itself is spacious by any standard, with high-back leather banquettes and a clientele consisting of us, attendees at a Metaphysics conference, an big unidentified group (I'm guessing defense contractors at a sales conference) and a smattering of locals. Most people were there for the steak-and-seafood menu. Only one table other than ours had the molecular menu that evening (and this on a night when a convention of culinary professionals happened to be in Denver). On Thursday and Friday nights -- the other two nights on which they do the molecular menu -- they have more of a professional crowd and serve the molecular menu to more like 30+ customers.
I hardly expected Ian Kleinman's molecular tasting menu to be fantastic. I especially didn't expect it to be my best meal of the year so far and one of the handful of most enjoyable dining experiences I've had in the past couple of years. Ian Kleinman has pulled off a Rocky Mountain molecular miracle (maybe they'll quote that in the press kit), combining top-level avant-garde cooking techniques with a relaxed, accessible, and utterly unpretentious sensibility. For anybody looking to cover the top molecular-gastronomy destinations, this is a must add.
So unexpected was the success of this meal that, in planning for the journey, I didn't bring anything like a camera or a notebook. So for recall of some of the details (there are many) of some of the dishes I'm hoping that between the three of us we can piece it all together. I also took two very poor cell-phone photos, which I will post despite personal embarrassment.
O's doesn't serve, as has become the prevailing style, a 20-course small-bites menu. It's three savory courses -- whole composed plates of food -- plus dessert and an intermezzo between the second and third courses.
The most impressive of the courses (all were impressive but none more so than this one) was the middle of the three savory courses, described as "Berebere pulled pork, sopaipilla, smoked grapes and fried sour cream." The foundation of the dish, a Zagat-survey-size sopaipilla (like I said, these are full plates of food the size of regular restaurant appetizers or maybe a little bigger than that), was a faultlessly executed sopaipilla. Not molecular at all, just an example of great execution of a traditional technique -- demonstrating that Ian Kleinman is not just an avant-garde culinary artist but also a really good cook. (Along the way to his current position, the Colorado native spent some time at a Southwestern restaurant where he mastered many of those techniques.) Then, spice-infused chunks of pork, moist and tender and good enough on their own to be a successful dish, were enhanced immeasurably (upstaged, even) by smoked grapes and little pockets of fried sour cream. The red seedless grapes tasted totally fresh and just like normal grapes except with the addition of the aromatics I associate with the last embers of the fires we build in our ski cabin in Vermont that we don't have. Upon reflection I'm questioning whether these grapes ever saw the inside of a smoker. Perhaps, as Momofuku Ko does with its "smoked hen egg," the grapes are soaked in a smoke-water solution. I don't know and should have asked. The sour cream was presumably encapsulated with some agent before being deep fried into creamy-centered crouton-like pouches. There were several tertiary elements on the plate as well: some hot peppers, a creamy sauce under the meat and a few other things I can't recall. Everything in the composition enhanced everything else. The dish remained captivating through every bite of a full portion. I can't necessarily say that would be true of many of the two-bite dishes that make up a lot of modern tasting menus, were they expanded to full-plate servings.
I thought the other two savory courses were tied with one another for excellence but the overall leaning of the table was that the better of the two was "Grilled butter shrimp, Old Bay popcorn, mint taboulleh and rainbow caviar." I'm thinking the shrimp were maybe poached in butter and finished on the plancha? The popcorn was dusted with Old Bay seasoning, tricking the mind (my mind at least) into thinking the chunks of shrimp were big hunks of crabmeat from giant crabs living in an ocean of butter. The bed of taboulleh, in addition to tasting good alone, served to soak up the drippings from the other ingredients. There were a few colors of "caviar" (liquid gels that have undergone spherification) sprinkled around the plate including one that I think they said was made from beets. There were also puddles of a vibrant, chilled beet sauce.
The other savory course was "Sous-vide duck, honey and clove, cranberry beans, warm root vegetable brulee and soy sugar." The first time I ever knowingly ate a sous-vide dish was when Alain Ducasse, an early adopter of the method, used it for squab. He got the squab to medium-rare in the water bath, then crisped the skin with a torch. Every example of sous-vide cooking I had since, for something like a decade, was a step down. Until last night's duck, which was emblematic of Ian Kleinman's approach of using modern techniques not as ends in themselves but as means of making food better, more interesting, more enjoyable (there were also a couple of moments of pure entertainment but never to the detriment of flavor). The duck tasted like Ducasse's squab except it was duck. The slices of duck were on top of cranberry beans. There was also a neat trick with some gel made from the Mae Ploy brand of hoisin sauce. The other component on the plate was a terrific elongated, layered brick of root-vegetable gratin (rutabaga, beets, parsnips, potatoes, some other stuff), topped with soy sugar and bruleed. I asked how one makes soy sugar but the answer was so complex I didn't retain the information.
The printed menu listed, between the second and third courses, an intermezzo described simply as "Ice wine sorbet." Ho hum, I concluded. Whatever. I guess a little sorbet can't hurt. Then the chef appeared with a gueridon full of ingredients and equipment, including a steaming stainless-steel pitcher of liquid nitrogen. He proceeded to hand-mix the ice-wine sorbet in a great bit of tableside showmanship. The sorbet was also delicious. I've had nitro ice creams and sorbets maybe six or seven times before but never an example where I thought the method yielded better results than traditional recipes (or a Pacojet). It was preternaturally creamy. Had I not seen it made before my eyes I'd never have believed this texture could be accomplished using just Inniskillin ice-wine, simple syrup and an egg white.
After the duck course we had a pre-dessert of meringues in the shape of long breadsticks. And the chef gave us a demo of his "floating plate" concept. There was no floating-plate dish on the menu last night but he wanted us to see the presentation technology. Using the same technology as supercooled mag-lev trains, he uses liquid nitrogen to freeze a block of titanium alloy. He then floats a steel ring on top of that and it hovers and spins. You can apply significant downward force to the ring and it stays levitated. It's also very stable, as the chef demonstrated with an egg. At this point I was inspired to take my first bad snapshot of the evening.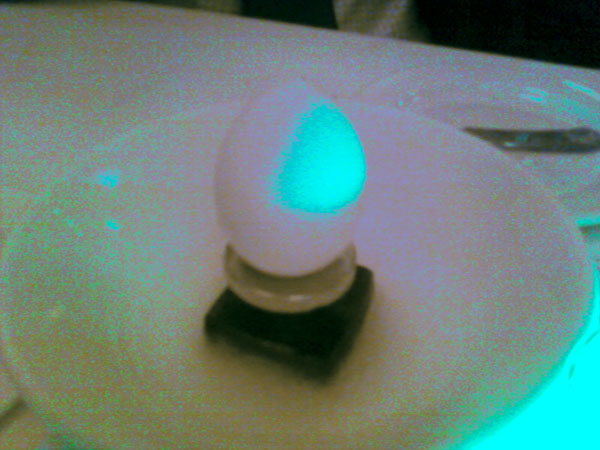 For dessert the chef returned with his sorbet cart, but this time for ice cream: "Mexican vanilla ice cream, cinnamon tortilla and caramel powder." Collectively, the ingredients tasted like a great caramel apple pie without the apples. I thought the sorbet had been creamy, but this stuff -- made with cream -- was of a different order of creaminess. Second horrible snapshot: Ian Kleinman making some nitro ice cream.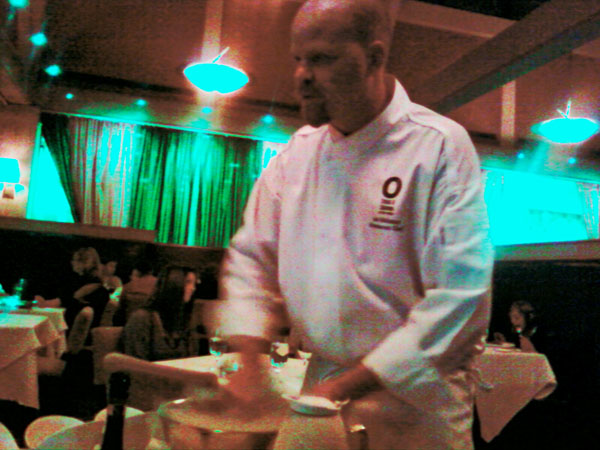 Finally, as a meal-end bonus, we got to try Miracle Fruit. I had
read about Miracle Fruit
, which interferes with the normal function of the tastebuds, but this was my first taste. We were instructed to chew the little berry-sized fruits, after removing the pits, and let the fruit come in contact with as much of our tongues as possible, then wait five minutes. The chef then brought a bowl of citrus wedges and asked us to take a big bite of lemon. It tasted like candy! The miracle fruit had confused the taste-buds into perceiving the lemon as purely sweet. This experiment remained amusing with grapefrui and lime slices, until our taxi arrived.
The restaurant refused to present us with a bill, which was generous but not as generous as the standard pricing: the molecular menu is (are you ready for this?) . . .
FIFTY DOLLARS
If you want wine pairings, it's a little more: $75. Seriously.
I never had a Denver omelet in Denver, and Dave didn't win the IACP award (though he should have). But dinner at O's was a consolation prize that did far more than console us.
O's Steak & Seafood
10600 Westminster Boulevard
Westminster, CO 80020
303 410 5000
http://www.westinden...?url=restaurant
Ian Kleinman also maintains a blog at:
http://food102.blogspot.com/
(Note: Rarely am I so excited about a new-to-me restaurant. As evidence, I note that I typed this whole post on the little keyboard of my handheld smartphone contraption while flying from Denver to New York -- I couldn't wait to get home.)