Day 8
Iím starting to wear out. My tummy was better, but I stuck with oatmeal that morning with no Imodium. But then the longganisa my mother was eating looked so delicious, I just had to have a couple of links! And then there was mangosteen! Who doesnít love mangosteen? It looks a bit dry in the picture, but I assure you it wasn't.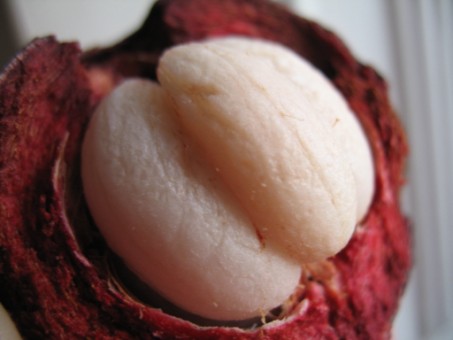 Yet another busy eating day. Earlier this month while browsing blogs for eating advice, I saw an entry on Our Awesome Planet advertising a special reservation-only lechon lunch at Sylvia Miguelís Garden. Lechon, or roast pig, is one of my favourite foods in the world, so of course I had to go. After e-mailing and texting the organizers back and forth, I was finally able to transfer the payment (this was our most expensive meal at P1500 per person), and we were all set! My Tita Lita (Momís cousinóďtitaĒ means ďauntĒ, but itís basically used for any relative in about the age group of your parents, or for close family friends about that age) was coming with us, too, and sheís a foodie extraordinaire!
The meeting place was at 10 am at a Starbuckís at a highway rest stop somewhere along the Southern Luzon Expressway (SLEX). We got there about an hour early, so what could we do but have some cake while we waited? We also made the mistake of getting some coffee. While Starbuckís food items are adapted to suit local tastes, the coffee is the same everywhere. Interpret that as you wish.
I had heard raves about the chocolate cake at Starbuckís in Manila, so I wanted to try it, but they had so many! I ended up getting the Roca, thinking it would be something like Almond Roca. It wasnít, but it was still delicious! It was surprisingly light and not too sweet. I would have preferred less chocolate ganache, and I didnít care for the thick chocolate surrounding the cake, but my mom and Tita gobbled those parts up.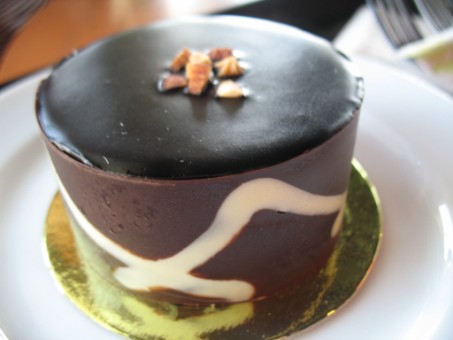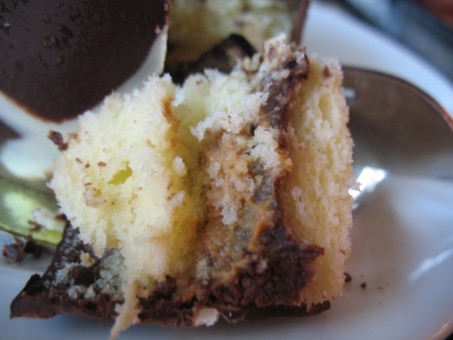 Everyone finally showed up, and we left caravan-style for Tagaytay. Tagaytay is a rural area about an hour or so from Manila. The drive was quite beautiful, and many of the wealthy have built their retirement homes or second homes in the area because of the lush greenery and the clean air. It was much like La Trinidad where Eveís Garden was. We were at the tail-end of the caravan, and our driver, not familiar with Manila or the surrounding rural areas, got left behind, so we missed the turn off. Oops. It took a bit of work to catch up with the othersóthe roads are narrow and confusing, and signage is not a priority is this particular country (plus our driver, not Titaís usual driver, kind of sucked).
Oh well. We made it, and it was well worth the wait! The Rodriguez family built their house just a few years ago, and itís absolutely beautiful. They really gave a lot of thought to how they wanted to use the property. Theyíve got 2 Ĺ hectares, and part has already been developed as a farm where they grow vegetables (and maybe raise some animals).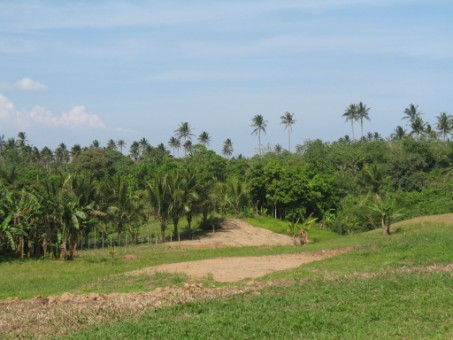 Theyíre still thinking about what to do with the rest of the property, but for their house, rather than rooms theyíve got separate buildings for each section, joined by covered walkways. I donít have pictures of the buildings because I wanted to respect their privacy, but it was really something else. The smokehouse where the lechon was cooked was another little tiny building uphill from the living room (living house?), and I thought I had a picture of it, but no such luck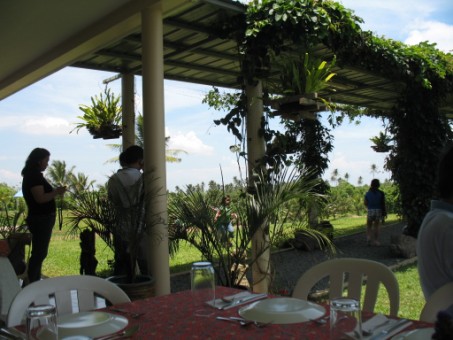 Sylvia Rodriguez loves to cook, and she comes from a long line of food-lovers. Her maternal grandfather was the first Spanish pastry chef in the Philippines, and her father came from a family that insisted on eight dishes at every meal (plus four desserts). Both of her sons are chefs (one in Australia, and the other in Manila) who worked their way up in the kitchen by staging across Europe. Our meal was held on the patio of the living room building. Like Eveís Garden, Sylvia Rodriguezís Garden is a private restaurant. Sylvia only does this as a hobby, and only when she feels like it.
We started with a fish spread, and a duck and chicken p'tť. Everyone loved the fish spread, because itís not commonly found, and it's difficult to do well. I canít remember the name of the fish, but theyíre small and the word starts with ďdĒ (any help out there?). Itís not easy to get fresh ones at the market (which is why the dish isn't commonly found), and Sylvia will only make this when the fish are absolutely freshóshe said they have to be really white. She adds chile, rosemary, parsley, and I canít remember what else. It was delicious.
The p'tť was equally delicious. She uses 75% duck liver and 25% chicken, because if you use all duck itís too rich, she said. It was so smooth and although you knew you were eating hundreds of calories with each schmear, it didnít seem heavy at all. My mother, Tita, and I each bought a crock to take home.

It was only P395 (it would go for 4-5 times that much in Japan, Iím sure) and came in a reusable crock! How could we resist?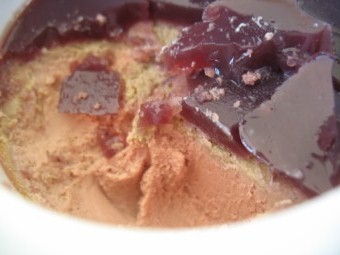 It was an hour or so before the main guest arrived from his private quarters. A month before our party, he was sequestered and fed only organic grains, which would supposedly give his meat a cleaner flavour. I donít know much about raising pigs, but I can tell you he was delicious! Sometimes lechon can be dry, but not a single part of him (that any of my group tried) was.