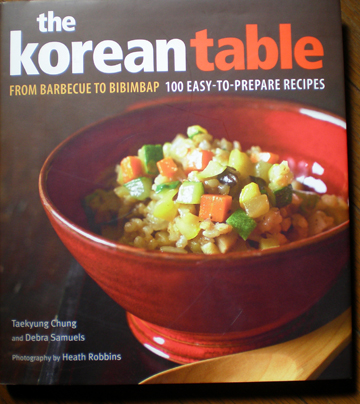 The Korean Table by Taekyung Chung and Debra Samuels
I learned to love Korean food at the source. Even while I was living in Korea, however, I struggled to find a useful English-language cookbook that could help me recreate the dishes I loved there. It wasn't a major crisis, however - I could always ask my Korean "family" for pointers, or at the worst - refer to the back of the packets for directions on using products.
Now I'm in Japan, I can't bear to pay the prices of Korean food in the restaurants (charging for panchan! Scandalous!) and I want to make it at home. My husband, who was initially cool to Korean food, now craves it. I like to make the few dishes I learned for my friends in Japan, because Korean food has such happy memories for me. In fact, when I was in Seoul over the holidays, seated, as ever, around a table in a galbi restaurant, I was talking with a friend about a mutual friend of ours, now living in Canada, and what he missed the most about living in Korea. "This," he said, "Sitting around a table with my friends, cooking dinner, eating, and drinking soju."
There is something about the Korean table, the way that everyone cooks, shares from the same dishes, and eats the same food, that brings you together. Some of my favourite memories from Korea include my friends and I, huddled outside a station exit, trying to negotiate what kind of food we would go for that evening.
So I was thrilled when I was listening
The Splendid Table
podcast to hear that there was a new English-language Korean cookbook out. This book covers a lot of the basics that I've been interested in making, along with some things that I've never seen, but am very eager to try out. It also contains a useful section on Korean ingredients, and the recipes contain suggestions for substitutions for an American audience.
I've been trying to change my diet to one based on vegetables and whole grains, and Korean food - as much or even more than Japanese food, I feel - focuses on healthy dishes. It's not all barbecue! And because there are so many vegetables involved, it's a naturally cheap cuisine. Even better in winter - Korean food makes use of a wide range of fermented and preserved vegetable side dishes, which last several days in the fridge. It's the perfect cuisine for people who don't have a lot of time to make dinner in the evening. You spend a little time getting the dishes together, but then you can feast on them all week, as long as you've got a bit of fresh rice to round out the meal!
I can't wait to start cooking from this book.