I first came to Venice in December 1981 while visiting my then girlfriend (later wife and ultimately ex) in Austria. She dragged me there despite my reluctance to go due to the overwhelming Saccharine sweet cliché that is Venice. 19 years old; w/o a pot to piss in. $150 budget for three days in Venice incl. the cheapest hotel we could find. Suffice to say I also learned that a 4 course meal in what appeared to be a hole in the wall can really torpedo one's budget during that visit. Still I fell in love with Venice- her reality far exceeds any cliché especially if one is willing to wander just a few meters off the beaten path.
As it turned out my relationship with the city far outlasted the one with her. I was and remain enthralled by this city. I was fortunate to be able to visit frequently during the '80s while I was living in Austria. I moved back to the US in1990 and took a 14 year hiatus mostly due to having taken a great many financial steps backward when I returned to California. Nothing like a recession to put the brakes on any number of plans. Fast forward to 2004 when I returned to Venice with my wife Carrie for a little over a week- since then we've been back three times and will endeavor to do so for the foreseeable future.
We booked this trip mid December since we had cash to pay for it and it seems that this is a great time to travel assuming one has steady income and the means to pay for it. The fact that we are here during Carnivale is purely accidental; we just looked at our calendars and picked a window that worked out for us both. Generally speaking I avoid this period like the plague since the omnipresent tipsy tourist lunacy is only magnified this time of year. Still, Winter is my absolute favorite time to visit Venice.
Our last stay unexpectedly was in an apartment (the hotel said "you are here for 10 days why not stay in one of our apartments?"). Tough choice- small hotel room with iffy hot water vs. a 2 bedroom apartment with a full kitchen and an altana, a sort of rooftop deck/balcony that I believe is peculiar to Venice. Obviously a no-brainer to take the apartment. That trip was fantastic despite the fact that we kind of lost track of what day it was and managed to miss our flight home altogether. So we had a "bonus" day to enjoy which cost us 1,200 Euro each in airfare plus an extra night in the apartment. Worth every penny really! (ouch)
The apartment we had last time was unavailable but adding "apartment" as a search criteria on expedia worked out just fine (more on that later).
I've decided to put an account of this trip up mostly because I've been dying to write about Venice for years and hopefully won't bore you all to death with my ramblings. I'll probably not be posting on real time instead updating every couple of days as time allows. There will be a few pictures; few if any *in* restaurants most taken with my Iphone which is a blessing and a curse- the camera is low res and sometimes has interesting artifacts due, I believe, to slow shutter speed. I'll be tweeting as well- feel free to look me up on twitter (jonsavage).
I'll also be not naming names for the most part as far as eating/drinking establishments are concerned. I'm a firm believer in the "figure it out as you go" school of thought and feel that targeting one place over another without foreknowledge unselfearned is folly. Instead I prefer a random walk stopping only where a place "calls out" to me.
Screwy logic at best I know. Still this has served me well for a bit and applies even to where myself and friends from work have lunch. Think beginners mind and you'll be on the right track.
Thanks for reading; any EG folk that might be in the neighborhood please also feel free to give me a shout via PM if you want to grab an umbra or whatever with us (usual disclaimers and EG legalese apply).
Day 1 13-14 Feb (lost 8 hours in transit).
0300 wake up – off to freaking work but glad to have a job especially in this economy.
1000 Carrie picks me up in a taxi and off to LAX we go, Free at last!
LAX is showing its age. The last major renovations I recall happened in preparation for the 1984 Olympics so traffic and passenger volumes are increased straining what infrastructure is there. I hate flying not due to fear but rather as a result of not being able to move around much for 10+ hours at a stretch.
We go checked in with mercifully short lines. Maybe Friday the 13th is a good day to fly or perhaps the current recession is really making a difference as far as discretionary travel is concerned. We did a little duty-free shopping and were happy to discover that there was Udon available in the int'l terminal. While not haute cuisine it certainly represents a refreshing alternative to most other airport food.
We found free wireless at LAX as well and duly got our last EZ internet fix for the next 2 weeks. Internet access in Venice is spotty at best but is improving (more on that later). 2 or three cocktails later we grabbed a quick smoke and braved our way through security. This line was also the shortest I've experienced since 9/11. The TSA folks were actually really friendly (is that a good thing?) and after a brief crisis when the conveyer belt inside the scanner thingie ate my wife's glasses we were finally on our way.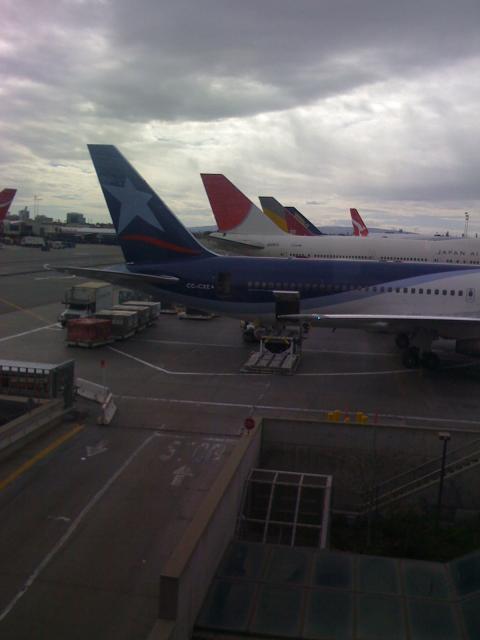 The flight itself was uneventful and boring in the extreme. We arrived in Frankfurt with almost 2 hours to spare and were pleased to find Camel sponsored smoking spots (sort of like a well ventilated aquarium). Nicotine fix resolved we went through passport control and got tagged for excess cigarettes to the tune of 3.80 Euro/pack. Good thing he did not look in my carrry on bag 'cos the cigars nesteled in it would have probably gotten expensive as well. We found our gate and grabbed another smoke prior to boarding.
Those smoking booths are kind of odd in that there is a very subdued atmosphere in them with very little if any conversation taking place. I felt tempted to ape a monkey in a glass cage but (fortunately) my wife suggested that that would probably not be a good idea. Still the temptation to do so remains strong; perhaps I will be able to get away with such behavior in a few more years when I reach a certain age. :) in any case the atmosphere in the cubes was funereal at best (puns intended).
We arrived at VCE right on time, no more passport controls oddly enough, and made our way to the water taxis/Alilaguna. The Alilaguna service runs frequently and runs around 13 Euro, quite the bargain as compared to the motoscarfi where the going rate is 95 Euro. We like the Alilaguna as we can ease our way back into the city with hardly a ripple. The weather was beautiful in the way that only a Venetian Winter can have.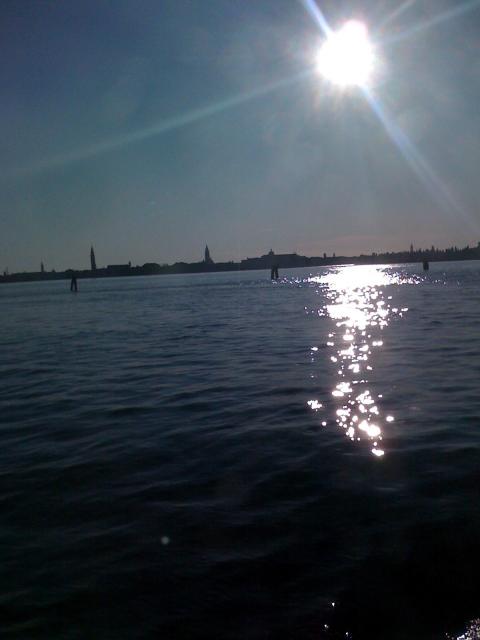 Approaching Venice.
Eventually we arrived at Arsenale where we were to meet the apartment person at 1630. When we reserved the apartment the language was non-specific, only allowing us to choose the general area it would be in and also some amenities. We chose Castello because that district is a little less crazy than say San Marco or San Polo and generally seems more sane and down to earth. We'd stayed there before as well so had a reasonable comfort level re: getting around, supermarkets bars etc. as well.
1630 came and went. No sign of our apartment contact. A few minutes later my phone rang and it turned out Giulia was at the other Arsenale stop. We sorted ourselves out and walked to the apartment which was just 50m away. The stairs were a bit of a challenge after having been awake for 28 hours;– the apartment is on the 3rd floor (2nd for american readers) – the stairs are a straight excruciatingly steep shot. Coming home twisted or leaving the apartment even slightly tipsy for that matter is clearly not a safe option unless we wish to test the limits of our health insurance. Imagine a gangway up the side of a container ship at high tide and you get the idea.
The apartment itself is lovely. 4 burner stove with adequate BTUs to do the job and a nice externally vented hood. A dishwasher (why?) but no oven. Guess I'll be braising rather than roasting this trip.
Some apt. rental paperwork completed we took a quick inventory of what was on hand in the flat and ventured out to buy some groceries before the stores closed for the day. Markets are generally closed on Sunday's here so this was a fairly important task. My knife roll made the trip intact so +1 to luck.
We headed down a random street; a few moments later we were at the coop market I knew from our last trip and stocked up on a few essentials (Havana Club Anejo Riserva (a rare and illegal treat for US citizens), pasta, coffee, bread, cheese, Vino Novello (kinda late I know but I love this wine and it was on sale, garlic, eggs and some assorted salumi to tide us over until Monday. On the way back I noticed a new bulk wine store where wine is very nearly cheaper than water. At 2 Euro on average per liter they have several varieties of very passable table wines. Apropos table wine- don't discount the 1-2 Euro tetra pack per liter stuff until you've tried it. Yet another reason to love this place.
Funny thing is I get lost everywhere but in Venice. I'm capable of losing my way while on the way home from work just a 3.7 mile drive but here I never do. Odd since I don't lose my way in the one place I really should. To balance that out my wife never loses her way at home frequently runs into a spot of bother here. Go figure.
We were both starting to feel wiped out and grabbed a bite at a place on on the waterfront right by the Aresnale vaporetto stop. The food was OK but not memorable but then again it was not the sort of place we'd normally eat at and it certainly fulfilled its purpose. We fell into bed and I hoped that having been awake for the better part of 30 hours would ensure that I'd not be up at 0 dark thirty and wandering the streets as I am wont to do here. Don't get me wrong I love wandering around when the city is asleep but sleep is a good thing™.
More to follow tomorrow. I'm already 4 days behind (writing this on the afternoon of 18 Feb.).
The view from our apartment on the evening of our arrival.