I had read quite a number of positive reviews and comments about this suburban restaurant in Bristol. The award of it's first Michelin star in the '09 guide prompted me to book.
The restaurant is in Westbury-on-Trym which is about a 15 to 20 minute, or £12 to £15 cab ride, from Bristol Temple Meads station. It has quite an intriguing history, opening as a traditional suburban trattoria by Paco and Susan 10 years ago, and now with Susan and Paco running FOH with their two young sons Jonray and Peter cooking extremely good Fat Duck/El Bulli inspired food. Would this be a good piece of marketing spin, but a bad restaurant?
It is a good restaurant - one we will return to. It truly has a family run atmosphere, Susan and Paco are beaming about the Michelin star and are clearly proud of their boys. The room is text book trattoria with garish pictures of medieval European cities, wrought iron work and exposed beam. This is offset by very plain table settings, a minimalist menu and smartly dressed black clad waiting staff. It feels real - not the result of a makeover from a design consultancy.
At lunch on Saturday we had a choice of a short set menu or a six course tasting menu, IIRC the set menu was £20 for three courses, whilst the tasting menu was £30, or £45 including wine. We went for the six courses and wine. I started with a glass of Palo Cortado to go with the amuse of good olives and little pappadums filled with shaved parmesan, walnut dust, and a cube of quince paste. The wine list has a good selection of sherry as Paco is Spanish (I didn't ask why he had started a Trattoria) and sherry has a strong link with Bristol, in-fact the first two wine pairings on the menu are also sherries.
Bread is home made and served with a quenelle of what seems to be "whipped butter" - I have had this in the US a few times and do prefer a good hunk of real butter...!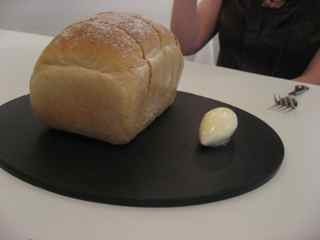 The first course then arrives "Hot - Cold Lime Gin". Good flavour and a good hot/cold sensation as you drink it: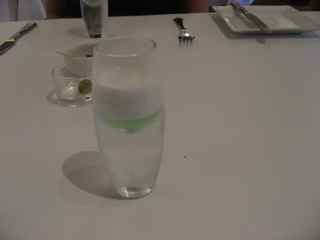 This is followed by "Wood Pigeon-espresso-almonds" served with a Solera Oloroso-Bodegas Hidalgo. A small piece of meat cooked sous vide, with an Amaretto foam, some crushed almonds and then smear of coffee with coffee powder. I liked bits of the dish, although the coffee had quite a bitter note, however my partner loved it and thought it a great dish. The sherry pairing worked really well: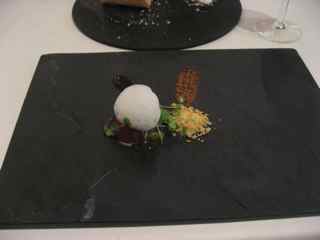 The next dish was the highlight for me, "Salmon - fennel - mushrooms - Jerusalem artichoke - lemon" served with Amontillado La Concha-Gonzalez Byass. The salmon is silky soft again cooked sous vide, the artichoke puree is intense and the fennel and lemon is soft and translucent, and minced mushrooms and mushroom powder add an interesting contrast. All the flavours work really well together and again the sherry was a great match: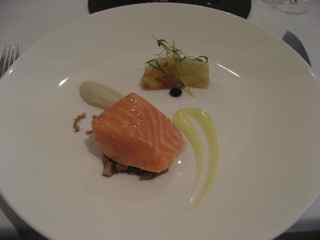 "Roast quail - celery root - grapes - hazelnut" is served with a Dolcetto D'alba 2007, De Forville. Another sous vide preparation (?), intense flavours in the celery puree, counteracted by a soft grape jelly, with the nuts coming in through the crisp nutty biscuit. Overall a good dish complemented by the wine: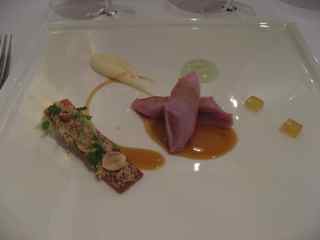 We had planned a long lunch, and had skipped breakfast so I was concerned I was going to still be hungry (and thirsty) at the end of the meal so we decided to add a couple of cheese plates and another glass of Dolcetto. I was a little fearful that the late order of the cheese would mean fridge cold specimens, but no, we got four good portions of well kept cheese with excellent biscuits, a runny Somerset brie, Pecorino, a stilton, and a Mrs Kirkham's Lancashire:
Our first dessert is designed to be a transition from sweet to savoury - "Poor mans truffle - apple-turnip risotto" is a apple rice pudding with a turnip foam. It is quite interesting, we didn't get the truffle experience, but the contrast between the turnip and apple does work:
The last dish on the menu is "Deconstructed Tiramisu" with a glass of Aleatico Salice Salantino, Francesco Candido. It was OK, but actually tasted better reconstructed, maybe a bit of style over substance: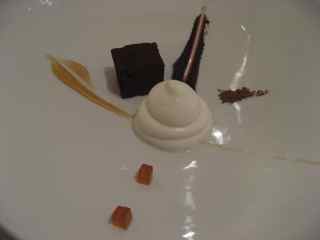 We ended with coffee and petit fours. Good coffee and interesting petit fours, a white chocolate sheet with dried olives (which reminded us of one of the chocolates we tried at Anthony's piazza in Leeds) and some intense, soft, lemony, Turkish delight:
Overall a really good meal, fantastic friendly service, a smart/comfortable room, and some creative cooking that generally delivers on flavour. Often attempts to pull of "Molecular Cooking" end in disappointment but the team in the kitchen pull it off with good technique, deep flavours and well thought out flavour combinations. We will return to try the ALC and the extended tasting menu that is available for dinner. The bill for two was £140, which was £90 for two tasting menus including wine, £18 for two cheese plates (we would have been OK with one), £10 for coffee and petite fours and the balance for a few extra glasses of wine and the aperitif.