Ever since I discovered the coveted nuoc mau, AKA "caramel sauce", or what I call burnt sugar sauce, I've been on a nuoc mau binge. Today was Thit Kho - pork belly ribs cooked in caramel sauce with spices.
The making of nuoc mau is simple once you get the hang of it, the making of which is is beyond the scope of this particular post. It's simply burnt sugar cooked until it starts smoking and looks like this:
It's really nasty tasting stuff on it's own. It bears no relation to what we normally consider "caramel".
I used pork short ribs for this dish, trimmed of skin and the top layer of fat. These are also known as pork "karubi ribs", I believe. Traditional thit kho would still have skin on and be boneless. This was a good compromise between fat, lean, and flavor.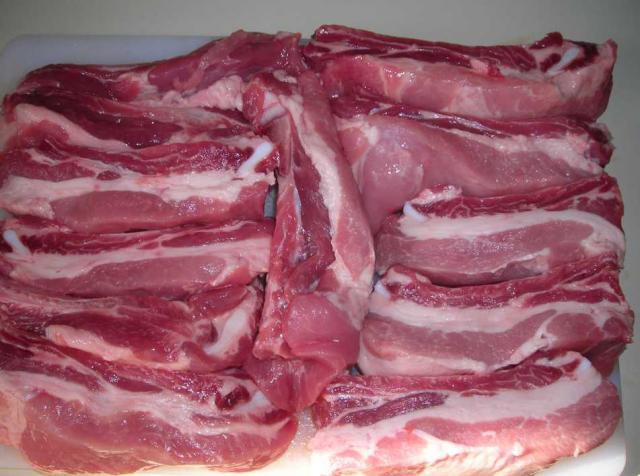 These are browned over high heat, then I add 3-4 cups of weak chicken or beef broth for those 5lbs of ribs (in this case, reconstituted Minor's soup base), 3 tablespoons the nuoc mau above, 2 star anise, 2 tablespoons nouc mam (bottled fish sauce), 2 tablespoons kecap manis (or soy sauce + palm sugar), one onion, a few cloves of garlic, and about 2 inches of smashed ginger. Lemongrass can be used as well. This then simmered for about 2 hours until pork is fork-tender.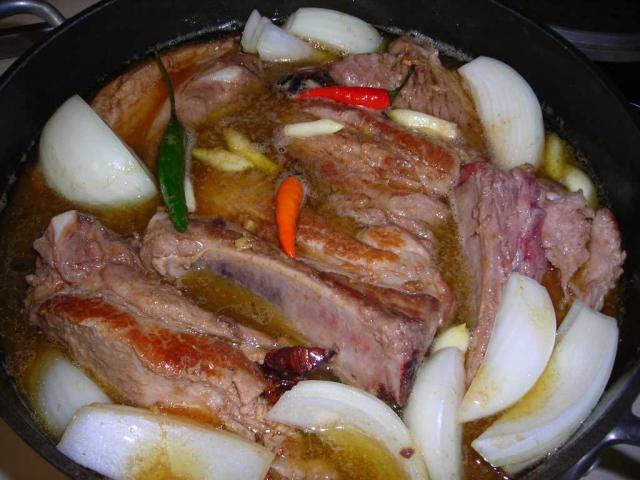 6 hard-boiled eggs were added after that shot.
Skim off most of the fat (make sure to leave some) and then serve in bowls with lots of broth, cilantro, chiles, bean sprouts, mint, chopped peanuts, whatever floats your boat. I was out of most of that so I just served it over jasmine rice with chiles and green onions. And I spooned a bunch of sauce/broth over this after the picture was taken.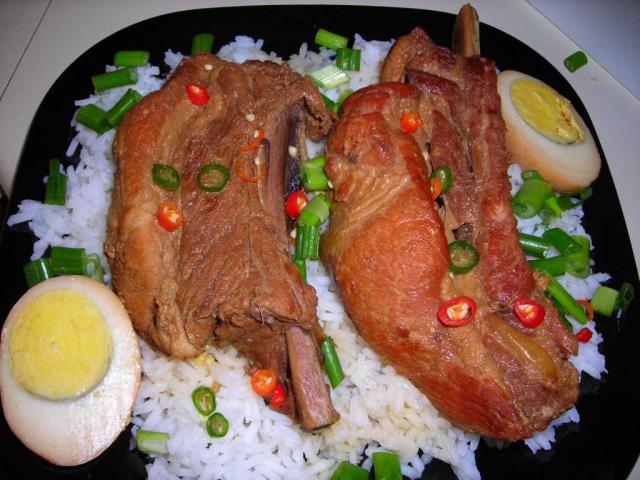 Kho is a super rich dish full of flavor. These were no exception. The pork is done perfectly and they don't taste fatty at all. I can't get enough of it. It gets even better after it sits in the fridge for 2 days. I've never had it in the restaurants, but I can't imagine it can get any better than this.
Next up - Bo Kho (beef short ribs) from last week.
-------------------------------------------------------------
Steve Wertz - Austin, Texas but who owes his love of
Vietnamese food to San Jose, CA. And I don't do Pho.
Edited by Sqwertz, 03 January 2009 - 02:48 PM.