As a crisp dawn broke on the day after Thanksgiving, we began our long, perilous journey into the mysterious jungles of Mexico's Yucatan Peninsula...wait, that's not right at all, let's start again. So much for the romance of exploring a new land.
It was an icy cold, pitch black morning--more night, really--when we set off from Newark, New Jersey. My traveling party of three would sleep in relative discomfort for much of the uneventful plane ride, only to wake up to the horrifying abomination that is Cancun. Less authentic Mexican, more Bubba Gump Shrimp Co. and Domino's, thankfully we would not be staying anywhere this shiny city of chain restaurants and high-rise hotels.
Instead, we headed south, down Mexico 307 to the environs surrounding Playa del Carmen. Granted, the jungles we would face on this trip would generally be of the manicured variety, we nevertheless planned to experience some of the local culture.
Since this was my first trip to Mexico--my traveling companions had spent a few days in Los Cabos the year before--clearly the best way to experience said culture would be through the food. There's a good deal of information out there about the wealth of activities, culinary and otherwise, that are available on the Riviera Maya. With that said, I hope that this report will be found by others in their trip preparations and serve as a guide. While this trip report hardly stands to be definitive, at least on the restaurant-front I do feel as though I've hit many, if not most, of the area's oft-recommended spots. But before we get to the food, allow me to share just a little bit more about the trip in general.
Our noble steed for this exploratory venture down the peninsula was the Nissan Tsuru, producing a whopping 105 horsepower.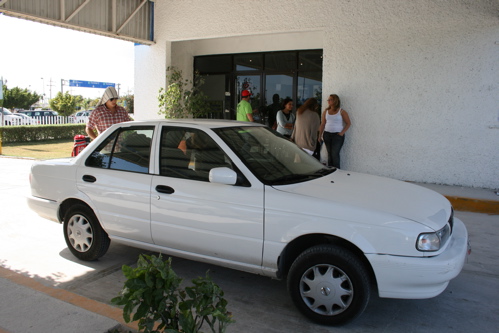 At $10/day, the mandatory insurance fee of $11/day, ended up costing more than the rental fee.
About an hour's drive south of Cancun is the heart of the Riviera Maya. Based on everyone I've heard, most people regard Playa del Carmen as the center of the action, at least from the tourist's perspective. We would be staying at the
Fairmont Mayakoba
, one of four hotels--the others include a Rosewood, Banyan Tree, and Viceroy (private residences only)--in the Mayakoba complex. The next development over includes a new Mandarin Oriental. Clearly, there is a lot of high-end real estate investment money being poured into this area, located about 15 minutes north of Playa del Carmen.
Entrance to the Mayakoba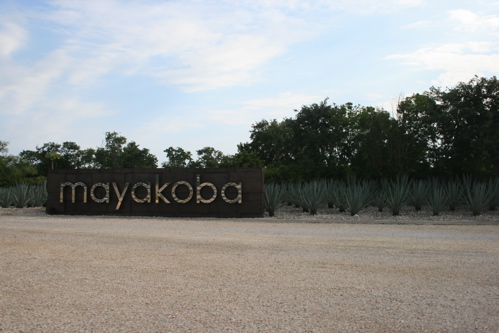 This entrance is, how should I put it, more tasteful and understated than some of the other properties on Mexico 307.
The majority of the Fairmont's buildings are built quite a ways from the ocean. This was done to preserve the mangrove forests that front the coast, thereby preventing the over development that many feel plagues Cancun.
The lobby is clearly set far back from the ocean, barely visible on the horizon.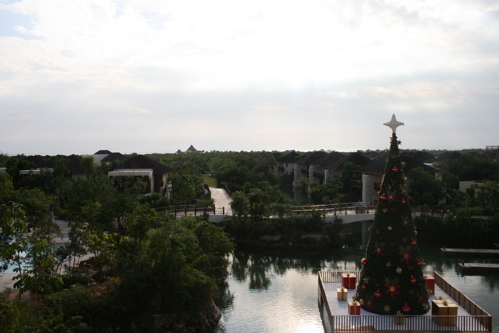 Does that Christmas tree light up?
Obvi.
Despite the massive amount of manpower and resources surely required to create that beast of a tree, this resort does try to put forth some kind of pseudo-eco ethos. The property is bisected by man-made and lagoons and canals.
Like this one.
There are fish in these waterways, fat tilapia to be exact. See, this is about food.
To get around, one can take a boat through these canals. Golf cart shuttles and bikes are also available. The whole open water thing is overcome by cool bridges.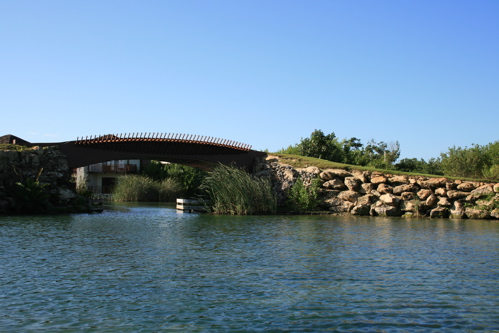 As one can also see, there are little casitas that line the waterways. Similar buildings also line the paths in the (heavily manicured) jungle that makes up the majority of the resort.
The rooms in said casitas further this whole luxurious-jungle shtick.
It's like bringing the outside in.
Obligatory beach shot.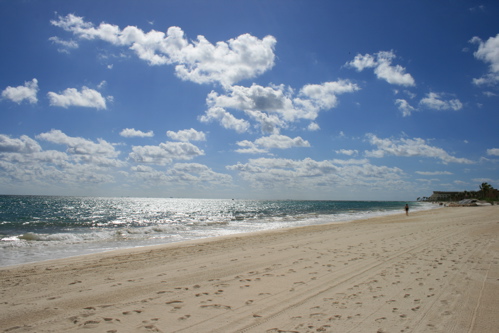 The food is coming, I promise. Think of this like foreplay with pretty, non-food pictures.
We had one meal at the resort, a lunch at the casual beachfront restaurant. It would be the most expensive of the trip. That isn't to say the meal was poor, or even a poor value. As as resort food goes it was better than average, even good, and not too heinously overpriced (of course this is relative to other resorts of a similar quality). There were some chips and guacamole and salsa, a grilled grouper sandwich, and a noodle salad with crisp vegetables and shrimp. Yeah, again, it was fine, but boring, let's move on shall we?
Overall, however, the resort is excellent. Upkeep, service, rooms, I have no complaints. Definitely a five-star property. Or, because I hate stupid stars for hotels, deserving of whatever AAA Five Diamond Award is hanging by the front desk. If you're going to the Riviera Maya, stay here.
Since I suppose this was my first trip to somewhere truly cheap, I was shocked to find how, well, cheap all the food was. Whereas in Europe this past summer, per person food budget on the worst/best days (depending on your worldview) might easily top a few hundred dollars per person, this was, like, $30 per person per day, with an excessive amount of eating and drinking. Rachael Ray would be proud. Granted, none of the places we ate at would ever be confused for a Michelin starred restaurant, but there is significant value to be had, and so close to the US, too. For those going to the Riviera Maya, I implore you that you rent a cheap car, leave your resort, and eat at least a close approximation of the local food.
So, first real meal:
El Fogon
.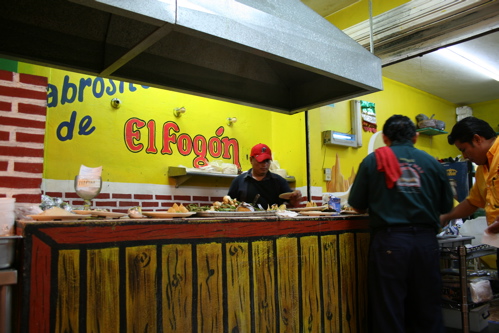 Pastor
Oh sweet, sweet meat log. But instead of a cherry on top, there's a big hunk of pineapple. Good things are coming.
Michelada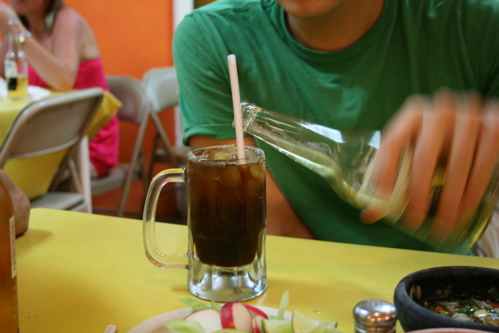 Think, like, a beer cocktail with a heavy savory-tangy note, analogous to Worcestershire sauce. I was surprised at the lack of tomato juice in all the micheladas I had on this trip; I'm used to them being more Bloody Mary-ish. This was probably $2, maybe a bit less. I just paid $7.50 for a 12 oz. Heineken at a warehouse music venue in Greenpoint, Brooklyn tonight. Why am I not back in Mexico?
Frijoles charros and a chorizo taco
The beans here are revelatory. Very salty and savory, thanks to the addition of bacon, and so luxurious in the mouth. On our last day we would order a large bowl to-go for about $3, and eat it on the back of the Tsuru's trunk deck, fatty broth running down our chins. The chorizo taco was strangely, yet pleasantly, creamy and soft. I think we ate the pastor tacos before we had a chance to take a picture of them. Oops.
Arrachera plate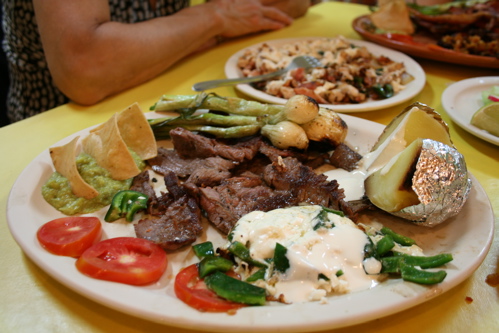 Grilled flank steak with all sorts of goodies; the grilled onions were the consensus favorite. This was a good plate of meat, but would be eclipsed by the same offering from the iconic HC de Monterey at a later meal.
Alambre plate with chicken, onions, serrano chile, and cheese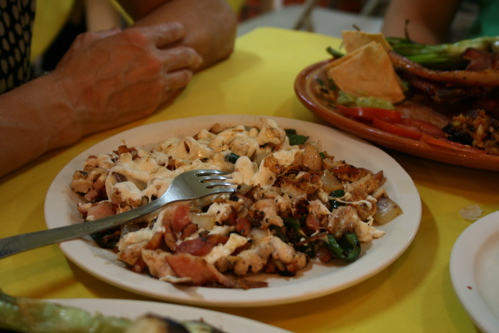 These are technically fajitas, but the addition of the serrano and cheese made this dish something new and interesting entirely its own.
"Fogoncito" plate
This plate was placed on the table and actually said to me, "Bienvenidos a Mexico, bitch!" It was an epic plate of food that needed some serious attention. There's a big slice of lightly crisped pork belly, three thin pork chops, queso fundido, extra crispy chorizo, then all the vegetable matter.
Oh Fogon, how we loved thee. There are three locations, we went to two of them. I'll save my thoughts on the comparison between the tacos al pastor from Fogon and Pastorcito for later. Both restaurants are considered to have among the the best pastor in Playa del Carmen, but I found them to be strikingly different.
Edited by BryanZ, 04 December 2008 - 12:20 PM.